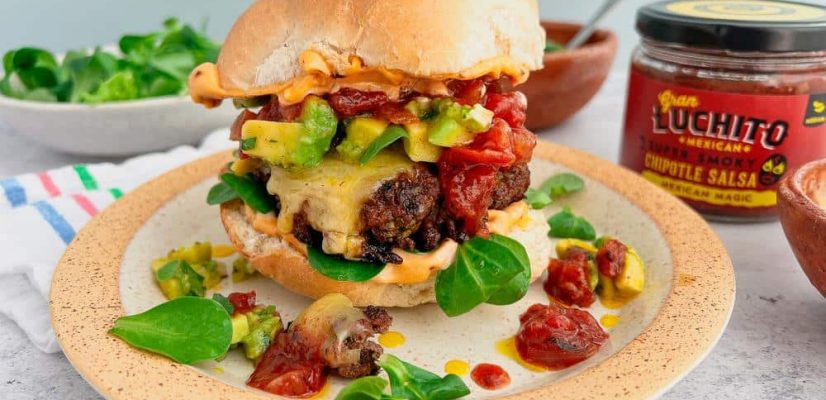 Mexican Burger
To make a good burger, begin by making sure that there is a good percentage of fat in your beef mince. From 15 to 20% fat works well and ground beef chuck is our main preference. This will make all the difference in terms of how juicy and tasty your Mexican burgers turn out.
Now, in order to make an epic Mexican burger you first make your patties. We choose to spice up our minced beef with Gran Luchito Chipotle Fajita & Taco Mix to bring tons of smoky heat into your meat.
When it comes to Mexican burger toppings, next prepare a nice chunky guacamole using Gran Luchito Habanero Fajita & Taco Mix, lime juice, diced onion and tomato with a drizzle of olive oil for the perfect accompaniment to this Mexican burger recipe. Then make sure to spread a nice amount of the homemade chipotle mayo onto your burger buns before adding the grilled chipotle burger with gooey melted cheddar cheese on top. Add a good amount of chunky guacamole, and then a generous amount of Gran Luchito Chipotle Salsa for that last perfect touch!
Prep time

Cook time

Total time

Ideal for

Main

Make it

Mexican

Serves

4
Nutrition: Per serving
kcal 162
fat 13g
saturates 4.1g
carbs 4.0g
sugars 2.3g
fibre 1.2g
protein 7.0g
salt 0.98g
How to make it
Begin by lighting your charcoal grill, and calculate about 20 minutes for it to be ready. If using a gas grill, first turn it on high and after 15 minutes lower down the temperature to medium-high on one side and low on the other.

In the meantime in a bowl add all the burger ingredients for the meat patties, then with your hands integrate all the ingredients. Once it's all mixed separate your mince into 4 equal parts and then with your hands shape them into 4 burgers. Once ready, place them on a tray and cover them with cling film, then reserve in the fridge until your charcoal is ready.

Quickly prepare your chunky guacamole and chipotle mayo. Scoop the avocado flesh into a bowl, add the lime juice and roughly mash it with a fork. Add the

Habanero Fajita & Taco Mix,

the onion, tomato, coriander, olive oil and simply season with salt and pepper. Mix everything with a spoon and set aside. For your chipotle mayo simply combine the mayo with

Chipotle Paste

, mix with a spoon and set aside.

Once your grill is hot enough, place your Mexican burgers over the hottest side on the grill and let them first get a bit of color on both sides (2 to 3 minutes approx. per side) then move to the lower heat side and place slices of cheddar on top to let them melt and finish cooking them for 5 to 6 minutes approx. with the lid on your BBQ down.

While your burgers are still cooking, prepare your burger buns by adding a nice amount of mayo on both sides and spread it evenly. Once your beef burgers are ready, it's burger time! Place them directly onto the buns and serve them with the chunky guacamole, lambs lettuce and Chipotle Salsa on the side so everyone can assemble their own Mexican beef burger and add as much or as little as they like.
What To Serve With Mexican Burgers
Now that we've established that you're going to be a burger king, what should you accompany alongside your Mexican burgers? Try our recipes for Chicken Skewers or a side of BBQ Corn or simply a handful of Gran Luchito Lightly Salted Tortilla Chips.
Download Our Free Guide To Mexican Classics
Your free guide will be emailed to you immediately.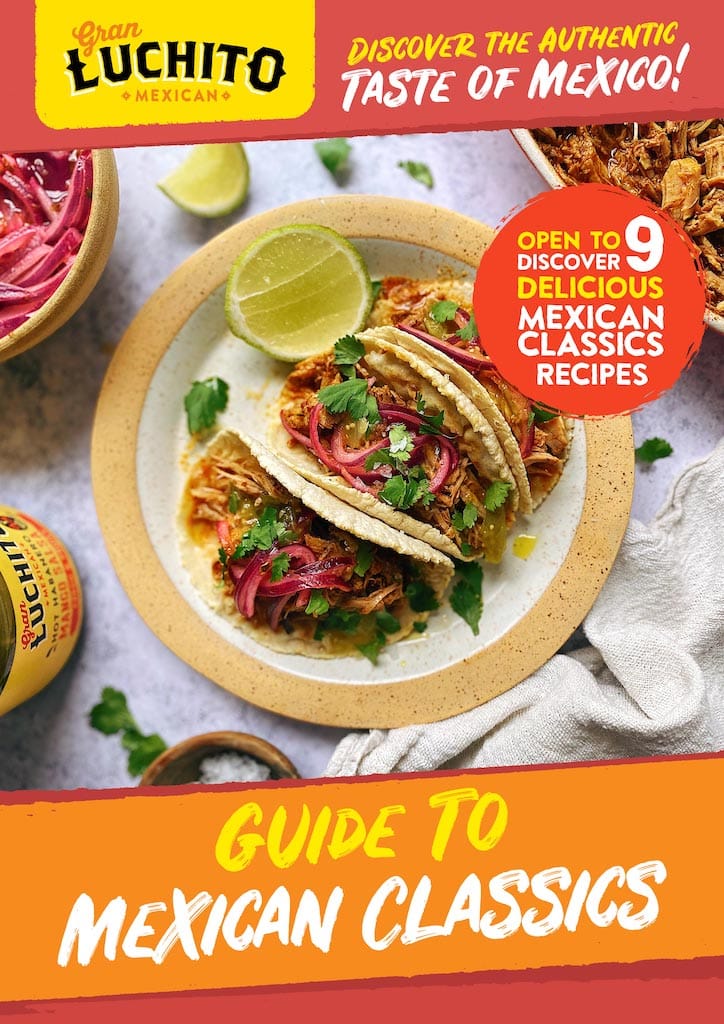 Similar Recipes You Might Like to Try
FAQs
What makes this burger recipe Mexican?
The addition of our Gran Luchito Fajita & Taco mixes in the beef patties and guacamole, as well as chipotle mayo spread over the bap makes this a classic Mexican bbq experience!
Why are burgers so popular?
Burgers are a popular item on the fast food menu because they're affordable and fit any type of budget. People can buy burgers ranging from the simple to the elaborate with premium ingredients. You don't need to have a thick wallet to buy the best value burgers from a fast food joint.
How many burgers are eaten a day?
According to the United States Department of Agriculture (USDA), Americans consume an average of 2.4 burgers per day, which is about 50 billion burgers per year. And that fact is just one of many about food that will not only blow your mind but make your mouth water.
Comments / Questions / Tips

Subscribe now for a free copy of the Gran Luchito e-cookbook filled with delicious, authentic Mexican recipes and join our mailing list for all the latest recipes, news and blog updates.