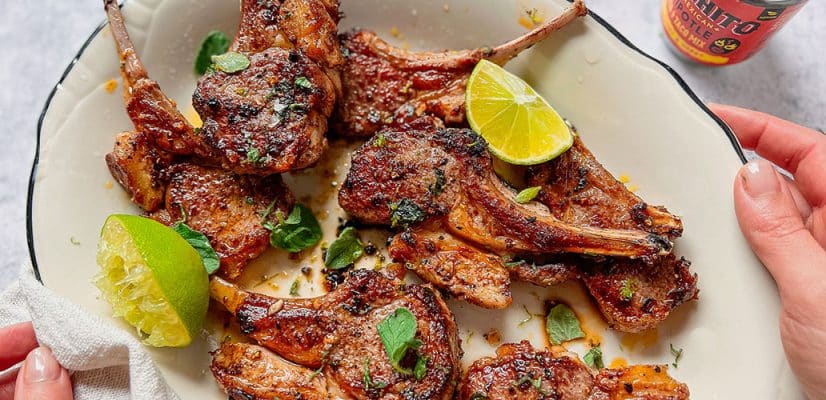 BBQ Lamb Chops
When it comes to one of our favourite things to put on a BBQ we have to say that BBQ Lamb Chops have to be on our top 3. The main reason being that they're delicious, they're easy to cook, and they look impressive when you serve them.
We start by buying our lamb chops from the local butcher. Normally we get a rack of lamb (french trimmed) and either ask your butcher to slice it into chops or do this yourself at home with the help of a sharp knife. We'd recommend 3 lamb chops per person, so adapt this bbq lamb recipe according to how many people you're hosting.
First of all, start by preparing a nice bbq lamb chops marinade to take things to the next level. Gran Luchito Fajita & Spice Mixes are perfect for this job. We use Smoky Chipotle, combined with garlic, fresh oregano, lime or lemon zest, and olive oil. So easy! If you don't have fresh oregano you can use rosemary, parsley, or coriander.
The lamb chops are then left to marinade with the oily chipotle mixture for 20 minutes at least. In the meantime, you can get your BBQ ready or if you haven't got the time for this, you can also cook these over a hot cast iron skillet on your stove. 
Here are some tips on how to BBQ lamb chops:
Make sure each bbq lamb chop is at room temperature before cooking. Take them out of the fridge in good time before grilling to allow this to happen.

Keep some of the marinade liquid to brush over them while they are being grilled, this will not only add flavour, but will avoid them from drying out.

Don't forget that once they are cooked, let your lamb chops rest for 5 minutes before serving. You can wrap them with tin foil to keep them warm.
Prep time

Cook time

Total time

Ideal for

Dinner

Make it

Mexican

Serves

3
Nutrition: Per serving
kcal 285
fat 25g
saturates 9.8g
carbs 0.8g
sugars 0g
fibre 0.5g
protein 14.9g
salt 0.88g
How to make it
In a bowl, add the minced garlic,

Smoky Chipotle Fajita & Taco Mix

, lemon zest, oregano, and olive oil. Mix everything together with a spoon. In a ziplock bag or container place your lamb chops and pour the marinade on top. Make sure they are well coated into the mixture, seal them and let them marinate in the fridge for 20 mins at least.

Once your BBQ grill is hot and ready to go you can cook your lamb chops (at room temperature) until they get a bit of colour on each side but still remain pink in the middle. Make sure to keep the marinade on the side to brush your chops while they are cooking, and season with flaky salt and black pepper. Once ready, place them on a platter and cover them with foil. Let them rest for 5 to 6 minutes before serving.

Serve your BBQ lamb chops recipe on a nice platter, add the juice of the lime or lemon on top, and serve with your favourite sides.
What To Serve With BBQ Lamb Chops
Serve these BBQ lamb chops with some:
Download Our Free Guide To Mexican Classics
Your free guide will be emailed to you immediately.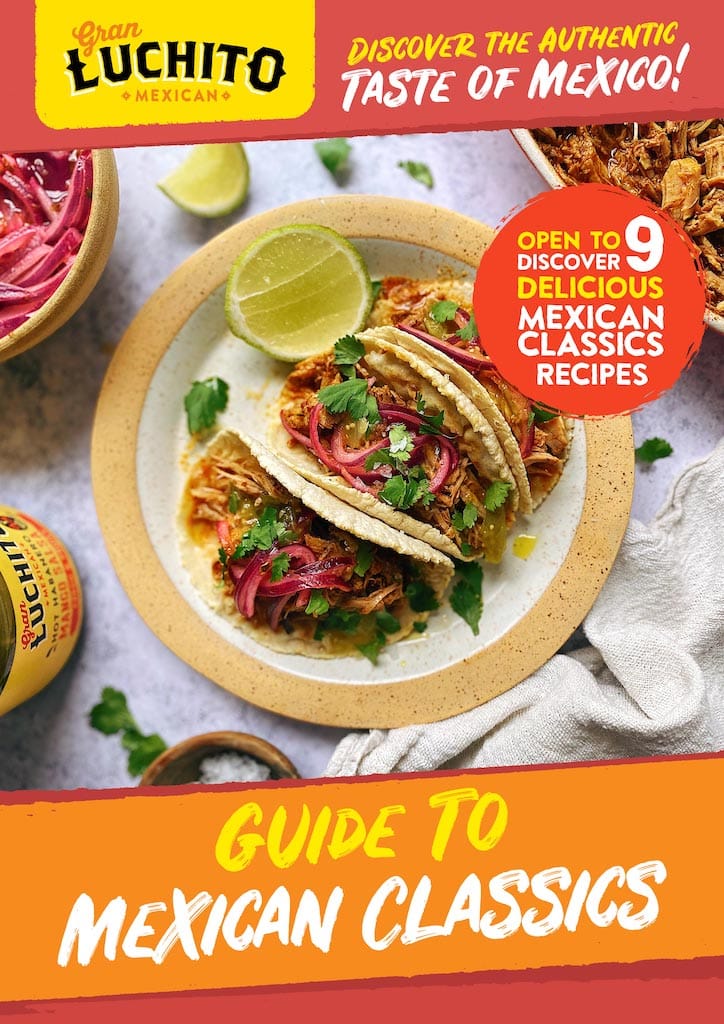 Similar Recipes You Might Like to Try
FAQs
Whats the best marinade for bbq lamb chops?
A Mexican one of course! In a bowl add and mix minced garlic, Gran Luchito's Smoky Chipotle Fajita & Taco Mix, lemon zest, oregano, and olive oil. That will give you the most divine marinade. You can then let the lamb chops soak in this for at least 20 mins before cooking.
How to bbq lamb chops?
Make sure your chops are room temperature, so take them out of the fridge with good time before cooking. Next make sure the BBQ is super hot, and then pop them on. Make sure each chop gets a bit of colour on the first side before flipping. They should be slightly pink still on the inside. Keep the marinade on the side to brush the chops with while cooking. Season also with flaky sea salt and pepper. Once cooked, place on a platter, cover with foil and let them rest for 5 mins before serving.
How long to bbq lamb chops?
Grill the lamb chops over direct heat, with the lid closed, until they are well-marked, for 8-10 minutes total, turning once. For juicy lamb chops, they should still be a bit pink in the middle. Rest the chops for 5 minutes after cooking for the juices to set into the meat before cutting, then serve.
Comments / Questions / Tips

Subscribe now for a free copy of the Gran Luchito e-cookbook filled with delicious, authentic Mexican recipes and join our mailing list for all the latest recipes, news and blog updates.