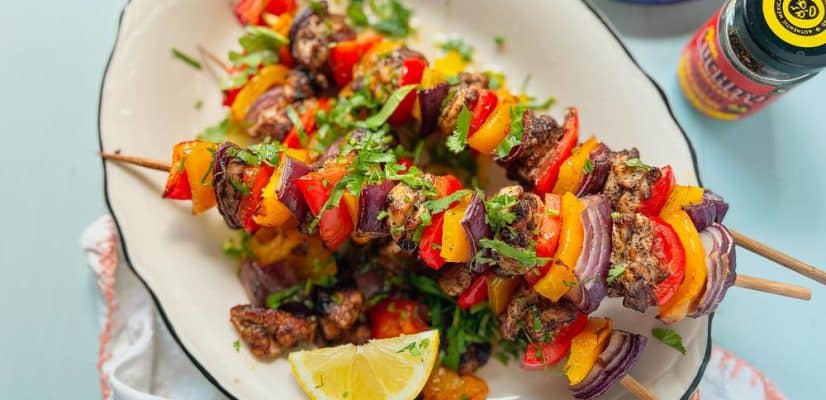 Chicken Skewers
Chicken skewers or "brochetas de pollo" as they are known in Mexico, have to be another favourite dish of the BBQ season. They are perfect to have on their own, or with a few other things in the mix like our Mexican Burger or Mexican Steak recipe.
The truth is that with a few simple ingredients you're able to prepare a very nice meal at home in no time. 
Our favourite way to serve this chicken skewer recipe is with some warm Gran Luchito Soft Taco Wraps, Gran Luchito Salsa or some Crunchy Salsa Macha, and limes on the side, all ready to be shared and make some delicious tacos.
These are the main components for our Chicken Skewers:
Chicken thighs: if you can buy them skinless and deboned then you've got half of the work done. Thighs are our first choice of chicken, not only do they have more flavour but the fatty bits on chicken thigh skewers help to keep the meat moist whilst grilling. If you prefer a leaner version we suggest using a mix of chicken breast and thighs.

Peppers: green, yellow or red. Any kind works and when the juices from the chicken mix with the grilled peppers it is just heaven!

Onion: white or red take your pick, we don't need to tell you how delicious onions turn out when they are grilled, all of those charred edges are what it's all about.

Good seasoning: a good simple seasoning it's all you need and we love putting our trio of spice mixes to good use.

Gran Luchito Fajita & Taco Mixes

is one of the easiest and tastiest ways to season your chicken kebab recipe,

Chipotle, Guajillo or Habanero

each one of them bring something different and delicious to your grilled chicken.

Oil for brushing: olive oil, rapeseed or any vegetable oil is good when grilling as it helps to avoid the kebab skewers from sticking to the grill and to get that delicious charred effect.
Tips when cooking a chicken skewer:
Don't forget to cut your ingredients in more or less the same size so they cook more evenly over the grill.

If using bamboo skewers, soak them in water for 20 minutes before using to avoid them from burning too quickly on the grill.

This BBQ chicken recipe serves 4, you can duplicate or triplicate this recipe according to how many people you are hosting.
Prep time

Cook time

Total time

Ideal for

Main

Make it

Mexican

Serves

4
Nutrition: Per serving
kcal 106
fat 5.7g
saturates 1.3g
carbs 2.7g
sugars 1.1g
fibre 1.2g
protein 10.7g
salt 0.11g
How to make it
Begin by lighting your charcoal grill, and calculate about 20 minutes for it to be ready. If you're using a gas grill, first turn it on high and after 15 minutes lower down the temperature to medium-high on one side and low on the other.

In the meantime, in the kitchen place your chicken chunks into a bowl and add the

Chipotle Fajita & Taco Mix

and the olive oil on top. Mix everything using your hands or a spoon to coat all the chicken evenly with the seasoning. Set aside and wash your hands, then place all your ingredients over your counter ready to assemble your chicken and veg skewers.

There is no right or wrong order on how to stab the veggies and chicken, just try to do one at a time to have some variation of ingredients, this will not only make colourful skewers but also a nice combination of ingredients. Make sure to pack your skewers tightly, then repeat the same with the rest of the skewers and ingredients. Add a pinch of salt and black pepper.

Once your charcoal is ready and not overly hot, place your skewers over the grill and flip them from time to time with the help of some tongs until fully cooked with deliciously charred edges. If using a gas grill, first sear them on the hotter side for a couple of minutes until they get a good colour all around, and then finish cooking them on the lower heat side.

Once ready, remove the chicken skewers from the grill and place them on a nice platter. Squeeze the lemon juice on top and finish with a garnish of coriander sprinkled on top. Enjoy!
What To Serve With Chicken Skewers
Serve these delicious chicken skewers with:
Download Our Free Guide To Mexican Classics
Your free guide will be emailed to you immediately.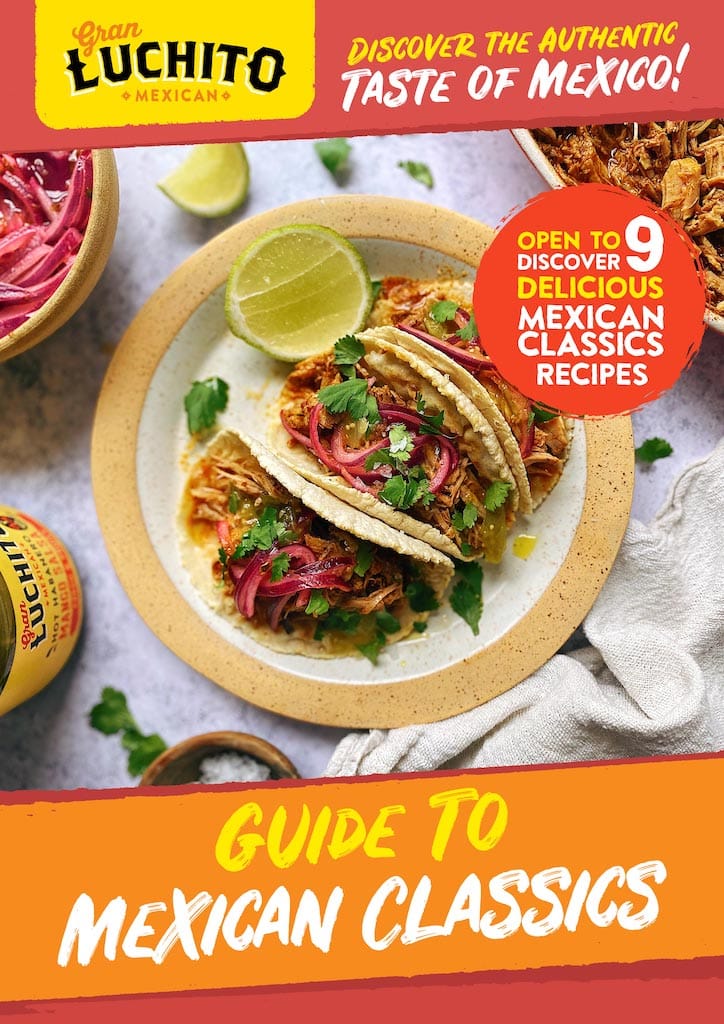 Similar Recipes You Might Like to Try
FAQs
How long do you soak wooden skewers?
Calories in a chicken skewer?
For this recipe, there are 106 calories in each chicken skewer.
How to skewer chicken thighs?
See step 3 in our How To Make It section.
Comments / Questions / Tips

Subscribe now for a free copy of the Gran Luchito e-cookbook filled with delicious, authentic Mexican recipes and join our mailing list for all the latest recipes, news and blog updates.

wpDiscuz