Arroz Con Pollo
"Arroz con Pollo" means Rice with Chicken. It's a dish related to Spanish Paella and was probably brought to America by the conquerors. This dish has long been a favourite meal in Latin American countries, due to the simplicity and heartiness of it. It's a humble dish, and this is what we believe makes it a winning recipe.
You can find variations of arroz con pollo in Cuba, Dominican Republic, Puerto Rico, Colombia, Peru and Mexico, but arroz con pollo recipes always have in common the same elements: chicken thighs and drumsticks that are pan-fried first to crisp up the skin, then rice is added and fried lightly with vegetables. Everything is cooked with a homemade tomato puree and broth.
The liquid serves two purposes: firstly to cook the rice and finish cooking the chicken, and secondly to add flavor. The result is fluffy Mexican style rice and delicious chicken pieces cooked on top. It's the perfect one pot meal that you can prepare for your family! What's not to love about a meal where you only use one pan?!
For our arroz con pollo recipe we used Gran Luchito Chipotle Paste combined with olive oil to create a chilli oil to rub on the chicken. This adds the chipotle smokiness and beautiful colour when it's cooked.
Substitutions:
Rice: We used basmati rice in this recipe but you can use long grain, jasmine or even risotto rice. Just have in mind the different cooking liquid ratios required to cook each one.
Protein: An authentic arroz con pollo recipe calls for chicken thighs and drumsticks, but you can also try this recipe with shrimps, any white fish fillets or pork chops with the bone in. If you aren't a fan of bones you can use boneless chicken thighs, and for less fat you can swap it for skinless chicken.
Cooking liquid: Chicken or vegetable stock are a must. Homemade tomato puree gives colour and a distinctive flavor, but you can also use passata or a can of chopped tomatoes. Sometimes a bit of saffron and paprika is used to add a bit more colour and flavour.
Prep time

Cook time

Total time

Ideal for

Dinner

Make it

Mexican

Serves

4
Nutrition: Per serving
kcal 142
fat 4.2g
saturates 0.9g
carbs 14.5g
sugars 1.6g
fibre 1.0g
protein 12.1g
salt 0.53g
How to make it
Pat dry the chicken drumsticks and thighs. In a small bowl add the

Chipotle Paste

and the olive oil, then mix with a spoon until the ingredients form a chilli oil. Pour the chipotle chilli oil and bits all over the chicken, then rub over it making sure it's well coated in the mix. Season with salt and pepper.

Heat up a large frying pan over medium-high heat. Once the pan is hot enough add the chicken pieces with the skin on the thighs, facing down first. Cook the chicken all the way round until it gets golden brown. Do this for 8 – 10 mins approximately, then remove the chicken from the pan and reserve it on a plate on the side.

In the same pan add the onion, garlic and red pepper. Fry it over a medium heat until your veg softens up (5 mins), stirring continuously. Add the rinsed rice, a pinch of salt, and fry gently for 3 minutes. Stir it continuously to avoid it from sticking to the bottom of the pan. 

Add the passata and stock, stir briefly and place the chicken back into the rice and liquid. Bring to a boil and then reduce the temperature to a minimum. Cover the pan with a lid and let it cook for 30 minutes, until the rice is nice and fluffy and the chicken is cooked through. 5 minutes before the end of cooking time add the frozen peas and cover your pan again to finish cooking.

Garnish with the coriander scattered on top, and serve warm with a wedge of lemon on the side. Enjoy!
What To Serve With Arroz Con Pollo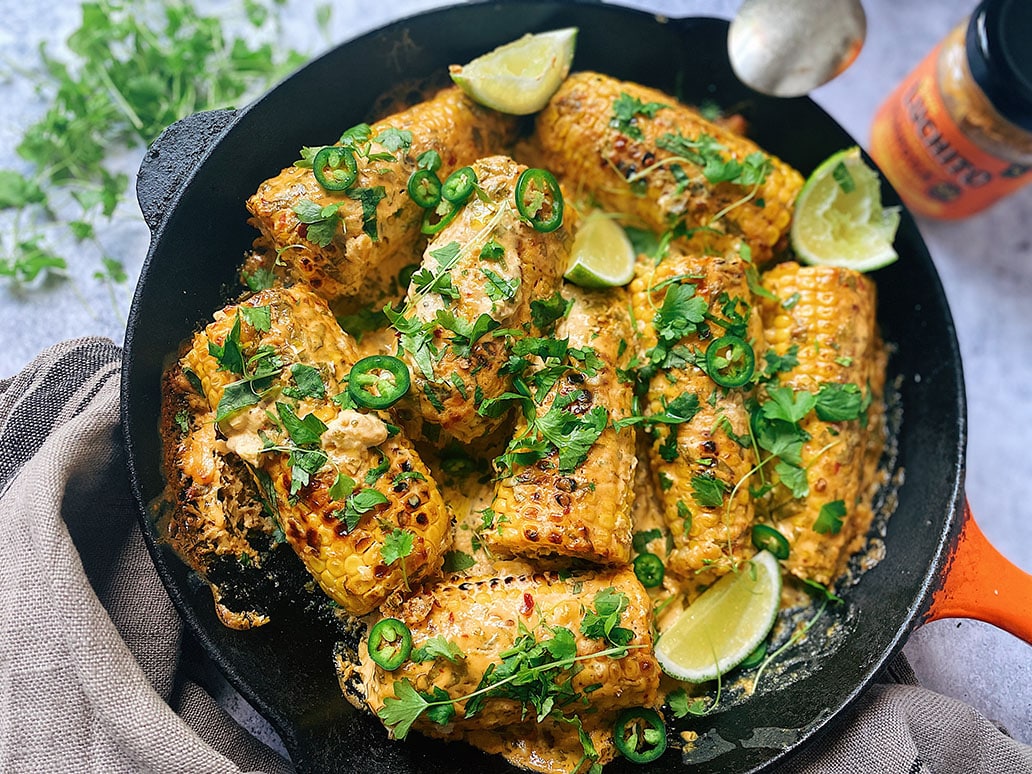 Serve it with a portion of this creamy Elotes recipe.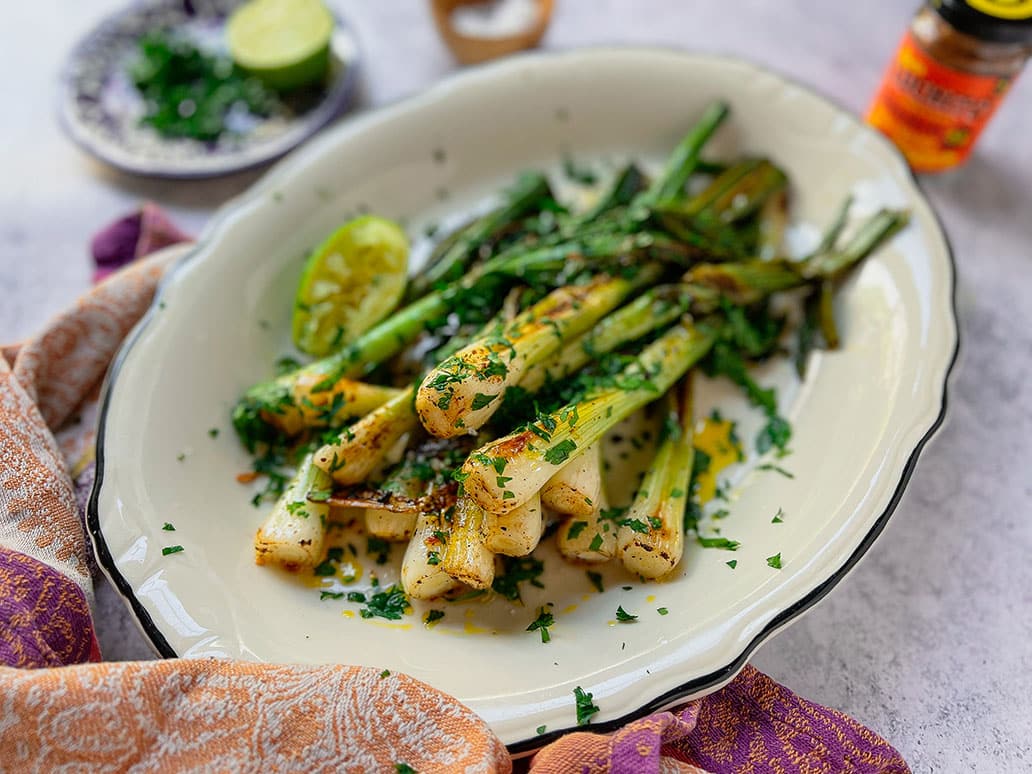 Alongside some Grilled Onions.
Download Our Free Guide To Mexican Classics
Your free guide will be emailed to you immediately.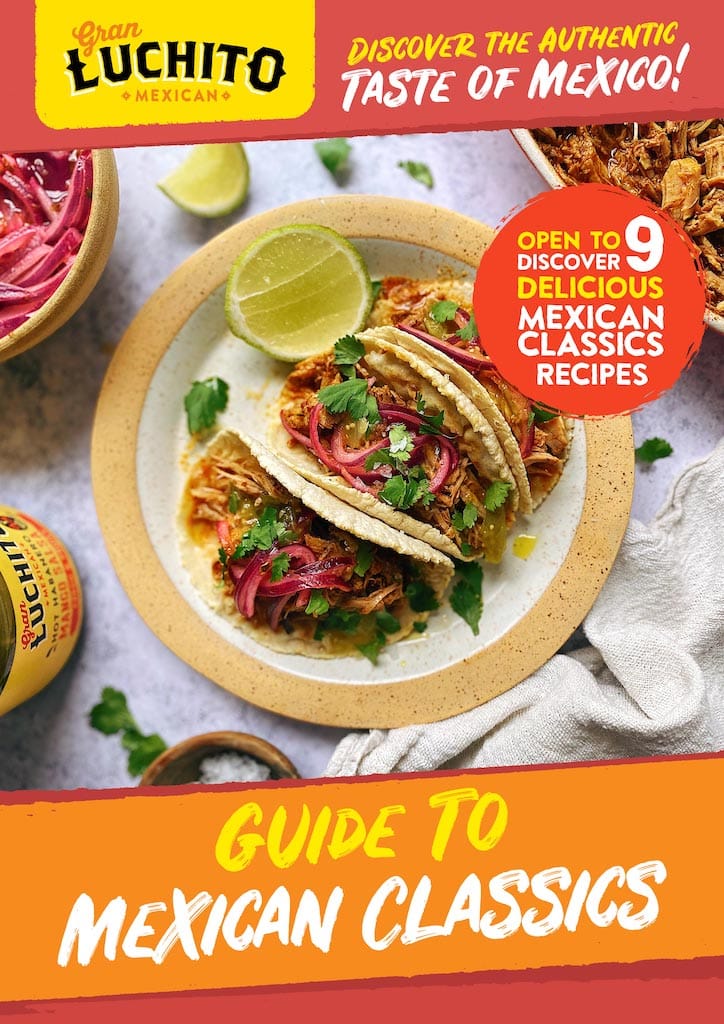 Similar Recipes You Might Like to Try
FAQs
When is arroz con pollo eaten?
It's traditionally eaten for lunchtime family celebrations, weekend dinners, and during the winter months because of the hearty nature of the chicken and rice mixture.
How to pronounce arroz con pollo?
Ah-Rawth - Kawn - Paw-lyaw
Is arroz con pollo spicy?
It's not too spicy, but if you are unsure, it's best to try just 1 teaspoon of Chipotle Paste to begin with. If you are doing it for kids, you can add just half a teaspoon.
Comments / Questions / Tips

Subscribe now for a free copy of the Gran Luchito e-cookbook filled with delicious, authentic Mexican recipes and join our mailing list for all the latest recipes, news and blog updates.