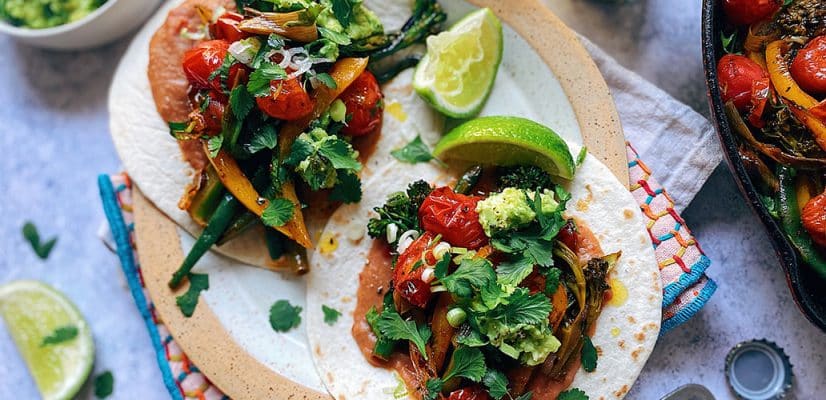 Vegan Fajitas
Vegan Fajitas are such a good way to use up any leftover vegetables you may have at home. Feel free to be creative and adapt the recipe to what you already have! You can use carrots, sweet potatoes, aubergines, mushrooms, cauliflower and spinach to name a few, but have fun creating a slightly different fajitas recipe every time.
The key to making a vegan fajitas recipe taste amazing is to cook it with a mixture of Gran Luchito Chipotle Paste, for that spicy, smoky and sweet taste, as well as adding tamari sauce, dried oregano and lime juice. We also like adding a splash of lager at the end to bring all the flavours together! Then simply season with a pinch of salt and freshly ground pepper.
Serve your veggie fajitas warm with freshly made homemade guacamole, Gran Luchito Refried Beans and warm Gran Luchito Soft Taco Wraps on the side.
The refried beans not only help to keep your fajitas in place inside your tacos, but also add healthy and tasty protein, making these easy Vegan Fajitas a wholesome and nutritious meal. Don't know much about refried beans? Check out our blog What Are Refried Beans.
---
---
Prep time

Cook time

Total time

Ideal for

Dinner

Make it

Mexican

Serves

4
Nutrition: Per serving
kcal 107
fat 4.7g
saturates 0.8g
carbs 12.1g
sugars 1.9g
fibre 1.8g
protein 3.9g
salt 0.47g
How to make it
In a small bowl mix together Chipotle Paste, lime juice, soy sauce, dried oregano, 1 tablespoon of olive oil and reserve.
Heat up 2 tablespoons of olive oil in a frying pan. Once it's hot enough, add in the tenderstem broccoli, spring onions, green beans and yellow peppers. Fry over a high heat so that they get slightly charred, and once ready, remove them from the pan and set aside in a bowl.
Toss the cherry tomatoes into the same pan and let them get a bit blistered, then add all the vegetables back into the pan, pour in the chipotle mixture, stir and season with a pinch of salt and freshly ground black pepper.
Finally, add the beer and let everything simmer for a minute or two. Garnish with freshly chopped coriander scattered on top, and when ready set aside.
In a small saucepan, heat up the Refried Beans for a couple of minutes.
In the meantime, prepare a quick guacamole by mashing the avocado flesh with a fork in a medium size bowl. Add a bit of lime juice, the extra virgin olive oil and season with a pinch of salt and freshly ground black pepper. Mix everything and set aside.
Serve your vegan fajitas with warm Soft Tacos, guacamole and Refried Beans on the side. Prepare your tacos by adding a spoonful of warm beans into your tortilla wraps, then top with the vegan fajitas and a bit of guacamole. Enjoy!
Download Our Free Guide To Fajitas
Your free Fajita guide will be emailed to you immediately.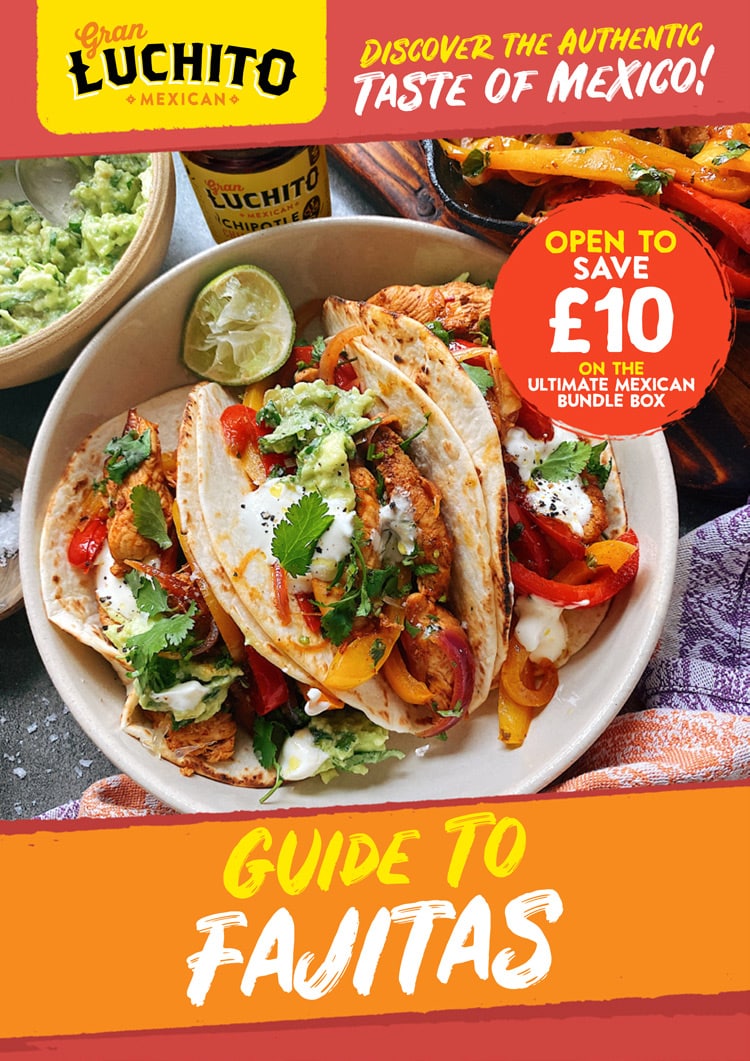 What To Serve With Vegan Fajitas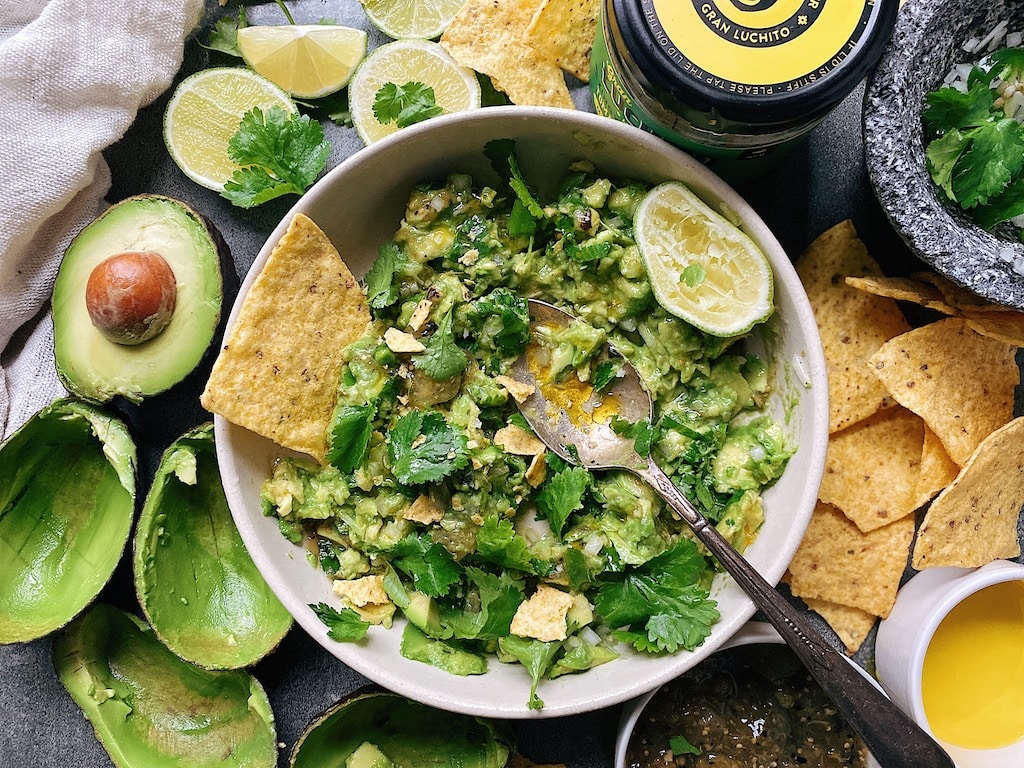 Serve with a portion of this homemade guacamole recipe and Lightly Salted Tortilla Chips.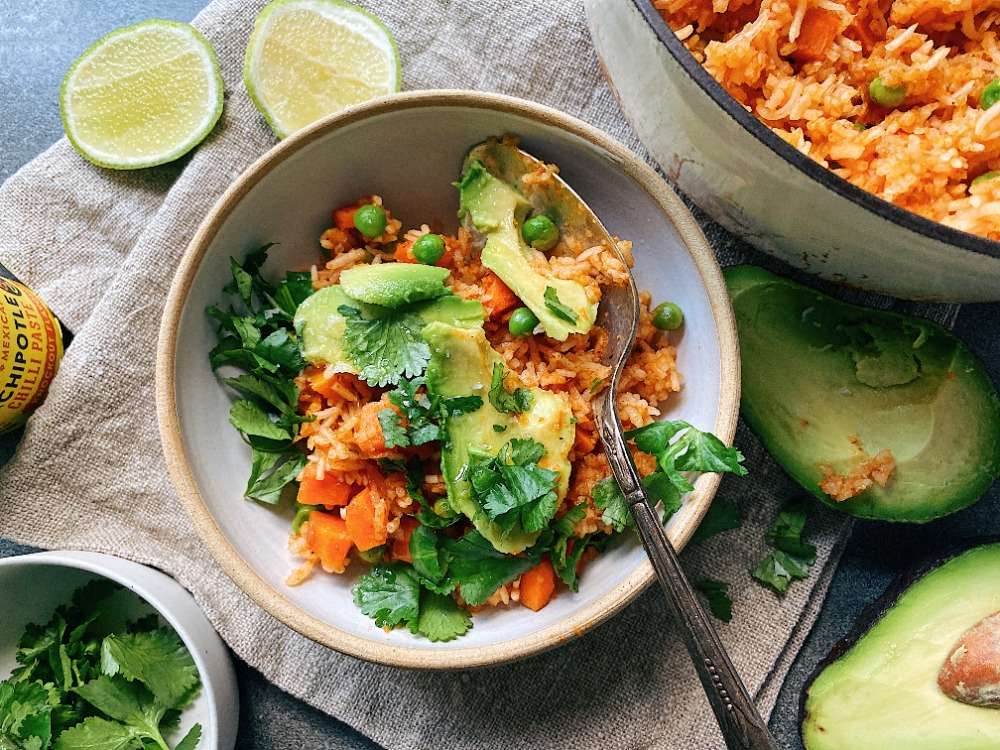 And a side of Mexican Rice.
Similar Recipes You Might Like to Try
FAQs
Are these vegan fajitas healthy?
Yes, they are! Stuffed full of veggies, with no cheese or sour cream to speak of! The tortillas are a low-fat, low-sodium food. They contain iron, B vitamins, and potassium. The refried beans are also a good source of nutrients like fiber, iron, magnesium, and zinc.
Are flour tortillas vegan?
In most cases, flour tortillas are vegan. However, they might be cooked with lard or butter, or they may contain non-vegan preservatives.
Our Soft Taco wraps are suitable for vegans.
What is a fajita?
Fajitas are the concoction of veggies (and meat) that goes into a taco (the vessel). Usually, fajitas are little strips of any grilled meat, peppers and onions.
Comments / Questions / Tips

Subscribe now for a free copy of the Gran Luchito e-cookbook filled with delicious, authentic Mexican recipes and join our mailing list for all the latest recipes, news and blog updates.