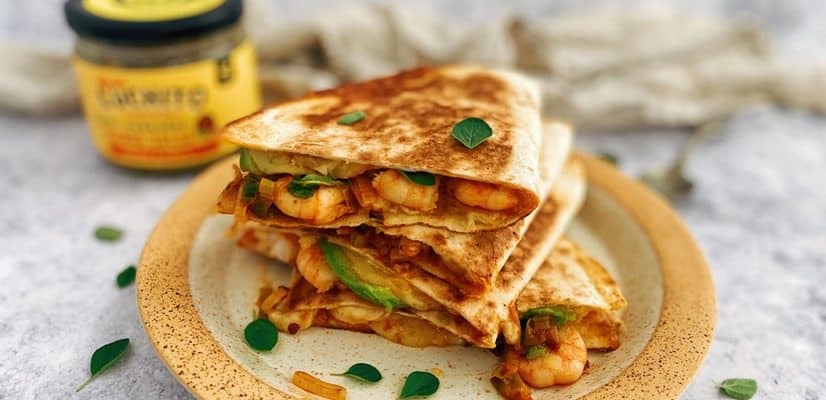 Prawn Quesadilla
Calling all seafood lovers and Gran Luchito Chipotle Paste fans, this toasty, gooey and delicious Prawn Quesadilla recipe is for you!
To achieve perfect prawn quesadillas make sure you warm them up over a hot pan, and then let them get golden brown on both sides with the cheese melting inside. A little trick we like to do is to let the melty cheese ooze out of the quesadillas and get crispy over the pan. That crispy cheese will taste amazing!
You can use raw king prawns or cooked prawns (both work well), but the cooked prawns will save you a bit of time. Just make sure not to overcook them, they will only need a minute or less once they go in the pan.
Use Gran Luchito Burrito Wraps or Soft Taco Wraps to make your quesadillas and don't forget to add some salsa. Our Gran Luchito Hot Habanero Mango Salsa goes perfectly with this prawn quesadilla.
Prep time

Cook time

Total time

Ideal for

Lunch

Make it

Mexican

Serves

4
Nutrition: Per serving
kcal 212
fat 13g
saturates 6.4g
carbs 11.7g
sugars 1.6g
fibre 0.5g
protein 10.3g
salt 1.1g
How to make it
Heat up a pan with the olive oil and butter. Once it's hot enough add the spring onions and

Chipotle Paste

, stir and let the spring onions cook gently.

Add the king prawns into the pan, the fresh oregano, the lime juice, and season with a little salt and freshly ground black pepper. Combine everything and remove the pan from the heat once the prawns are cooked through, then reserve.

Place the

Burrito Wraps

over your kitchen counter and add a good amount of grated cheese. Top with your chipotle prawn mixture and a bit more cheese. Fold in half and repeat the same process with the remaining filling and cheese.

Warm up your quesadilla over a hot pan, a few minutes on each side until nice and toasty. Remove from the pan and cut in half. Add avocado slices and serve with Hot Habanero Mango Salsa.
What To Serve With Prawn Quesadilla
This prawn quesadilla recipe would go especially well with a side of:
More About Quesadillas
There's lots more to discover about these cheesy delights!
Our How To Make Quesadillas blog will help you to master everything you need to know about making delicious Quesadillas at home.
Our Quesadilla Recipes is our collection of tried and tested Quesadilla recipes with more flavours, protein and veggie options.
Download Our Free Guide To Quesadillas
Your free Quesadilla guide will be emailed to you immediately.


Similar Recipes You Might Like to Try
FAQs
How many calories in a prawn quesadilla?
What type of prawns to use in quesadillas?
You can use any type of prawns, however we like using Kings prawns. They are great as they're large, have lots of flavour, and have a medium softness. Tiger prawns are a bit smaller, with a medium flavour and are a bit firmer.
How do you store cooked prawns?
Whether they're cooked or raw, prawns should be placed immediately in the fridge or freezer and should never be left out. Once cooked they can be stored in the fridge for 3 days. As long as they haven't been frozen before, you can freeze cooked prawns for up to three months.
Comments / Questions / Tips

Subscribe now for a free copy of the Gran Luchito e-cookbook filled with delicious, authentic Mexican recipes and join our mailing list for all the latest recipes, news and blog updates.