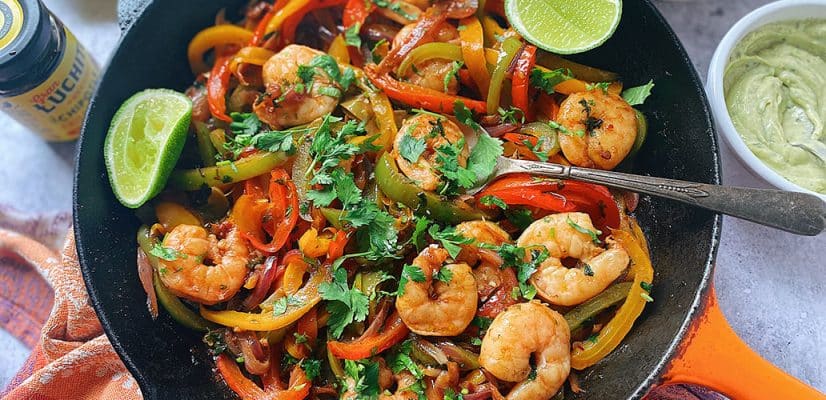 Prawn Fajitas
Sizzling Prawn Fajitas have never been more delicious! For this prawn fajita recipe, king prawns have been cooked with our signature Gran Luchito Chipotle Paste, a touch of tequila, and lime, to make this fajita recipe extra special.
These prawn fajitas are even better when served with our delicious recipe for Avocado Crema, where we add a bit of Gran Luchito Habanero and Lime Fajita and Taco Mix. It gives them a lovely zesty kick! Just add a good amount of this crema over your prawn fajitas alongside some Pico De Gallo and you are good to go.
These Mexican prawns are perfect for a date night in, or to entertain friends. Feel free to double or triple the recipe according to your needs.

---
---
Prep time

Cook time

Total time

Ideal for

Dinner

Make it

Mexican

Serves

2
Nutrition: Per serving
kcal 127
fat 7.8g
saturates 1.8g
carbs 8.1g
sugars 1.9g
fibre 1.1g
protein 5.8g
salt 0.45g
How to make it
In a bowl place your cleaned prawns and add the

Gran Luchito Chipotle Paste

, 1 tablespoon of the olive oil and half of the coriander. Mix with a spoon and cover with cling film. Let them rest in your fridge for 15 to 20 min.

In the meantime prepare the avocado crema by adding all the ingredients into the food processor and blending until smooth. Season with a pinch of salt and black pepper. Place the crema in a small bowl and set aside. 

In another bowl add the tomato, onion, chilli, coriander, lime juice and extra virgin olive oil. Season with salt and pepper and mix with a spoon. Once ready set aside.

Prepare a frying pan with a drizzle of olive oil and once it's hot enough add in your onion and peppers. Fry over a high heat until they get a bit of colour. Season with a pinch of salt and freshly ground pepper, and once ready remove them from the pan and set aside.

Add a bit more olive oil to the pan and get your prawns out of the fridge. Sautee the prawns in the hot pan until they get a bit of colour on both sides (be careful not to overcook).

Now place the cooked onion and peppers back into the pan with the prawns and add the tequila. Flambé carefully or simply let the alcohol evaporate for a minute. Finally add the lime juice, tamari sauce, pinch of salt and freshly ground pepper.

Remove the pan from the heat and add the remaining coriander, scattering it on top. Serve your sizzling fajitas with warm Gran Luchito Soft Taco Wraps, avocado crema and pico de gallo on the side.
What To Serve With Prawn Fajitas
What to serve with prawn fajitas? How about some:
More About Fajitas
Our How To Make Fajitas blog will help you to master everything you need to know about making homemade Fajitas. And our Fajita Recipes is our collection of tried and tested Fajita recipes with more flavours, protein and veggie options. For further inspiration on side dishes, check out our blog on What To Serve With Fajitas.
Download Our Free Guide To Fajitas
Your free Fajita guide will be emailed to you immediately.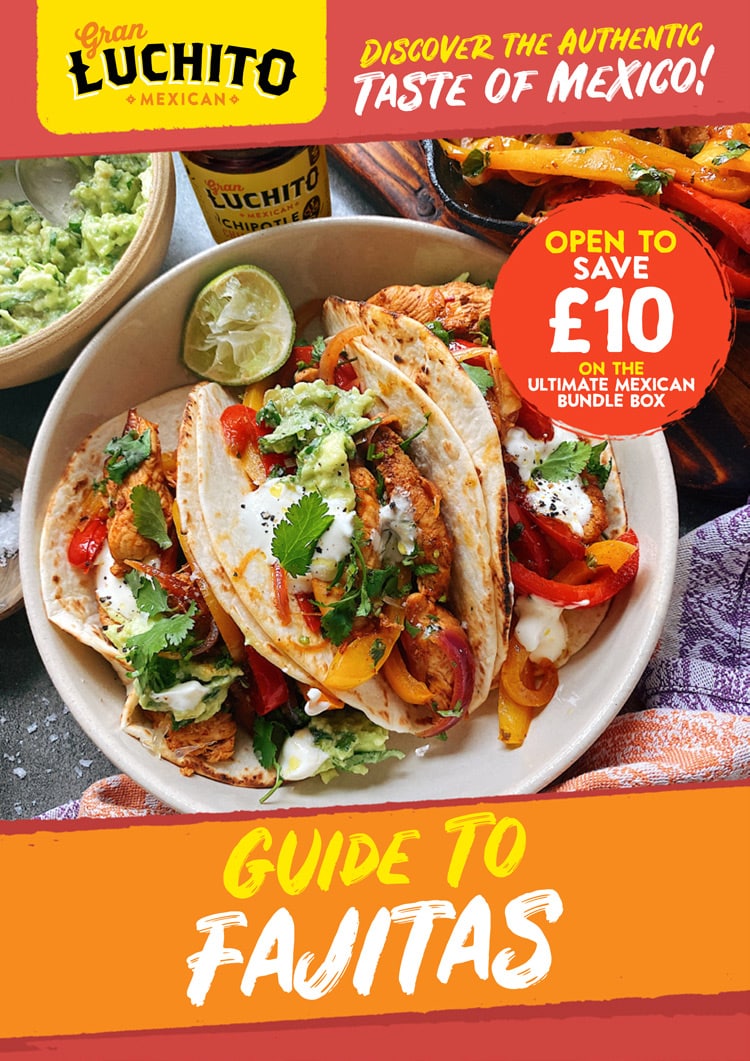 Similar Recipes You Might Like to Try
FAQs
Are these prawn fajitas spicy?
A little bit, but not too spicy. If you wanted to make them milder, put just 1 tsp of Chipotle Paste in instead of 2 tsp. It will then still provide a wonderful smoky Mexican flavour without too much heat.
Can you freeze cooked prawns?
Yes! Cooked prawns should be in the fridge/freezer within 2 hours of cooking. If frozen they should be eaten within 3 months. If putting them in the fridge, put them in an air-tight container, as you will lower the risk of bacteria building up, and allow you to store your prawns for longer. Cooked and raw prawns can be kept in your fridge for up to 3 days.
Are prawn fajitas healthy?
This is considered a healthy meal yes. All of the ingredients are super fresh and wholesome, packed full of nutrients that come from the healthy veggies, prawns, pico de gallo and avocado crema.
Comments / Questions / Tips

Subscribe now for a free copy of the Gran Luchito e-cookbook filled with delicious, authentic Mexican recipes and join our mailing list for all the latest recipes, news and blog updates.