Avocado Toast With Poached Egg
Calling all avocado on toast lovers! We think you can make your healthy avocado toast recipe with egg even better with the help of Gran Luchito.
Here are a few simple and easy tricks that you should keep in mind when achieving the perfect avocado toast with a poached egg that you'll love to cook and eat:
Sourdough bread: there's nothing like a slice of sourdough bread toasted, to make your avocado toast taste like a million bucks.

Get your avocados right: make sure to pick perfect ripe avocados for this Mexican brunch recipe. A quick tip is to remove what looks like the belly button of the avocado where it used to be the stem, and if it looks green it's very likely that you'll have a very nice green avocado inside.

Fresh eggs: fresh free range eggs guarantee the best results when they are poached.

Don't forget condiments: mayo and a bit of salsa work best, especially if it's Gran Luchito Chipotle Mayo. Then add a bit of Gran Luchito Crunchy Salsa Macha on top for that perfect finishing touch to your avocado breakfast toast, followed by a sprinkling of salt and freshly ground black pepper.
Prep time

Cook time

Total time

Ideal for

Breakfast or Lunch

Make it

Mexican

Serves

4
Nutrition: Per serving
kcal 278
fat 26g
saturates 3.2g
carbs 8.3g
sugars 1.5g
fibre 1.6g
protein 2.7g
salt 0.57g
How to make it
First thing is to prepare a quick guacamole. For this, cut your avocados in half, get rid of the seed and spoon out the flesh into a bowl. Mash your avocado roughly with a fork, then add the onion, Tomatillo Salsa (if using), lime juice, extra virgin olive oil and coriander. Season with a pinch of salt, freshly ground black pepper, and mix with a spoon. Once ready set aside.

Now it's time to poach your eggs. B

ring a saucepan with ¾ full of water to just below simmering. Add the vinegar and use a wooden spoon to stir the water gently in the middle for a few seconds, creating a little whirlpool. 

Carefully break an egg into a fine mesh sieve with a bowl underneath (to catch any residue) and then transfer the egg to a cup. Trust us this step is important to achieve the best poached eggs as it will get rid of the liquid part of the egg white and turn out better once poached!

Now pour the egg from the cup into the circulating water. I

t should spin the egg into a spherical shape without dispersing. L

et it cook for 2 to 3 minutes for soft poached eggs.

There is no need to move it while it's cooking. Once the white is firm you can remove your egg from the water with a slotted spoon and place over kitchen paper. Repeat the same with the rest of your eggs.
Cut 4 slices of sourdough bread and toast them. Then add a generous amount of Chipotle Mayo onto each and spread it over the surface evenly.
To serve, place your chipotle mayo toasts over plates, then add a dollop of guacamole and the poached egg on top. Finish by sprinkling some sea salt, freshly ground black pepper and Crunchy Salsa Macha on top. Delicious!
Download Our Free Guide To Mexican Breakfast
Your free guide will be emailed to you immediately.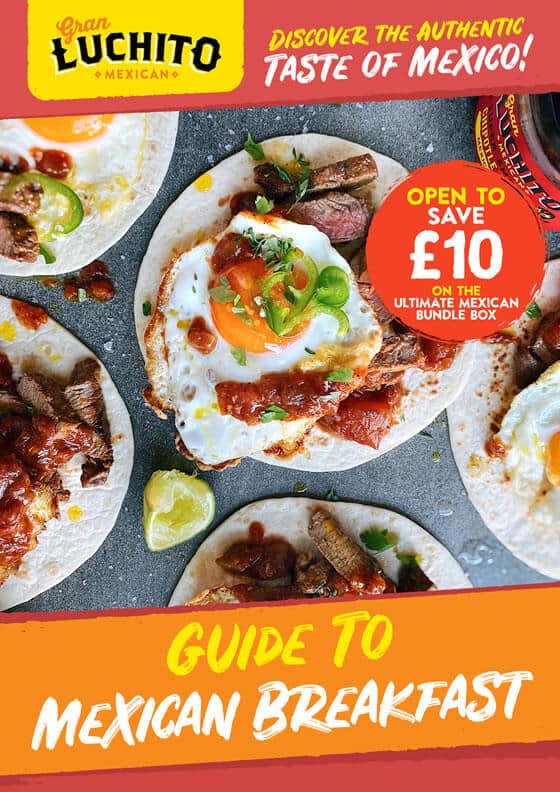 What To Serve With Avocado Toast With Poached Egg
The best side dishes for this recipe, and for one big brunch are to serve it with a side of:
Similar Recipes You Might Like to Try
FAQs
Is avocado on toast with poached egg healthy?
Very healthy, yes! All of the components in the recipe are super good for you, so all in all it's a great breakfast, brunch or lunch. The eggs are much healthier poached, as opposed to fried too.
How to store poached eggs?
Once all of your eggs are chilled, you can transfer them to a sealable container. Cover and store in the fridge for up to five days.
How to season avocado?
You can season the smashed avocado or guacamole with salt and pepper, lemon or lime juice, and some Gran Luchito Tomatillo Salsa. Layer your toast with some Gran Luchito Chipotle Mayo, before adding the avocado on top!
Comments / Questions / Tips

Subscribe now for a free copy of the Gran Luchito e-cookbook filled with delicious, authentic Mexican recipes and join our mailing list for all the latest recipes, news and blog updates.