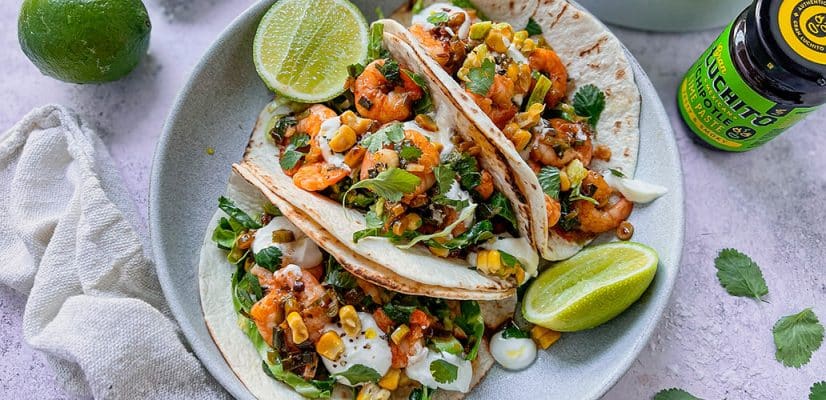 Chipotle Prawn Tacos
If you haven't tried Gran Luchito Chipotle Lime Paste yet, we hope that this Mexican prawn tacos recipe will tempt you. What's not to love about Chipotle Prawn Tacos with lime? They are so easy to prepare and very tasty!
Our Chipotle Lime Paste is perfect for marinating seafood. All you need to do is to add the desired amount of heat to your prawns and then mix, let it rest in the fridge for 20 minutes, and it's ready to be cooked.
This paste not only adds the wonderful spiciness of the chipotle chillies, but also a lovely zing to your meals. 
In the summer you can prepare the marinated prawns over the BBQ to get that lovely charcoal flavour. But this is a prawn taco recipe that comes in handy all year round and all you need is to be in the mood for Mexican prawns and make this any day you like!
The corn and cabbage slaw makes a really flavoursome, fresh and crunchy garnish to serve over your prawn tacos. We can also recommend that these seafood tacos are served with Gran Luchito Tomatillo Salsa or Gran Luchito Mango Habanero Salsa.
Prep time

Cook time

Total time

Ideal for

Dinner

Make it

Mexican

Serves

3
Nutrition: Per serving
kcal 147
fat 9.5g
saturates 3.9g
carbs 9.6g
sugars 1.8g
fibre 1.7g
protein 5.5g
salt 0.25g
How to make it
In a bowl place your cleaned prawns, add the spring onions, the

Chipotle Lime Paste

and 1 tablespoon of olive oil. Mix everything with a spoon, cover with cling film and keep in the fridge while you prepare your corn slaw.

Prepare a frying pan with a drizzle of olive oil, and once it's hot enough add in the 3 corn on the cobs and season them with salt and freshly ground black pepper. Let the kernels cook and get a bit of colour all the way around, turning the cobs from time to time with the help of kitchen tongs.

Once ready, remove the corn from the pan, cut the kernels with a sharp knife and place them in a medium size bowl. Add the shredded cabbage, the green chilli, coriander, avocado, lime and extra virgin olive oil. Mix with a spoon and season with salt and freshly ground black pepper. Reserve in the fridge while you cook your prawns.

Heat up another or the same frying pan and add the remaining olive oil and butter. Once it melts add the marinated prawns and saute over a high heat. Season with a pinch of salt and freshly ground black pepper. Remove from the heat once they turn pink and get a bit of colour on both sides. Finish with a bit of fresh lime juice on top and set aside.

Finally, warm up your Soft Taco Wraps and serve them with a good amount of the corn slaw. Top with delicious chipotle lime prawns, a spoonful of creme fraiche and a lime wedge on the side.
What To Serve With Chipotle Prawn Tacos
Side dishes to accompany your Chipotle Prawn Tacos are some Frijoles with some Lightly Salted Tortilla Chips. But this recipe is also a great Mexican prawn starter. If you'd like a main course recommendation to go with it, why not try having it with:
Download Our Free Guide To Tacos
Your free Taco guide will be emailed to you immediately.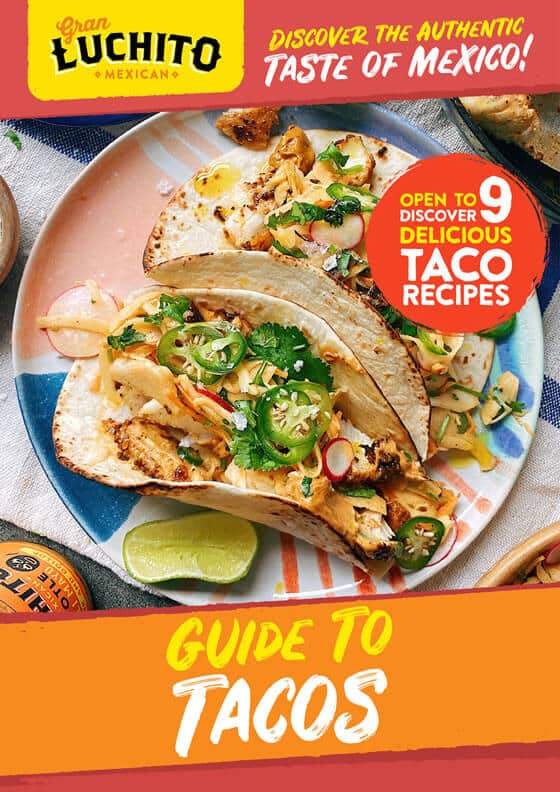 Similar Recipes You Might Like to Try
FAQs
Are prawn tacos healthy?
Yes, super healthy. All of the components in this taco recipe are great for you. Prawns also have a good nutritional profile with an array of vitamins and minerals, including a lot of the B vitamins which we need for energy and to help support the nervous system.
How to season prawns for tacos?
You can add the prawns to a pan along with olive oil and either a dollop of our Gran Luchito Chipotle Paste, Chipotle Lime Paste or a sprinkling of one of our Fajita & Taco Mix's.
How to cook prawns for tacos?
The best way is to fry them in a bit of olive oil or butter. You can tell when prawns are cooked, as they will turn a pink colour. As a guide, small ones take about 3-4 minutes, large about 5-8 minutes and jumbo prawns will need 7-8 minutes cooking time.
What type of prawns are best to use for this recipe?
We like plump and tender prawns for tacos, but ones that aren't too big or small either! So King Prawns are our favourite to use for tacos.
Comments / Questions / Tips

Subscribe now for a free copy of the Gran Luchito e-cookbook filled with delicious, authentic Mexican recipes and join our mailing list for all the latest recipes, news and blog updates.

wpDiscuz