Chilli Con Carne Meat Feast Pizza
We couldn't think of one good reason why this chilli con carne pizza wouldn't be amazing. You could either make your own pizza or top a margarita with homemade chilli and some extra cheese.
This is very similar in appearance to a meat feast pizza with the minced beef on top, but all the flavour from our easy chilli con carne recipe takes the pizza to another level.
If you like the sound of this recipe we reckon you'll love our other ideas for leftover chilli con carne.
Prep time

Cook time

Total time

Ideal for

Movie Night

Make it

Mexican

Serves

2
Nutrition: Per serving
kcal 118
fat 6.4g
saturates 2.8g
carbs 6.8g
sugars 2.8g
fibre 2.4g
protein 7.4g
salt 0.6g
How to make it
Start with the chilli. Finely chop all the fresh veg (onion, garlic, celery, carrot, peppers) and gently fry in 2 lugs of olive oil for 8-10 mins or until nice and soft in a large casserole dish.
Throw in the Gran Luchito Chipotle Paste, cumin and cinnamon.
Add the tomatoes, kidney beans and finely chopped coriander stalks.
Fry the minced beef with a lug of olive oil in another frying pan to brown (this will add flavour to the meat) then add to the other ingredients and mix well.
Add salt & pepper.
Put a lid on it, leaving a small gap and cook on low heat for about an hour (longer if you have time).
Pre-heat your oven according to instructions on pizza packaging.
Once you're happy with the consistency of the chilli (you don't want it to be too wet for this) season it.
Spoon the chilli generously over the uncooked pizza and spread-out evenly. Top with the cheddar and place in the oven until the crusts are golden and the cheese has melted.
Slice and enjoy.
*If you don't need all the chilli, simply get it in a Tupperware and freeze it. Or use it one of these ideas.
You can also try serving it with our Serranos Chillies .
Download Our Free Guide To Chilli Con Carne
Your free Chilli guide will be emailed to you immediately.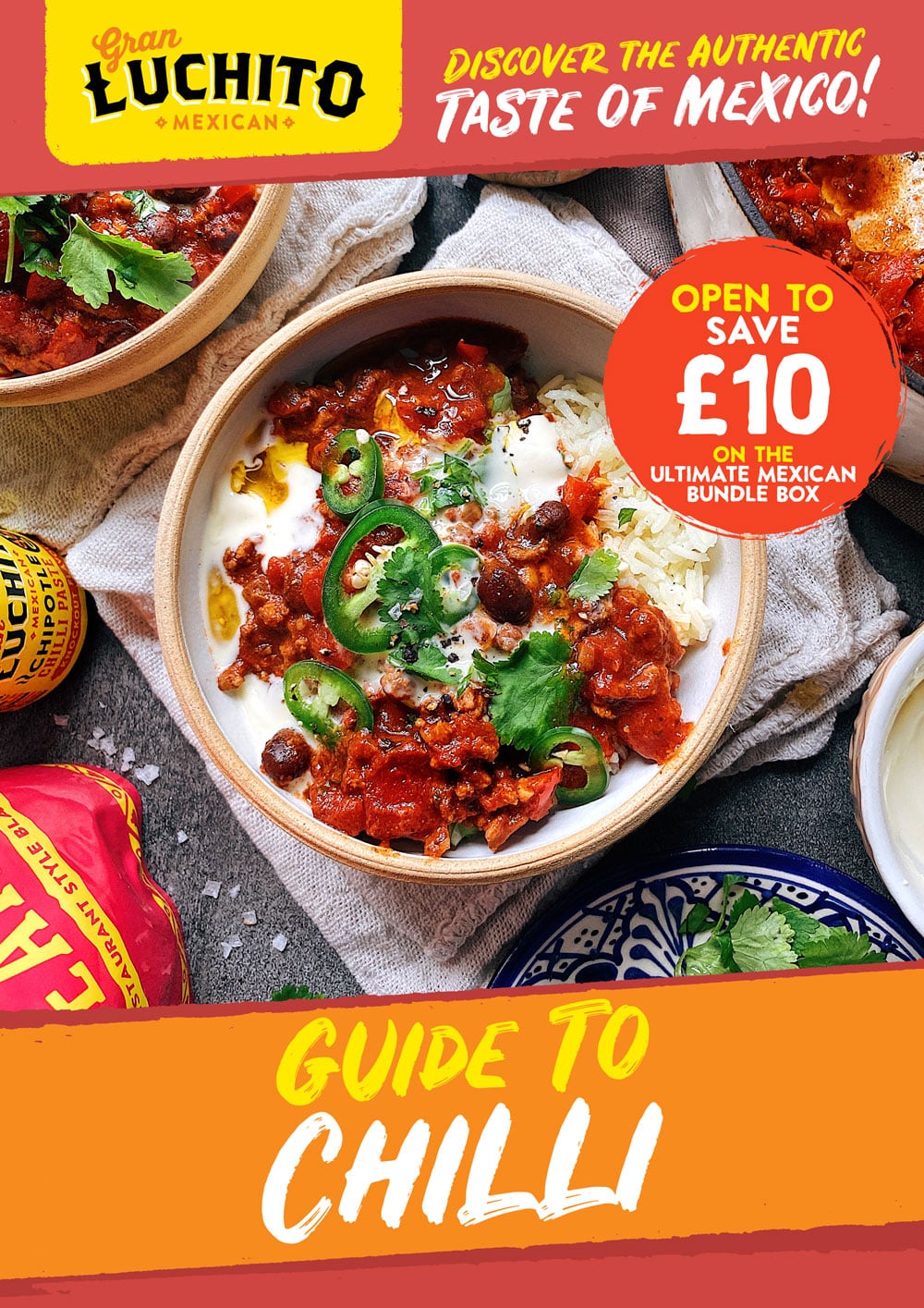 Similar Recipes You Might Like to Try
Comments / Questions / Tips

Subscribe now for a free copy of the Gran Luchito e-cookbook filled with delicious, authentic Mexican recipes and join our mailing list for all the latest recipes, news and blog updates.