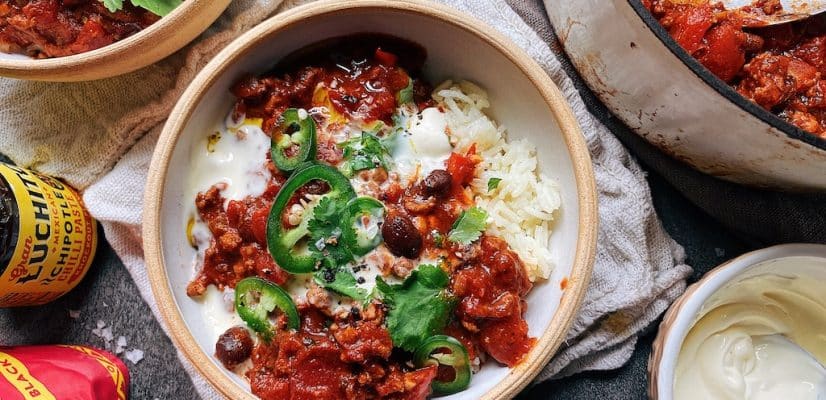 Easy Chilli Con Carne Recipe
Did you know that Chilli Con Carne is the national dish of Texas? The name Chilli Con Carne has Spanish Mexican origins though, carne is Spanish for meat and the word chilli refers to the Chilli Pepper.
A really good tasting and easy Chilli Con Carne is a great recipe to have in your repertoire. A lot of the ingredients in this easy chilli con carne recipe are pantry staples and along with that packet of mince from your weekly shop,  make it pretty easy to put together.
And if we had to choose one dish for our Gran Luchito Chipotle Paste it would have to be a chilli con carne, a dollop of paste adds a smoky depth of flavour that works perfectly and makes it taste like you've been simmering the chilli for ages – it's the perfect secret ingredient for bringing lots of delicious smoky flavour to chilli con carne and helping the flavours to melt together.
Chilli is also perfect for casual entertaining with family and friends and works really well for batch cooking and making ahead. We recommend making a double or triple batch, freezing some off and then finding creative ways to use it throughout the week.  The great thing about this easy chilli recipe is that it doesn't take hours to make and is easy enough to make for a quick midweek meal, there is nothing better or more comforting than this!
Prep time

Cook time

Total time

Ideal for

Dinner

Make it

Mexican

Serves

6
Nutrition: Per serving
kcal 301
fat 15g
saturates 5.9g
carbs 5.3g
sugars 9.0g
fibre 0.6g
protein 6.0g
salt 1.2g
How to make it
Heat up the olive oil in a frying pan over high heat. Once hot enough, brown the minced beef. Don't be afraid to give it some real colour here as this will only bring more flavour into the chilli.

Reduce the heat and add the onion, garlic and

Chipotle Paste

. Stir well and cook for about 10 mins until the onions are soft and brown.

Add the red peppers, tomato paste, oregano, black pepper, cumin, cinnamon, salt and coriander stalks. Stir well, turn the heat up to high and cook for another 5 mins. This will get the spices going.

Add the chopped tomatoes and beef stock and stir well. Bring to a boil, and then cover with a lid and simmer on low heat for 30 minutes at least.

After an hour, add the

Cantina Beans

(with juices) and stir into the chilli. Simmer on low heat for a further 10 minutes. Taste and adjust the seasoning if necessary, then remove from the heat once it's ready.

Serve your chilli hot in a bowl with steamed white rice, dollops of creme fraiche, and the remains of the freshly chopped coriander on top. Enjoy!
Chef Tip: If you have time, simmer your chilli con carne for 1 hour to make it even tastier.
What To Serve With Chilli Con Carne
You could try serving this chilli con carne on a bed of rice with a dollop of guacamole on top.
As a side you could try some Mexican Coleslaw or a Mexican Salad for some freshness, colour and crunch.
A Passion for Chilli!
Whether you like your chilli slow cooked, vegan, or quick & easy, we have a delicious chilli recipe for you along with our best tips for making chilli and inventive ideas for any chilli leftovers you might have from stuffing chilli into peppers, wrap up in pastry for empanadas, roll up in a burrito or layer over nachos.
Download Our Free Guide To Chilli Con Carne
Your free Chilli guide will be emailed to you immediately.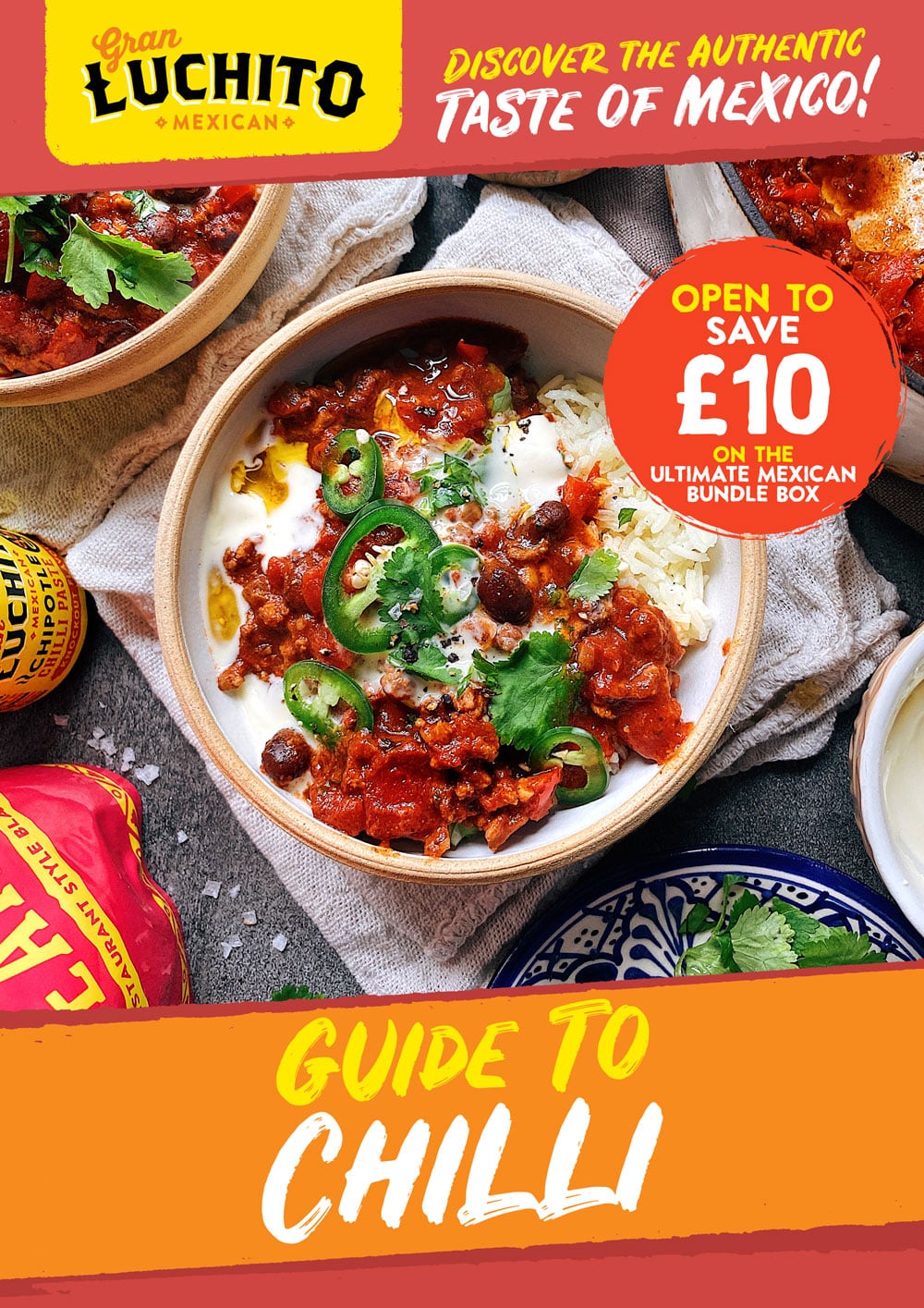 Similar Recipes You Might Like to Try
FAQs
What's the best secret ingredient for Chilli Con Carne?
You will find recipes with all sorts of secret ingredients from chocolate to fish sauce (eek!) but we think a dollop of our signature smoky Chipotle Paste is the best secret ingredient for Chilli Con Carne. It is made with a blend of chipotle and rare Mexican chillies which add a smoky depth of flavour and the paste also brings a sweetness from caramelised onion. A dollop of Chipotle Paste just seems to meld all the delicious flavours together.
What spices go into Chilli Con Carne?
We add flavour to our chilli con carne with cumin, coriander powder, oregano, ground cinnamon and a good dollop of our smoky Chipotle Paste. Chilli Con Carne might require more salt than you think, be sure to taste and adjust the seasoning as needed.
What should I not add to Chilli Con Carne?
Raw beef mince! We recommend you always brown the mince before adding to bring the best flavour out in the meat.
How do I get a Chilli Con Carne that's tender?
Simmer, simmer, simmer! Our recipe calls for the chilli con carne to simmer for an hour and this ensures the meat is tender and the flavours come together beautifully.
What kind of beans should I use for Chilli Con Carne?
We like using our Cantina Beans which are authentic black beans but if you didn't have any on hand you could use red kidney or pinto beans in this recipe.
How do I cool down a chilli con carne that's too hot?
First try a pinch of sugar to balance the flavour. If that doesn't work, then try adding more chopped tomatoes and/or beans to it.
Is chilli con carne healthy?
Our chilli con carne recipe is packed full of good nutrients, protein and fibre and can fit into a healthy diet and lifestyle. If you are looking to reduce the calories, we recommend choosing a beef mince with only 5% fat, using only a small amount of olive oil when browning the mince and draining off any fat. Turkey breast mince is also another healthy substitute. Serving this chilli con carne with a crisp green Mexican salad rather than over fries or in a burrito is also a healthier option.
Comments / Questions / Tips

Subscribe now for a free copy of the Gran Luchito e-cookbook filled with delicious, authentic Mexican recipes and join our mailing list for all the latest recipes, news and blog updates.