Frijoles Recipe
You may be asking yourself what are frijoles? Frijoles (pronounced free·ho·lez) is Spanish for beans and most often is used to describe Refried Beans. Beans are an integral part of Mexican cuisine and there's always a pot of beans bubbling away in the house.
Frijoles are a great little dish as either a Mexican side, a delicious layer in a burrito, wrapped up in warm soft tortillas or for some serious snacking as a dip with Tortilla Chips perfect for when you are in front of a film or enjoying board games.
Our frijoles recipe uses our Gran Luchito Cantina Beans which are authentic black beans that have been simmered in onion and garlic so you are able to put this dish together in only a few minutes rather than spending hours slowly simmering away. There's no reason why you can't play with the toppings either. All you need to complete the picture are some Tortilla Chips or raw vegetables for dipping.
Another alternative to frijoles is our Gran Luchito Refried Beans  which are a great time saver. We slowly simmer Pinto Beans with smoky Chipotle chillies, Red Peppers and Mexican spices for restaurant-style Refried Beans. Add some cooked chorizo, top with sour cream and serve with Gran Luchito Lightly Salted Tortilla Chips.
Prep time

Cook time

Total time

Ideal for

Snack

Make it

Mexican

Serves

4
Nutrition: Per serving
kcal 241
fat 14g
saturates 5.7g
carbs 11.3g
sugars 3.8g
fibre 0.7g
protein 5.2g
salt 0.93g
How to make it
Heat the olive oil and butter in a frying pan over low heat. Add the onion and cook for 10 minutes, or until softened. You're not trying to brown it, just sweat it down.
Add the garlic and Gran Luchito Chipotle Paste and cook for another few minutes.
Empty the Gran Luchito Cantina Beans with their liquid into the pan. Season well with salt and pepper, simmer on low heat for 7-8 minutes.
Add everything to a food processor and blend until smooth. Empty into a bowl.
Fry the chorizo in a hot frying pan until crispy. (You won't need any oil for this as it'll release plenty of its own fat). Once crispy, chop into smaller chunks.
Drizzle over the sour cream, sprinkle over the chorizo and coriander. Serve with Gran Luchito Lightly Salted Tortilla Chips or vegetable sticks.
If you do not have enough time to make this Frijoles Recipe then try our Gran Luchito Refried Beans and top with sour cream and chorizo.
What to eat with Frijoles
The beauty of Frijoles is that they go with almost everything. It's probably the perfect Mexican side. Here are some recipes that we think that the frijoles will make the perfect accompaniment to.
Download Our Free Guide To Mexican Classics
Your free guide will be emailed to you immediately.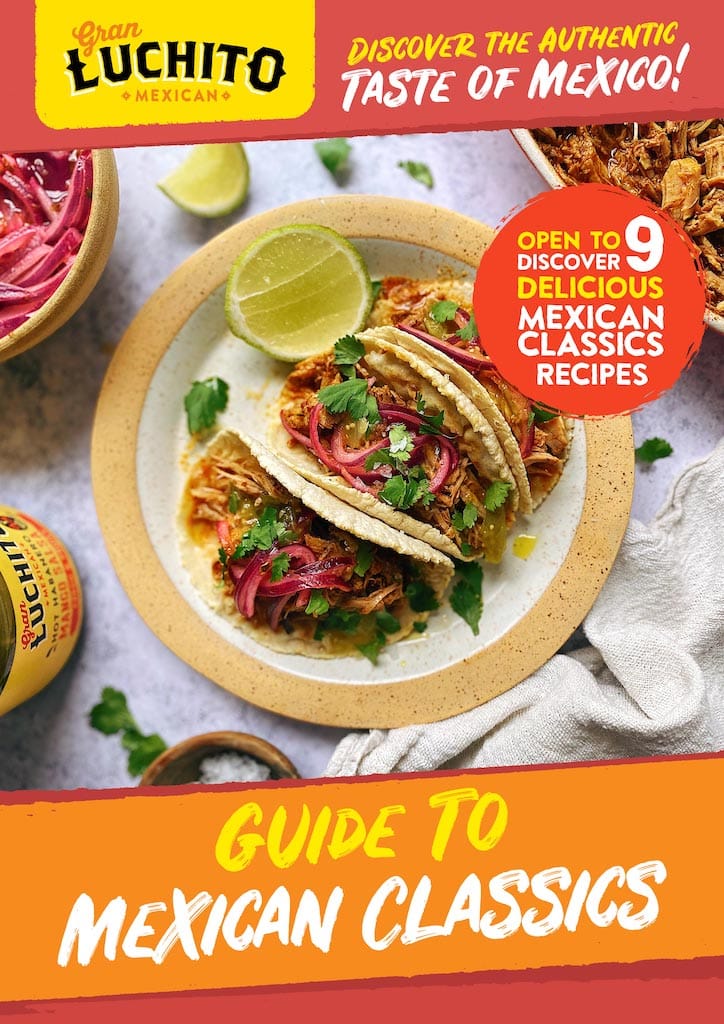 Similar Recipes You Might Like to Try
FAQs
Are frijoles vegan?
Our recipe calls for some ingredients which are not vegan friendly but could easily be substituted for vegan friendly ingredients. You could replace the butter with olive oil, and for toppings you could opt for veggies or you will find there are some delicious plant based chorizo options out there and you could replace the sour cream with coconut milk to make vegan friendly.
What kind of beans are used for frijoles?
Typically you will find in Mexico that frijoles are made with either black beans or pinto beans. Our recipe calls for our Cantina Beans which have been simmered with garlic and onion and are a huge time saver.
How do you make frijoles from scratch?
Traditional frijoles refritos recipes will call for dry pinto or black beans which must be soaked for hours, then cooked with some aromatics including garlic and onion and mashed. Our recipe calls for Gran Luchito Cantina Beans which have already been soaked and simmered with garlic and onion.
Why are refried beans (frijoles refritos) called refried beans?
Refried doesn't actually mean that they have been fried twice, the refried or refrito refers to them being well fried when they are cooked with flavourings such as onion, garlic and Chipotle Paste.
What gives this frijoles recipe so much flavour?
We think our frijoles recipe tastes so great because we add a tsp of our Chipotle Paste and this brings a delicious smoky depth of flavour to the frijoles.
Comments / Questions / Tips

Subscribe now for a free copy of the Gran Luchito e-cookbook filled with delicious, authentic Mexican recipes and join our mailing list for all the latest recipes, news and blog updates.

wpDiscuz