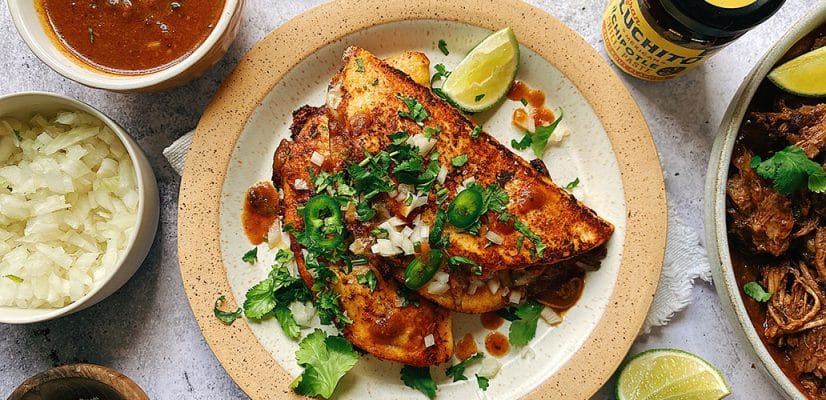 Birria Tacos
From time to time you see recipes that become very popular over social media and get many recreations. This Birria Tacos recipe is one of them! What's not to love about beef tacos dipped into "Consomé" or meat juices?
Traditionally Birria comes from the state of Jalisco, Mexico and can be made of mutton, goat or beef. Birria mainly consists of slowly stewed meat cooked in an "adobo" (a smooth chilli puree) prepared with Mexican dried chillies, garlic, tomatoes and onion. You can find beef birria served in Mexico like a stew, garnished with finely chopped raw onion and coriander, served with warm tortillas and limes on the side.
The current trend takes some of that delicious birria and uses it to fill a tortilla lightly coated in some of the beef consomé (cooking juices). Cheese is then added and it gets cooked over a hot pan like quesadillas.
Once the cheese is lovely and gooey, they are served with a small bowl on the side with more of the lovely consomé, ready for you to use as a birria tacos dipping sauce! You can equally just serve the beef birria over warm Gran Luchito Soft Taco Wraps with a simple garnish of coriander and onion. 
Our Birria Tacos recipe is made using Gran Luchito Chipotle Paste combined with roasted garlic, onion and tomatoes that make the base for our tasty birria consomé.
Prep time

Cook time

Total time

Ideal for

Dinner

Make it

Mexican

Serves

4
Nutrition: Per serving
kcal 122
fat 8.4g
saturates 3.6g
carbs 4.7g
sugars 1.0g
fibre 0.5g
protein 6.6g
salt 0.18g
How to make it
The first thing to do is to prepare the adobo for the birria.

Place the tomatoes, onion, garlic and spring onions on a baking tray.

Add a pinch of sea salt on top and bake in the oven at 200°C / 390°F for 20-25 min, approx.
In the meantime season your meat with salt and pepper, making sure it is well seasoned all around. Prepare a heavy-based cast-iron pan with a drizzle of olive oil. Once the oil is very hot, sear your meat making sure it gets brown all around. Once ready, turn the heat off and set aside.
Remove the baking tray with roasted vegetables from the oven, and place them all in a blender (remove the garlic skins). Add all the spices, Chipotle Paste and apple cider vinegar. Blend everything together into a smooth mixture (adobo).
Pour all of the roasted chipotle adobo over the brisket and short ribs. Add in a couple of bay leaves, a handful of coriander leaves and stalks, and the water. Cover with a lid and place in the oven at 180°C / 350

°F

, for 3 to 4 hours.
Once your meat is cooked, remove it from the pan and place it in a large dish. It should be very tender and easily shred with the help of two forks. Finally, add 1 cup of the cooking juices (or consomé) over your meat and reserve the rest.

In a shallow bowl add one more ladle of the warm consomé. Dip one

of the Soft Tacos

into the sauce, and top it with the shredded birria meat (see pictures for reference). Then add a little cheese, fold in half and heat your taco over a hot pan until lovely and crispy. Repeat the same process with the rest of your tortillas and birria.

Serve your birria tacos with a bit of white onion and freshly chopped coriander. Have some of the warm consomé on the side, ready to dip your tacos into – you can thank us later!
What To Serve With Birria Tacos
We like to serve our Birria Tacos with some irresistible and flavourful sides of Mexican Corn and Mexican Coleslaw.
For more sides inspiration and perfect pairings with tacos, be sure to check out our What to Serve with Tacos.
Our indulgent Mexican Corn is flavoured with smoky Chipotle Mayo.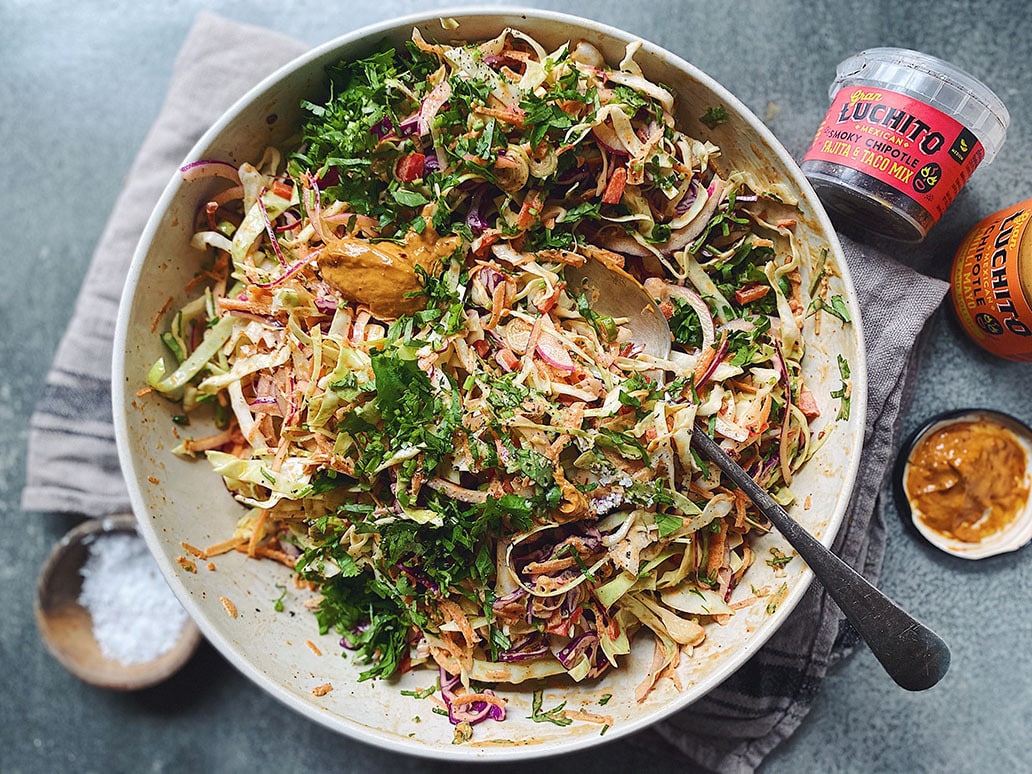 Mexican Coleslaw offers freshness, crunch and colour.
Make Epic Tacos At Home!
Our How To Make Tacos blog will help you to master everything you need to know about making homemade Tacos. Be sure to visit our Taco Recipe Collection for our 28 tried and tested taco recipes developed by our Head Chef Susy V for lots more flavours, protein and veggie options. Whether you fancy irresistible Pork Belly Tacos, healthier Chicken Tacos or flavourful veggie Halloumi Tacos, there's a taco recipe for you!
Download Our Free Guide To Tacos
Your free Taco guide will be emailed to you immediately.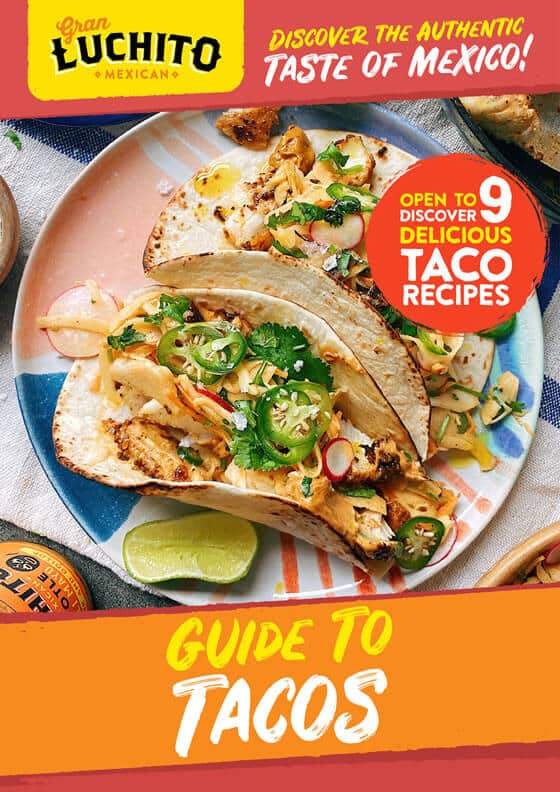 Similar Recipes You Might Like to Try
FAQs
What meat is birria tacos made of?
Birria is a meat stew traditionally made from goat meat, but occasionally made from beef or mutton. The dish is often served at celebratory occasions, such as weddings and baptisms, and holidays, such as Christmas and Easter.
How to eat birria?
It is frequently served in a bowl, soup-style, garnished with chopped white onions and coriander, a pile of fresh tortillas on the side to help sop up the broth. Bu it can also be served next to rice and beans, in a taco or quesadilla.
Comments / Questions / Tips

Subscribe now for a free copy of the Gran Luchito e-cookbook filled with delicious, authentic Mexican recipes and join our mailing list for all the latest recipes, news and blog updates.

wpDiscuz