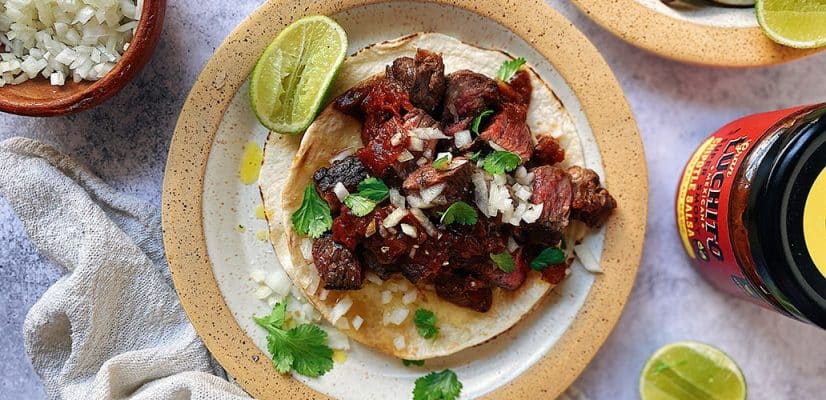 Vampiro Taco
We don't really know the origin of it's name "vampire tacos" but what we do know is that this vampiro beef taco is a very delicious and a very popular one in the taquerias in the north of Mexico. It's also quite easy to replicate at home.
When you go to a taqueria and you order "two vampiros please" they know what you're talking about, and they'll serve you a lightly toasted tortilla topped with cheese and left on the grill to melt (like an open-faced quesadilla). This is then served with luscious pieces of grilled steak, garnished simply with finely diced onion, a bit of coriander and a good salsa on top.
Often they would add a double tortilla to make sure your taco holds all of those delicious toppings. We totally recommend doing this, and whether you prepare these vampiro tacos over the grill, or in your kitchen they will taste amazing. A real taco treat!
This vampiro taco recipe makes four tacos, enough to feed two people. So feel free to duplicate or triplicate this popular Mexican beef taco recipe!
Prep time

10 mins

Cook time

20 mins

Total time

30 mins

Ideal for

Lunch

Make it

Mexican

Serves

2
Nutrition: Per serving
kcal 155
fat 7.1g
saturates 3.1g
carbs 9.9g
sugars 1.3g
fibre 0.1g
protein 12.9g
salt 0.78g
How to make it
Place your steak on a plate and sprinkle with the

Smoky Chipotle Fajita and Taco Mix

, then add the olive oil and rub the steak with your hands, making sure it's coated all over.

Prepare a frying pan or the grill (depending on how much time you have) and once it's hot enough place your steak over the pan. Season with salt and freshly ground black pepper while it's cooking. Cook the steak to your liking, we recommend 3 minutes on each side for a medium steak. Once ready, remove it from the heat, cover it with tin foil and let it rest for 6-7 minutes before cutting.

In the meantime, place half of the

Soft Taco Wraps

over your kitchen counter and add grated cheese on top. Heat up a non-stick pan and warm up the soft tacos with the cheese until it's lovely and gooey and the tortillas get lightly toasted.

Remove the open quesadillas from the pan. Serve two open melty quesadillas per plate, with an extra warm tortilla at the bottom (optional).

C

ut your steak into smaller pieces, and place them over each open quesadilla. Top with finely diced raw onion, a good amount of

Chipotle Salsa

, lime, and enjoy!
What To Serve With A Vampiro Taco
Wondering what to serve with this vampiro taco recipe? Why not go for some:
More About Tacos
Our How To Make Tacos blog will help you to master everything you need to know about making homemade Tacos. And our Taco Recipes is our collection of tried and tested Taco recipes with more flavours, protein and veggie options. For further inspiration on side dishes, check out our blog on What To Serve With Tacos.
Download Our Free Guide To Tacos
Your free guide will be emailed to you immediately.
Similar Recipes You Might Like to Try
FAQs
What is a vampiro taco?
It's a soft tortilla that's cooked on a grill until it turns crackly and crunchy. A layer of cheese is then added between the tortilla and the other toppings, and that is what makes it a vampiro!
Why are they called vampire tacos?
Vampiro is the Spanish word for vampire. Some people say that the tortilla's concave form on the grill resembles a bat's wing, as the corn tortilla edges fold up.
Can you use other meats for a vampiro taco, or does it have to be beef steak?
Beef is the traditional meat to use for this taco. However, it does not need to be rump steak. You could use a different cut of beef, such as bavette, sirloin or ribeye.
If you love the style of this taco and aren't keen on beef, why not try it with grilled prawns, chicken or chorizo. You could even do a veggie version and grill some courgette!
Please let us know what you think of this recipe