Air Fryer Quesadilla
Skip the hassle and try this quick and easy air fryer quesadilla recipe for dinner, especially on those busy weeknights. You can get the same crispy, melted-cheese-to-perfection result with this recipe as you would with a traditional pan.
When using an air fryer to prepare quesadillas, there are a few key points to keep in mind:
Pre-heat the air fryer. This will speed up the cooking process and help you get the best results.
Avoid overcrowding the air fryer. We recommend cooking no more than two or three quesadillas at once, but this will depend on the size of your equipment.
Brush oil on your quesadillas. In order to have a crunchier crust on the outside of your quesadillas, you should execute this step before putting them in the air fryer. There is nothing more mouthwatering than a tortilla that is crunchy on the exterior and contains a gooey, cheesy filling on the inside.
Add a dollop of Gran Luchito Chipotle Refried Beans to a Soft Taco Wrap, spread it out, and then sprinkle some grated cheese in the centre to make these air fryer quesadillas even more delicious. When you open your quesadillas, you will be greeted with gorgeously melted cheese, and the warm beans will work as insulation, allowing the cheese to remain warm and melty for an extended period of time.
Favourite cheeses to make quesadillas:
Cheddar
Mozzarella
Monterrey Jack
Pepper Jack
Chihuahua
Oaxaca
Gruyere
Gran Luchito Chipotle Salsa is the perfect topping for your quesadillas.
Prep time

Cook time

Total time

Ideal for

Lunch

Make it

Mexican

Serves

5
How to make it
Preheat air fryer 180 ˚C, 360 ˚F.
When heating the air fryer, place the Soft Tacos on your kitchen's clean countertop. Followed by spreading a spoonful of cold Refried Beans over the tortillas of each Soft Taco using the back of a spoon. Finally, place a handful of grated cheese in the centre and fold the quesadillas in half; you should end up with approximately 10 quesadillas.
Coat your quesadillas with olive oil, then set them in the air fryer in groups of three or two and cook for six minutes. Once done, take them from the basket and continue cooking the remaining quesadillas.
Serve warm with a generous amount of fresh coriander and Chipotle Salsa, and enjoy!
What to serve with Air Fryer Quesadillas
Download Our Free Guide To Tacos
Your free Taco guide will be emailed to you immediately.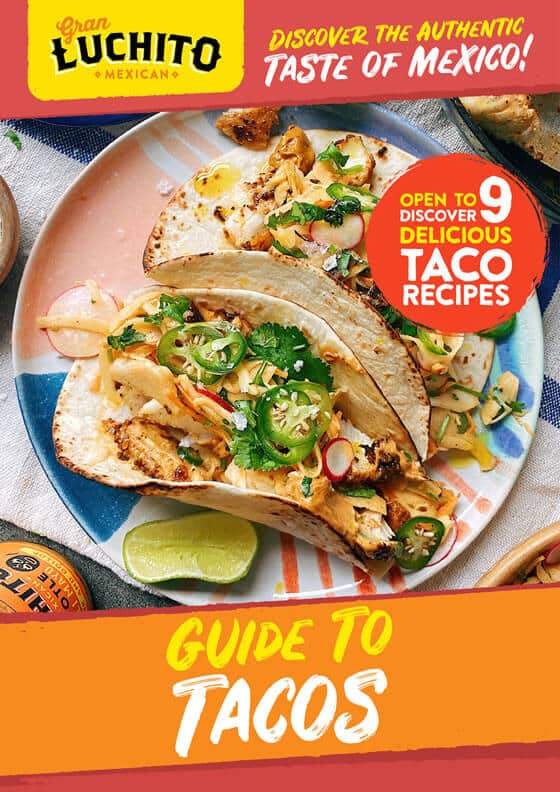 Similar Recipes You Might Like to Try
FAQs
What kind of cheese is best for air fryer quesadillas?
We recommend a good melting cheese such; Chihuahua cheese, Oaxaca cheese and mild cheddar cheese.
How do you make quesadillas not fall apart?
Use approximately two heaping tablespoons per large tortilla. It is wise to prepare your filling ahead of time, ensuring that there is an equal ratio of cheese to protein and/or vegetable. You should use plenty cheese because it will bind the dish together. Too little, and you will lose your filling.
Should an air fryer quesadilla be crunchy?
The quesadilla's exterior is crunchy without being hard, while the interior is soft and moist thanks to the addition of melted cheese.
Comments / Questions / Tips

Subscribe now for a free copy of the Gran Luchito e-cookbook filled with delicious, authentic Mexican recipes and join our mailing list for all the latest recipes, news and blog updates.