Air Fryer Chimichanga
Do you love burritos? If yes, then allow us to introduce you to this air fryer chimichanga recipe.
This beautiful, easy-to-create Mexican dish with a crispy exterior is enhanced when prepared in an air fryer, allowing food lovers a healthier and faster way to cook the meal. You can serve chimichangas prepared in an air fryer with sour cream, cheese, salsa, or guacamole.
These air-fried chimichangas are a healthier alternative to the traditional version of the Mexican favourite, yet they still deliver on flavour and crunch. Chimichangas may be cooked quickly and easily in an air fryer by simply brushing or spraying the burritos with vegetable oil and placing them in the appliance for a few minutes.
Chimichangas cooked in an air fryer have a beautiful, crisp exterior and a warm, flavorful interior.
These chimichangas are filled with a delicious creamy chicken filling prepared with Gran Luchito Tomatillo Enchilada Sauce and a bit of creme fraiche.
Gran Luchito Burrito Wraps are filled with the creamy tomatillo chicken, folded and wrapped into a burrito like shape.
Serve your chimichangas with any of our salsas Gran Luchito Chipotle Salsa, Mango Habanero or Tomatillo, choose your favorite.
We like serving these chimichangas with our recipe for Homemade Guacamole and Chipotle Crema.
A few things to remember when making chimichangas on an air fryer:
Preheat the air fryer. This will make cooking time much faster and you will achieve best results.
Don't overcrowd the air fryer. Place just enough chimichangas to cook at one time, depending on the size of your appliance, we recommend 2 to 3 at a time.
To make your chimichangas crispy you have to add a coat of olive oil spray before placing them in the air fryer.
Prep time

Cook time

Total time

Ideal for

Dinner

Make it

Mexican

Serves

5
How to make it
Begin by preparing the creamy chicken tomatillo filling. Heat up a frying pan with the olive oil over medium heat, when ready add the onion and garlic, fry gently for 2 to 3 minutes. Pour in the Tomatillo Enchilada Sauce and add the chicken, stir and season with salt and pepper, simmer everything for 5 to 6 minutes over low heat. Once ready remove the pan from the heat and stir in the creme fraiche, reserve on the side.
Warm up the Burrito Wraps over a hot pan just enough to make them a bit softer and easier to fold. Once the wrap is warm, place it over a clean kitchen surface and add 2 spoonfuls of creamy chicken filling and a handful of grated cheese. Fold and wrap your burrito (see video for reference). Repeat the same process with the remaining ingredients.
Preheat the air fryer. When ready, place two or 3 burritos in the air fryer and spray them with oil all around. Place the tray back into the air fryer and cook for 10 min at 180˚C.
Once ready, place the chimichangas on a plate, serve while they are still toasty. Garnish with the shredded cabbage and onion, drizzle sour cream on top, add spoonfuls of Tomatillo Salsa and serve with lime wedges on the side.
What to serve with Air Fryer Chimichangas
Download Our Free Guide To Tacos
Your free Taco guide will be emailed to you immediately.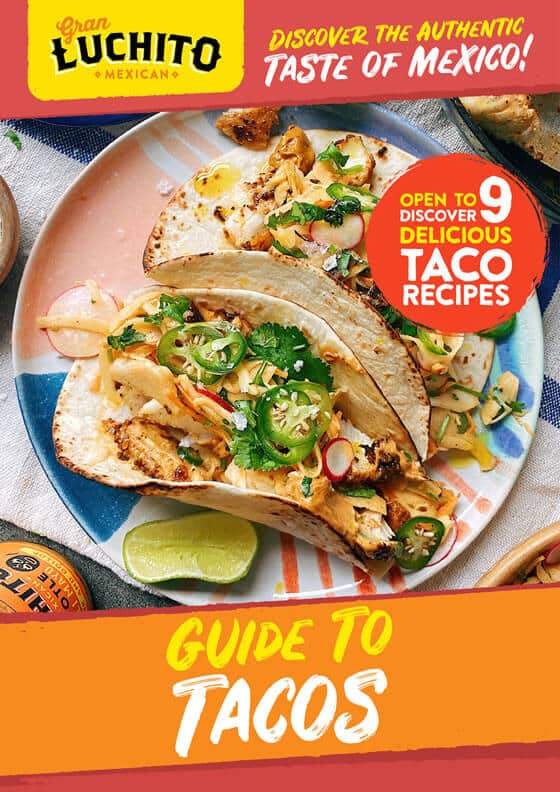 Similar Recipes You Might Like to Try
FAQs
How do you air fry chimichangas without them falling apart?
Wrap the filling with the top and bottom of the tortilla. Then, apply a little more paste to the ends, fold them up, and press to seal. Air fry two chimichangas at a time to avoid overcrowding the air fryer.
How long to reheat a chimichanga in an air fryer?
Whether you have already prepared your chimichangas or have leftovers, the air fryer is idea for a quick reheat. We suggest warming chimichangas in an air fryer for four minutes at 160 degrees Celsius.
How do you seal a chimichanga?
Brush flour mixture around tortilla's edge using pastry brush. Wrap the tortilla around the filling. Next spread extra paste on the ends and fold and press to seal.
Comments / Questions / Tips

Subscribe now for a free copy of the Gran Luchito e-cookbook filled with delicious, authentic Mexican recipes and join our mailing list for all the latest recipes, news and blog updates.