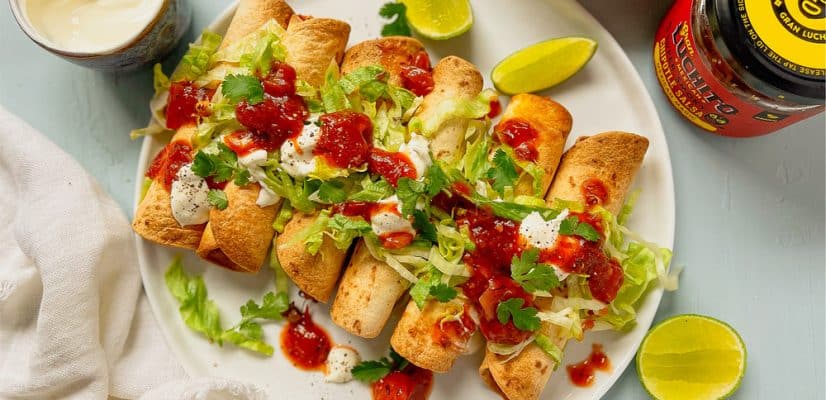 Air Fryer Taquitos
Air fryer taquitos are addictive, tortillas prepared with a tasty filling, folded into a flute like shape and then shallow fried in vegetable oil until golden brown, then served with crema and salsa, what's not to love.
With an air fryer not only can you prepare them in half of the time, but you can also save a lot of calories as the only oil needed is a bit of cooking oil sprayed on the outside. The air fryer does the rest of the work by turning them nice and crispy.
A few things to remember when using the air fryer:
Preheat the air fryer. This will make cooking time much faster and you will achieve best results.
Don't overcrowd the air fryer. Place just enough taquitos to cook at one time, depending on the size of your appliance, we recommend 4 at a time.
To achieve crispy taquitos and golden on the outside, you can add a coat of olive oil spray before placing them in the air fryer.
What to serve with air fryer crispy taquitos:
Chef Tip: To keep the shape of your taquitos, fold them tight and add a skewer through the center holding the flappy end. Then place it in the air fryer tray, add the spray oil and cook.
For an even bigger spread why not try Vegetarian Nachos and Elotes.
Prep time

Cook time

Total time

Ideal for

Dinner

Make it

Mexican

Serves

2
How to make it
Heat up a frying pan with the olive oil over medium heat, when ready add the onion and fry for a couple of minutes until translucent. Add the chicken and the Ancho BBQ Fajita & Taco Mix, stir and cook for a couple of minutes. Once ready, remove it from the heat and reserve on the side.
Preheat the Air Fryer. Place the Refried Beans in a bowl (not necessary to reheat them).
Place the Soft Tacos over a clean surface, then add a spoonful of Refried Beans and spread it with the back of a spoon, add a spoonful of Ancho BBQ chicken and a sprinkle of grated cheese on top. Fold and wrap your taquito into a flute-like shape and secure the end with a toothpick through the center. Repeat the process with the remaining Soft Tacos, filling and cheese.
Place 4 taquitos in the air fryer and add a coat of spray oil on top, then cook for 10 minutes at 180 ˚C. Repeat the same with the remaining taquitos.
Serve the crispy taquitos arranged over a nice platter, add the shredded iceberg lettuce on top, a few spoonfuls of creme fraiche and a good amount of Chipotle Salsa. Serve with lime wedges on the side.
What to serve with Air Fryer Taquitos
Download Our Free Guide To Tacos
Your free Taco guide will be emailed to you immediately.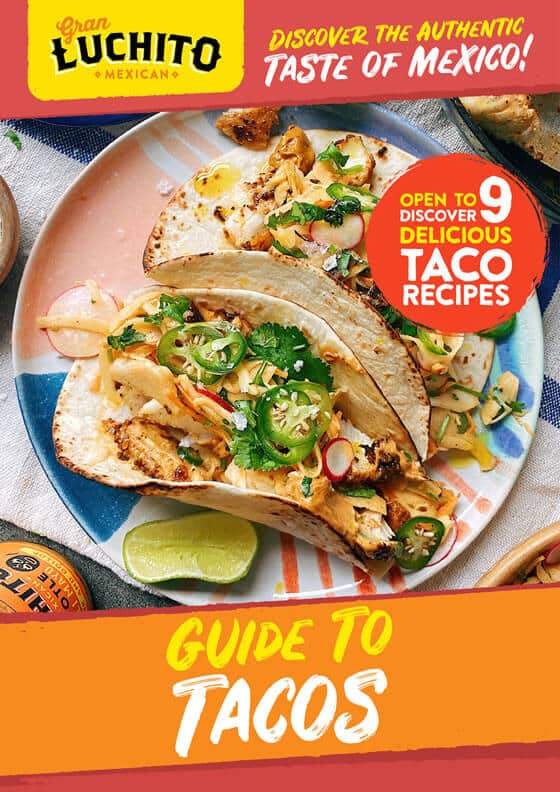 Similar Recipes You Might Like to Try
FAQs
How long to cook taquitos in the air fryer?
To prepare an air fryer for use, set the temperature to 400 degrees F. (200 degrees C). Spray avocado oil over the taquitos and arrange them in a single layer in the air fryer basket so that they are not touching. Sauté until golden brown, approximately 6 to 9 minutes.
How do you know when taquitos are done?
Bake for 9 minutes. Let stand 1 minute before serving. Verify that it is thoroughly cooked. The inside temperature must reach 165 degrees Fahrenheit, as measured by a food thermometer.
How do you roll taquitos without cracking them?
To roll a tortilla, it must be warm; fresh tortillas are ideal. Rolling them when still heated has certain advantages.
Comments / Questions / Tips

Subscribe now for a free copy of the Gran Luchito e-cookbook filled with delicious, authentic Mexican recipes and join our mailing list for all the latest recipes, news and blog updates.