For all you vegetarians out there, here's an amazing loaded veggie nachos recipe for you! It combines corn, radishes, avocados, black beans and the ultimate nacho topping the one and only, sweet and spicy Gran Luchito Jalapeño & Pineapple!
Vegetarian Nachos are one of our favourite Vegetarian Tex-Mex recipes, and the perfect dish to prepare for when you have loved ones around. Great for sharing, great for snacking, great as a starter, or for eating in front of that big game or film night!
For this vegetarian nacho recipe, we have topped the Gran Luchito Lightly Salted Tortilla Chips with veggie ingredients such as cheese and our authentic Mexican Gran Luchito Cantina Beans. But if you want to go further you could also add some homemade guacamole and dollops of our Gran Luchito Red Pepper Salsa. If you want to add some heat you could try using our fire-roasted Gran Luchito Serrano Green Chillies.
For further recipe, inspiration check out our Guide to Vegetarian and Vegan Mexican Food.
---
Found On Amazon In United Kingdom and Germany.
---
Prep time

Cook time

Total time

Ideal for

Mexican

Make it

Mexican

Serves

2
Nutrition: Per serving
kcal 151
fat 8.2g
saturates 2.7g
carbs 15g
sugars 1.8g
fibre 1.2g
protein 4.9g
salt 0.3g
How to make it
Preheat the oven to 250°C / 480°F.
Heat a large pan of water until boiling. Once bubbling, add salt and the peeled corn on the cob and leave for 3 minutes. Remove and leave to dry.
Add the corn to a frying pan over a medium / high heat. Gradually turn them as they begin to catch and char in places. After 10 minutes, remove from heat and cut the kernels off.
In a bowl, mix the corn with chopped coriander, Gran Luchito Cantina Beans, chopped Gran Luchito Jalapeño & Pineapple, 1 tablespoon fresh lime juice, salt & pepper.
In an ovenproof dish (and the dish you want to present the meal in), add a layer of Gran Luchito Lightly Salted Tortilla Chips, followed by a layer of corn / beans followed by a sprinkling of mozzarella cheese
Repeat 2 or 3 times depending on how deep the dish is, making sure the last layer is cheese.
Place in the oven for 15 minutes, or until all the cheese has melted. You can also finish under the grill to make the cheese on top crispy.
Top with dollops of sour cream, thinly sliced radish, fresh coriander and wedges of lime.
Download Our Free Guide To Nachos
Your free Nachos guide will be emailed to you immediately.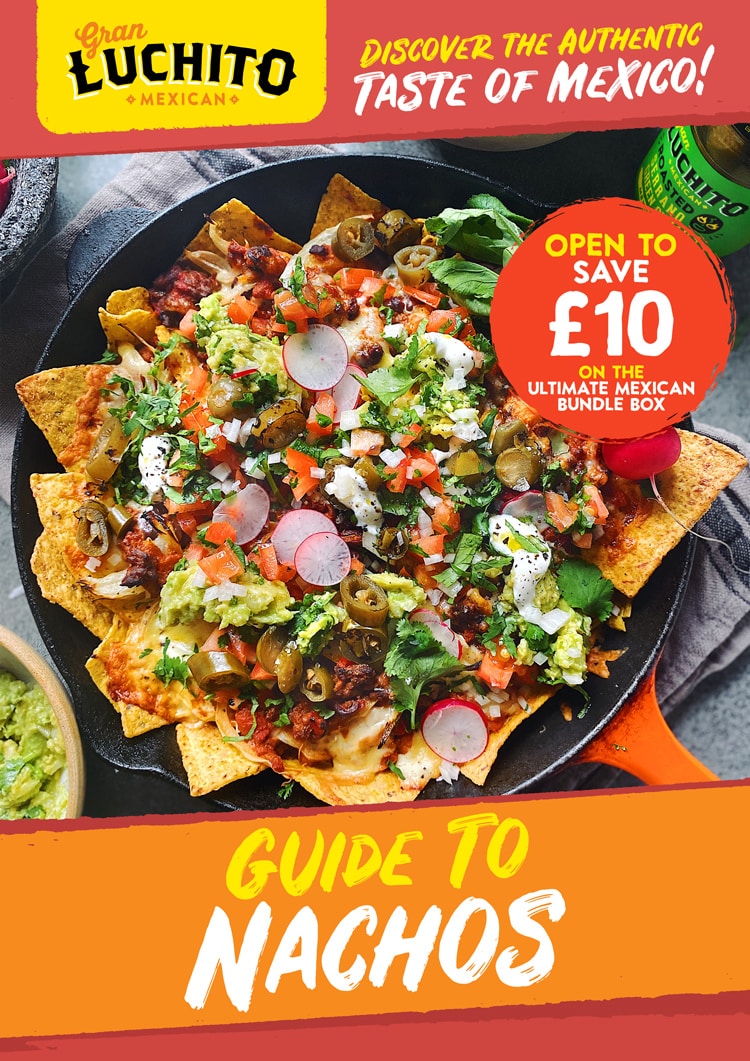 Similar Recipes You Might Like to Try
Comments / Questions / Tips

Subscribe now for a free copy of the Gran Luchito e-cookbook filled with delicious, authentic Mexican recipes and join our mailing list for all the latest recipes, news and blog updates.