Vegetarian Nachos
For all the vegetarians out there and for everyone who loves a good nachos recipe, here's an amazing loaded vegetarian nachos recipe for you! Vegetarian Nachos are one of our favourite vegetarian tex mex recipes, and the perfect party food. Great for sharing, great for snacking, great as a starter, or for eating in front of that big game or film night!
For this vegetarian nacho recipe, we layer Gran Luchito Lightly Salted Tortilla Chips with fried red peppers and onions, Gran Luchito Crunchy Salsa Macha, warm Gran Luchito Cantina Beans, and grated cheese. The nachos are baked in the oven until the cheese melts and gets lovely and gooey over the beans and peppers.
We like to finish our vegetarian nachos by topping them with spoonfuls of creme fraiche (or soured cream) and fresh guacamole. 
Tips and tricks:
For best results, build your veggie nachos into two layers of Lightly Salted Tortilla Chips. Make sure to add enough pepper-onion mixture, beans, and cheese into each layer. There's nothing worse than just having tortilla chips at the bottom with no flavour.

Don't forget to add fresh garnishes on top of your nachos as well, as they help to bring it all together. Anything from lettuce to herbs, and radishes, they're the perfect last touch to the best nachos.
If you want to add some extra heat you could try using our fire-roasted Gran Luchito Serrano Green Chillies or use Gran Luchito Chipotle Tortilla Chips instead.
For further Mexican recipe inspiration check out our Guide to Vegetarian and Vegan Mexican Food.
---
Found On Amazon In United Kingdom and Germany.
---
Prep time

Cook time

Total time

Ideal for

Snack

Make it

Mexican

Serves

2
Nutrition: Per serving
kcal 184
fat 9.8g
saturates 3.5g
carbs 18.6g
sugars 9.1g
fibre 3.8g
protein 5.7g
salt 0.59g
How to make it
Preheat the oven to 180˚C/350˚F.

Heat up a frying pan with 1 tablespoon of olive oil over high heat. Once hot enough, add the onions and red peppers and fry for 6 to 7 minutes, allowing them to get a bit of colour and charred edges. Towards the end of cooking, add the Crunchy Salsa Macha, then season with a pinch of salt and pepper. When ready, squeeze the juice of 1/2 lime on top and set aside.
Add the avocado flesh into a bowl, squeeze the juice of 1 lime on top, and crush the avocado roughly with a fork. Add the red onion, tomato, and 1 tablespoon of olive oil. Mix it with a spoon, season to taste, and then reserve.
In a medium sized baking tray or dish, add a layer of Lightly Salted Tortilla Chips. Top with half of the fried red peppers-onion mixture, half of the Cantina Beans spooned over, and half of the grated cheese spread evenly over the surface. Repeat this to build two layers of tortilla chips and toppings. Bake in the oven for 10 minutes.
Remove the hot nachos from the oven and finish them by topping them with the shredded lettuce and coriander scattered on top, followed by the guacamole, and spoonfuls of creme fraiche. Finally, we also recommend a drizzle of Crunchy Salsa Macha and flaky salt on the top. Enjoy!
What To Serve With Vegetarian Nachos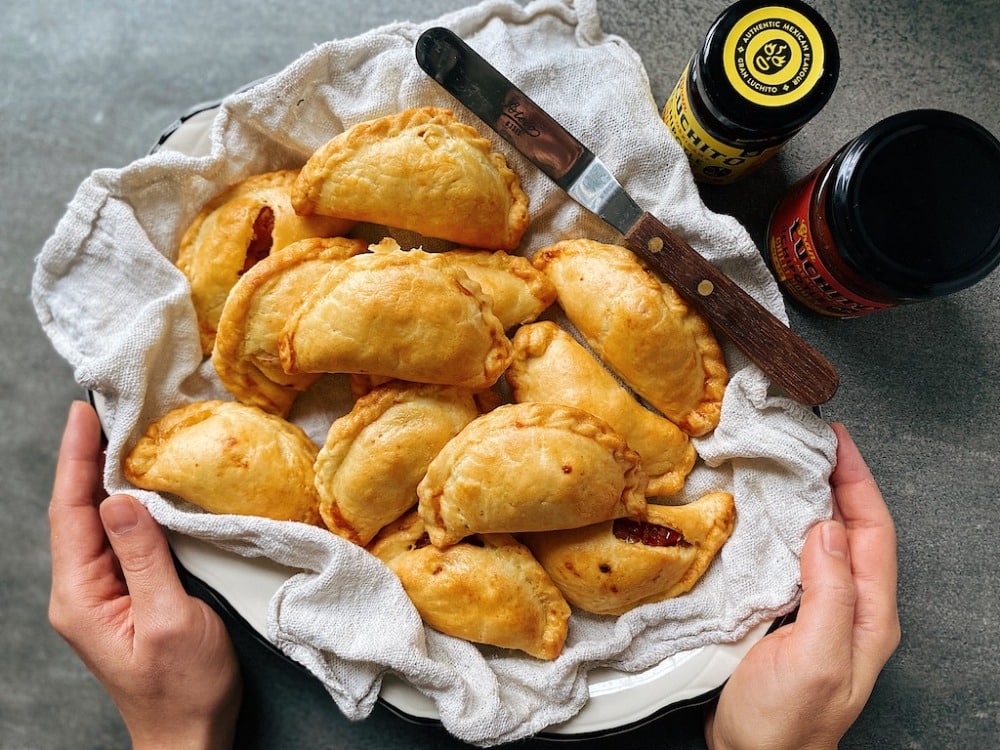 Serve it with some of these Cheese Empanadas if you are having a party.
Alongside some traditional Tetelas.
Download Our Free Guide To Nachos
Your free guide will be emailed to you immediately.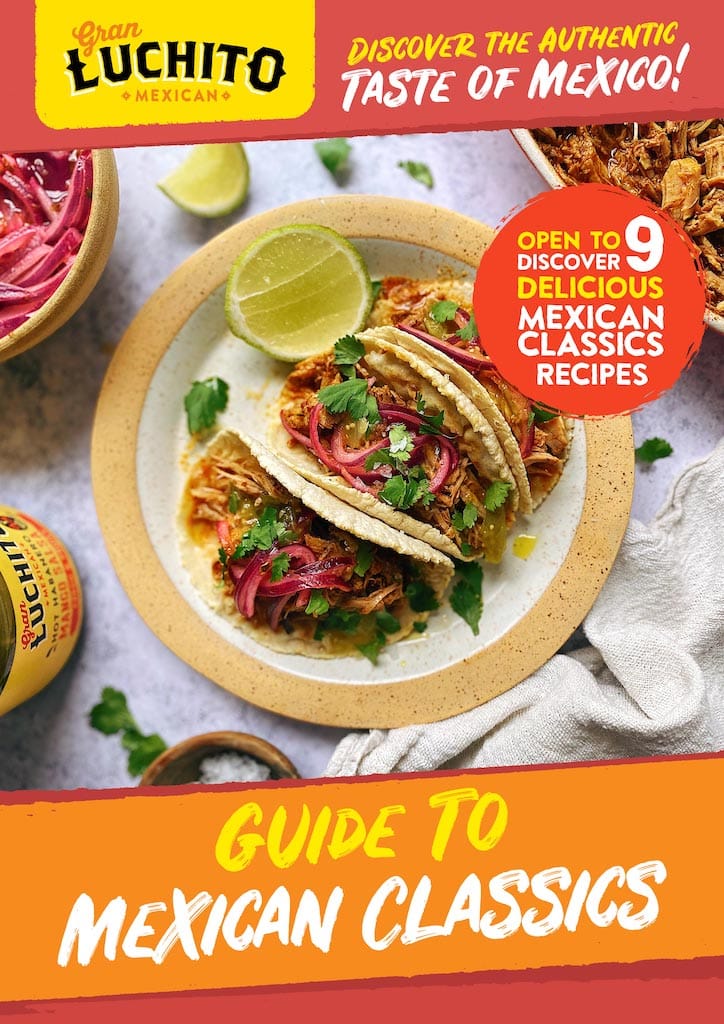 Similar Recipes You Might Like to Try
FAQs
What to put on nachos?
Whatever you want! If you want to stick with the traditional Mexican vibe, we recommend guacamole, pico de gallo, shredded lettuce, grated cheese, sour cream, grilled corn, black or refried beans, fresh jalapeño or serrano chillies, cubed steak or shredded chicken.
What is a nacho?
Nachos are a Tex Mex food consisting of fried tortilla chips covered with melted cheese or cheese sauce, as well as a variety of other toppings, often including meats, vegetables, and condiments such as salsa, guacamole, or sour cream.
What cheese to use for nachos?
A melty sharp cheddar reigns for a bit of tang and is the best option for nachos. Combining cheddar with American cheese (Monterey Jack) is even better, as American cheese melts easily and doesn't firm up or separate quickly when it cools.
Comments / Questions / Tips

Subscribe now for a free copy of the Gran Luchito e-cookbook filled with delicious, authentic Mexican recipes and join our mailing list for all the latest recipes, news and blog updates.