Estimated reading time: 10 minutes
In Mexico you can find a lot of vegetarian options especially towards the south where beans, vegetables, rice, corn tortillas, salsas, eggs and fresh cheeses are a big part of the Mexican diet. Therefore Mexican food can easily be vegetarian! There's a huge variety of meat subsitutes out there to keep things interesting, and with a little help from our fantastic range of Gran Luchito products, you can make those veggies Mexican in no time. In this blog we'll give you ideas for the best meat substitutes for vegetarian Mexican dishes, as well as our favourite vegetarian Mexican recipes, tips and more.
---
The Best Meat Substitutes for Vegetarian Mexican Dishes
Whether you are a committed vegetarian or conscious of the environmental impact of meat consumption and looking to cut back on meat a few days a week, there are lots of options to substitute meat in your favourite Mexican dishes. Here are some of our favourite plant-based options which make delicious vegetarian Mexican food:
Jackfruit – combine jackfruit with a sauce, cook in a 200 C oven for 30 minutes, and you will be rewarded with a filling resembling the texture of shredded meat. Use this as a substitute in our Slow Cooker Pulled Pork or Mexican Pulled Chicken recipes.
Halloumi – we like to season it with Gran Luchito Smoky Chipotle Fajita & Taco Mix or Gran Luchito Garlic and Guajillo Fajita & Taco Mix which creates a crust of flavour when the halloumi is pan-fried over a hot pan. You can also replace meat for halloumi in fajitas! Here is our Halloumi Fajitas recipe.
Black Beans – we might just be a little bit partial to adding our own authentic Gran Luchito Cantina Beans to just about every veggie Mexican dish! They are made in Mexico and are a delicious source of protein.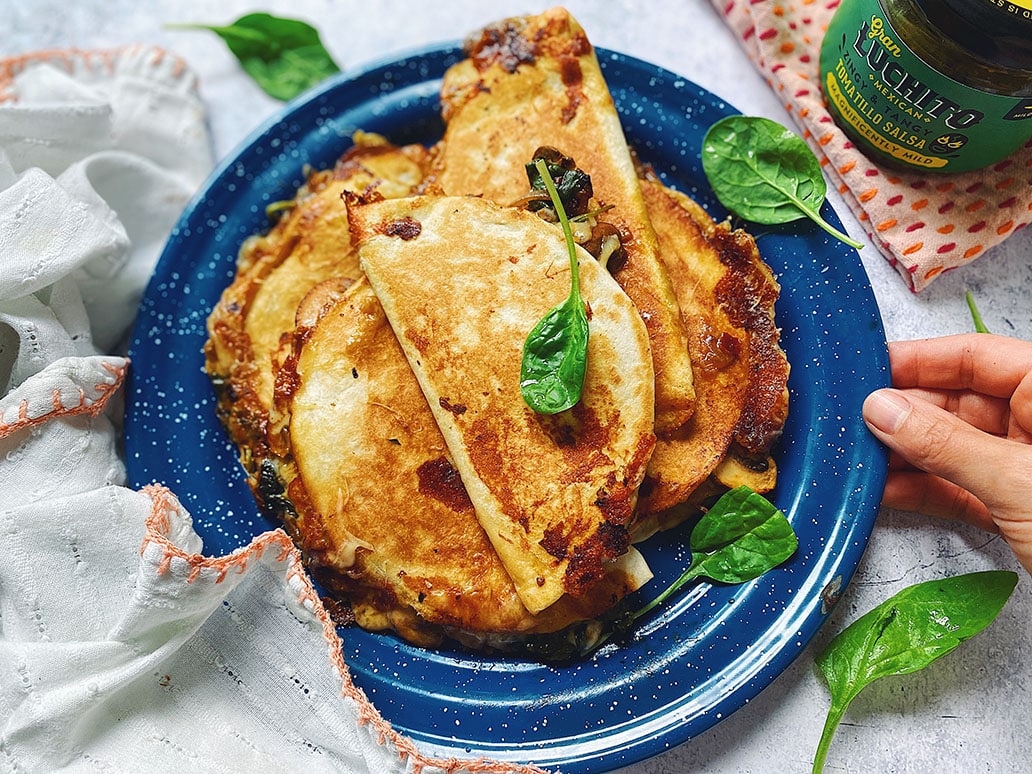 Mushrooms – meaty mushrooms such as chestnut or portobellos are a great meat alternative for making veggie Mexican recipes such as fajitas or fillings for quesadillas. Or experiment with different, more exciting varieties such as oyster, chanterelle, enoki or king oyster.
Lentils – combine lentils with a dollop of Gran Luchito Chipotle Paste and slow cook to perfection.
Soya Mince – adapt our chilli con carne, as well as Beef Enchiladas or Beef Tacos recipes with this instead.
---
Other Protein Alternatives
Chickpeas, Tempeh, Edamame Beans, Nut Butters, Chickpeas, Tofu, Seitan
---
Your Gran Luchito Kit For Making Vegetarian Mexican
Stock your cupboard up with these Gran Luchito goodies, so that you always have something to hand to make your veggies Mexican!
Gran Luchito Soft Taco Wraps and Burrito Wraps or Hard Taco Shells would be the first staples to have handy. So however you like to hold your fillings there's something for everyone.
Next up, add protein, flavour and texture in the form of either our Gran Luchito black Cantina Beans or Refried Beans. They can be added to any of your tasty concoctions.
Finally, you need either something to flavour your veggies or protein. Gran Luchito Chipotle Paste, one of our taco mix's such as Smoky Chipotle Fajita and Taco Mix, or a sauce like Chipotle Enchilada Sauce will work wonders.
---
Vegetarian Toppings
Don't forget the toppings! All of these toppings are perfect for vegetarian Mexican dishes.
Have you tried Gran Luchito Crunchy Salsa Macha yet? It's spicy, nutty, and a wonderful way to flavour just about everything. Sprinkle it over scrambled eggs, veggies, or tacos and you'll soon be addicted.
Our Jalapeno & Pineapple is also a firm favourite for Gran Luchito fans and anyone who tries it for the first time. Add it to anything you like – chilli, inside burritos, it's also a great topping for pizza!
Stock up on some Gran Luchito Tomatillo Salsa or Hot Habanero Mango Salsa to dollop inside your tacos, or dip Lightly Salted Tortilla Chips or quesadillas into.
---
Did You Know?
Lard is very commonly used for cooking in Mexico, so just be aware of this. When cooking at home, this is very easy to substitute by using vegetable oil instead!
Have you heard of Seitan and Tempeh? They are both great at absorbing flavours whilst marinating. They're great pan-fried, or crumbled and used as mince. They can also be separated into strings resembling shredded meat. Season these with one of our Gran Luchito taco mixes or cook in Gran Luchito sauce to prepare tasty taco fillings or vegetarian Mexican wraps.
---
3 Things That Make Vegetarian Food Great!
It's easy to substitute the meat in most of the traditional dishes with vegetarian friendly options.
Simple rice, beans, guacamole and fresh cheese offer a nutritious and wholesome vegetarian meal.
When using Gran Luchito products there is instantly more flavour in your food, making you more satisfied with your meals.
---
Our Favourite Vegetarian Recipes
For more, see here for our other Vegetarian Recipes.
---
We hope you've enjoyed reading our guide on How To Make Vegetarian Mexican, and it's inspired you to use your usual veggies in a different way, and turn them Mexican! We'd love to see what you get up to in the kitchen! Don't forget to tag us #granluchito.
Be sure to check out our Beginner's Guide to Mexican Food to learn more about what Mexican food involves.
For similar blogs to this one, please visit: