Halloumi Fajitas
For vegetarians or simply halloumi lovers these Halloumi Fajitas are for you! 
What you need to do is to cook the sweet red peppers and onion first, let them get deliciously charred over a very hot pan, and then add a bit of Gran Luchito Chipotle Paste to infuse a delicious smoky kick into your peppers. Cut the halloumi into thick strips and coat them with a bit of olive oil, Gran Luchito Smoky Chipotle Fajita & Taco Mix and lime juice. Then mix them with your hands, making sure the halloumi is nicely coated. 
Pan-fry the halloumi over a hot non-stick pan with a drizzle of olive oil, flipping carefully to make sure they get deliciously crisp on both sides.
Serve your pan-fried halloumi with the sweet red pepper mixture, freshly chopped coriander on top, warm Gran Luchito Soft Taco Wraps, sour cream and maybe a few lime wedges on the side.

---
---
Prep time

Cook time

Total time

Ideal for

Dinner

Make it

Mexican

Serves

3
Nutrition: Per serving
kcal 140
fat 8.3g
saturates 4.1g
carbs 10g
sugars 2.3g
fibre 1g
protein 6.4g
salt 0.78g
How to make it
Heat up a frying pan with 1 tablespoon olive oil and once it's hot enough add in your red sweet peppers and onion. Stir and let them get soft and acquire a bit of colour. Add the

Chipotle Paste

and stir to mix in with the peppers and onion mixture. Simply season with a pinch of salt and black pepper, and once ready remove from the heat and set aside.

Place your halloumi on a plate and add the Smoky Chipotle Fajita & Taco Mix, 1 tablespoon olive oil and juice of half a lime. Coat all the halloumi pieces with your hands and season with a bit of black pepper.

Prepare a non-stick pan and pan fry the halloumi pieces until golden brown on both sides. Flip carefully in order not to break them.

Serve the red peppers and onion mixture on a platter with the pan fried halloumi. Add freshly chopped coriander on top and the remaining ½  lime squeezed on top.

Warm up the

Soft Taco Wraps

over a hot pan and wrap them in a tea towel to keep them warm.

Serve your fajita platter on the table, with the warm Soft Tacos, the sour cream and lime wedges on the side.
What To Serve With Halloumi Fajitas
We recommend whipping up a batch of guacamole as a topping for the halloumi fajitas and for dipping some Gran Luchito Lightly Salted Tortilla Chips into. Our Mexican Salad is also bursting with fresh flavour, and would go well here.
Download Our Free Guide To Fajitas
Your free Fajita guide will be emailed to you immediately.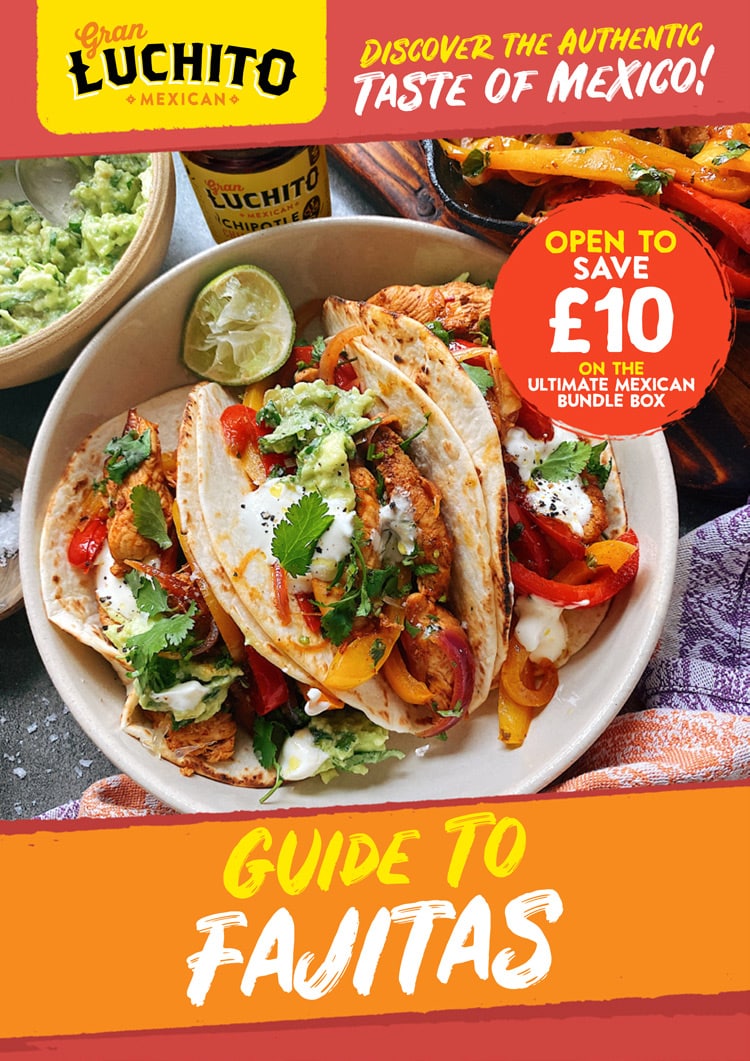 Similar Recipes You Might Like to Try
FAQs
Is halloumi healthy?
Nutritionally, halloumi is an excellent source of calcium, providing 70% of the adult recommended daily allowance in one portion. Halloumi also contains zinc, selenium, magnesium, vitamin A and many of the B vitamins. However, it is also high in sodium, saturated fat, and calories. It's therefore advised to eat it in small quantities and not too often. Once a week is fine, just not every day!
Is halloumi vegetarian?
Halloumi is often vegetarian, but it is worth checking the packet, because it can be made with animal-derived rennet. It is not vegan as it is a dairy product.
How to store halloumi?
Halloumi will keep in the refrigerator for as long as a year, if it's unopened. Once opened, store it in the refrigerator in salt water in an airtight container for up to two weeks.
Comments / Questions / Tips

Subscribe now for a free copy of the Gran Luchito e-cookbook filled with delicious, authentic Mexican recipes and join our mailing list for all the latest recipes, news and blog updates.