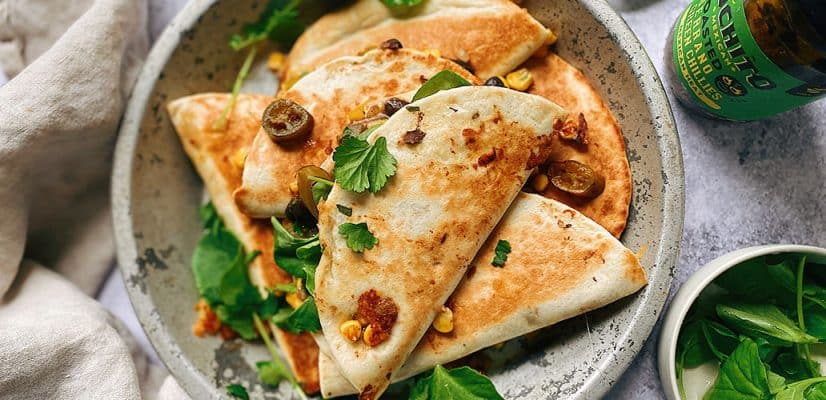 Vegetarian Quesadilla
Vegetarian quesadillas are crowd pleasing, budget friendly, and require just a quick toasting in a hot pan so are easy to prepare at home – sounds like a winner!
When it comes to veggie quesadillas, we should also mention that they are very versatile and you can use just about any veg you have on hand because just about anything tastes delicious with melted cheese and tortilla! In our recipe we used sweetcorn, peppers and onions. We like to take it up a notch, and add some of our Gran Luchito Cantina Beans. A veggie and black bean quesadilla is just that bit more hearty and satisfying with the added protein from the black beans.
If you are vegan, there are now some really good vegan cheeses available that can be used to make them, so make sure to try them!
These vegetarian quesadillas are so delicious and not spicy at all. You can choose to add Gran Luchito Fire Roasted Serranos to the mix for a bit of Mexican heat or leave them out if you are planning on giving them to little ones or those who prefer milder Mexican food. Either way, we know you'll love them!
Prep time

Cook time

Total time

Ideal for

Lunch

Make it

Mexican

Serves

5
Nutrition: Per serving
kcal 144
fat 6.4g
saturates 2.6g
carbs 15.7g
sugars 2g
fibre 1.4g
protein 6.1g
salt 0.72g
How to make it
Heat up the olive oil in a frying pan over medium heat and add the onion, cook until translucent. Add the peppers, corn kernels, oregano, pinch of salt and black pepper, stir and let it cook for a minute or two.

Add the

Cantina Beans

and the stock into the pan, then simmer on low heat for 6-7 minutes and stir from time to time. Once ready, remove from the heat and add the freshly chopped coriander on top.

Get your

Soft Taco Wraps

and add a good spoonful of the bean and corn filling. Add grated cheese and fold in half, then repeat the same with the rest of the tortillas and cheese.

Place your quesadillas into a non-stick pan until the cheese is lovely and gooey and the surface of the tortilla is golden brown on both sides.

Serve your quesadillas warm, with Fire Roasted Serranos on the side. Enjoy!
What To Serve With Quesadillas
If you are wondering what to serve with this vegetarian quesadilla recipe, why not go for some:
More About Quesadillas
Our How To Make Quesadillas blog will help you to master everything you need to know about making homemade Quesadillas. And our Quesadilla Recipes is our collection of tried and tested Quesadilla recipes with more flavours, protein and veggie options.
Download Our Free Guide To Quesadillas
Your free Quesadilla guide will be emailed to you immediately.


Similar Recipes You Might Like to Try
FAQs
What do you put in a veggie quesadilla?
Fill your quesadilla with black beans, chopped onions, peppers, chillies, tomatoes, corn, coriander and cheese. You can add canned, frozen, fresh or leftover veggies, which have been sauteed or not!
How many calories in a vegetable quesadilla?
It depends what exactly is in them, and how much cheese etc. They are usually between 230-300 calories for each quesadilla.
What beans can I substitute for black beans?
What cheese can you put in a vegetarian quesadilla
Mexican cheese of course! Oaxaca and Chihuahua cheese are ideal because they melt easily and have a luxurious stretch. Manchego cheese is also a good option and may be more readily available. If you can't find any of these near you, we recommend using mozzarella, cheddar or Monterey Jack.
Comments / Questions / Tips

Subscribe now for a free copy of the Gran Luchito e-cookbook filled with delicious, authentic Mexican recipes and join our mailing list for all the latest recipes, news and blog updates.

wpDiscuz