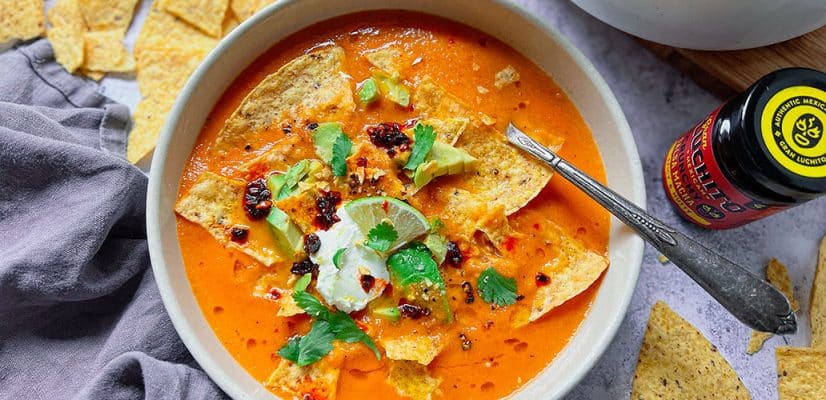 Tortilla Soup
One of the loveliest soups you can find in Mexico is tortilla soup. Traditionally a tortilla soup recipe is prepared with a tomato and chicken broth and served with lightly fried corn tortillas, avocado, a bit of crema, and lime. It's super simple and delicious.
Our favorite thing is perhaps how the crispy tortillas soak up all of the tasty broth and give the soup its distinctive flavour.
We hope you like this easy Mexican tortilla soup. Especially because we top it with Gran Luchito Lightly Salted Tortilla Chips and garnish with fresh avocado slices, roughly chopped coriander and a nice amount of Gran Luchito Crunchy Salsa Macha.
Our Crunchy Salsa Macha gives a deliciously spicy touch to this authentic tortilla soup recipe, and we cannot recommend it enough! Add a drizzle of this special condiment into all of your Mexican soups for extra flavour – and you can thank us later!
Prep time

Cook time

Total time

Ideal for

Lunch

Make it

Mexican

Serves

3
Nutrition: Per serving
kcal 118
fat 7.8g
saturates 2.8g
carbs 10.5g
sugars 2.5g
fibre 0.9g
protein 1.9g
salt 0.93g
How to make it
Preheat the oven to 200˚C/390˚F. In a lined baking tray place the tomatoes, onion, garlic, and add a drizzle of olive oil on top, a sprinkle of salt and freshly ground black pepper, then bake in the oven for 20 minutes.

Once ready, remove the tray from the oven and transfer your roasted veggies and tray juices into a blender. Add the tomato puree, mascarpone cheese, and chicken stock. Blend until smooth.

Pour the smooth mixture into a saucepan and simmer on a medium-low heat for 25 minutes approx. Stir with a wooden spoon from time to time, taste, and adjust the seasoning if necessary.

Once your soup is ready, serve hot and crumble Lightly Salted Tortilla Chips on top, then add avocado slices, a drizzle of Crunchy Salsa Macha, and coriander.
What To Serve With Tortilla Soup
Serve this lovely soup as a starter followed by a nice Mexican Steak or Pollo Asado, along with a Mexican Salad.
Download Our Free Guide To Mexican Classics
Your free guide will be emailed to you immediately.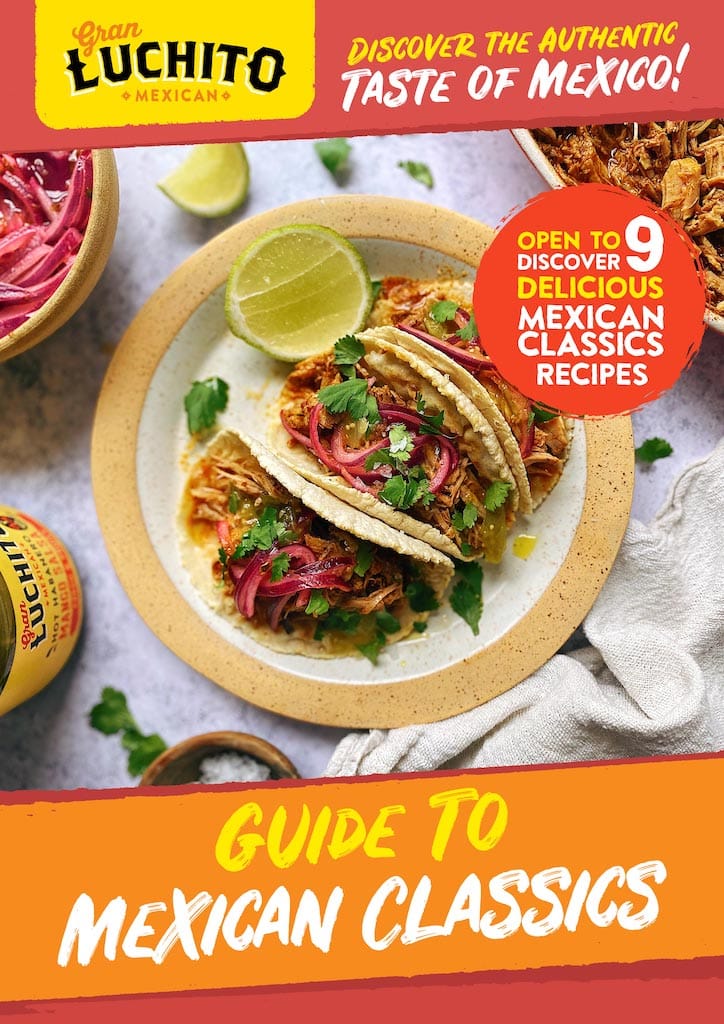 Similar Recipes You Might Like to Try
FAQs
Is tortilla soup healthy?
Sometimes soups can be pretty heavy and too filling, but this tortilla soup is on the lighter side which makes it a great option if you are wanting something light for dinner or lunch. It's super healthy and packed with protein, veggies and flavor.
Who created chicken tortilla soup?
Although the exact origin of tortilla soup is unknown, it is known that it comes from the Mexico City area in Mexico. Without a doubt its one of the most representative dishes of the Mexican gastronomy. The dish represents the fusion between the Prehispanic cultures with the Spanish. Traditional tortilla soup is made with chicken broth combined with roasted tomatoes, onion, garlic, chillies and tortillas, cut into strips and fried.
How to thicken chicken tortilla soup?
You can thicken the soup by adding a few tablespoons of tomato paste, until you reach the consistency you want. Otherwise, you could try corn starch, roux, tapioca flour, arrowroot flour, and potato starch can all be used safely with good results.
Comments / Questions / Tips

Subscribe now for a free copy of the Gran Luchito e-cookbook filled with delicious, authentic Mexican recipes and join our mailing list for all the latest recipes, news and blog updates.