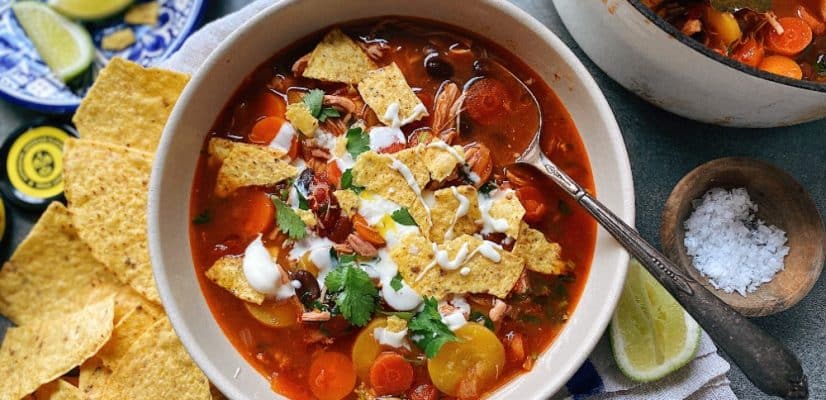 Mexican Chicken Soup
There's nothing more comforting than a bowl of hearty warm chicken soup during a cold winter's day. It's the best cure after a long day at work when all you want to do is get home quickly and have a lovely meal without all the effort. Well this is exactly what we had in mind when we created this Black Bean & Mexican Chicken Soup recipe.
All the deliciousness of a hearty soup but without having to work in the kitchen for hours to make it. It's also the perfect way to use that leftover rotisserie chicken in your fridge, or you can just buy slices of ready-cooked chicken and shred them into smaller pieces. 
Our Gran Luchito Chipotle Paste is the star of this recipe alongside our delicious Gran Luchito Cantina Beans! Everything is ready to put together into one pot and make your broth taste even better. 
Finishing your Mexican Chicken soup with crumbled tortilla chips on top is the icing on the cake. You can also add them into any soup, and we guarantee that you will love the amazing crunch and authentic corn taste that our Gran Luchito Lightly Salted Tortilla Chips bring.

---
---
Prep time

Cook time

Total time

Ideal for

Lunch / Dinner

Make it

Mexican

Serves

4
Nutrition: Per serving
kcal 71
fat 2.5g
saturates 0.7g
carbs 6.6g
sugars 1.8g
fibre 0.6g
protein 6.1g
salt 0.63g
How to make it
Heat up the olive oil over medium heat in a deep saucepan, add the onion and garlic and fry them gently until translucent. Now add in the

Chipotle Paste

and tomato paste, cook for a minute or two stirring continuously.

Pour in the chopped tomatoes, stock and water, add the carrots, shredded chicken and bay leaf, bring to a boil and then simmer on medium heat for 20 minutes or so.

Once your carrots are cooked add the Cantina Beans (plus juices) and season with salt and pepper, taste and adjust seasoning according to your preference, simmer your soup for another 10 minutes on a medium heat.
Serve your Chicken and Bean Chipotle soup hot, with a dollop of sour cream and crumbled Lightly Salted Tortilla Chips on top, enjoy!
What To Serve With Mexican Chicken Soup
Serve this delightful Mexican chicken soup with sides of:
Download Our Free Guide To Mexican Classics
Your free guide will be emailed to you immediately.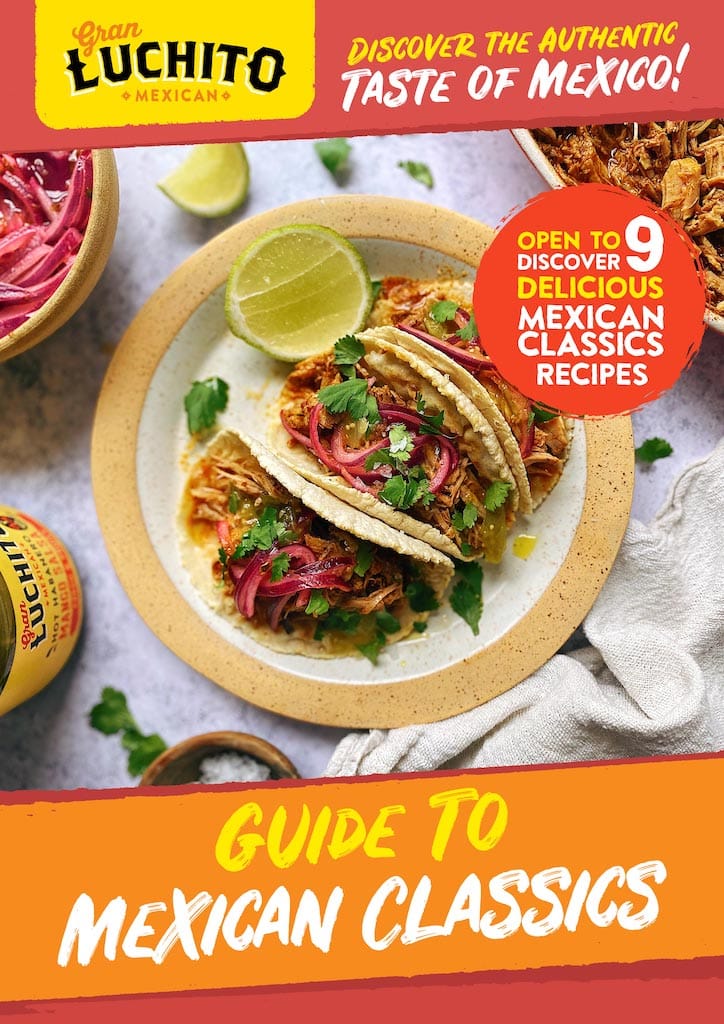 Similar Recipes You Might Like to Try
Comments / Questions / Tips

Subscribe now for a free copy of the Gran Luchito e-cookbook filled with delicious, authentic Mexican recipes and join our mailing list for all the latest recipes, news and blog updates.