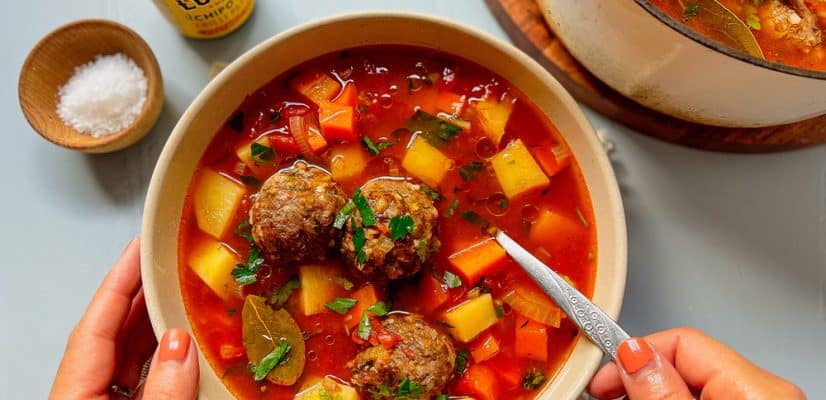 Albondigas Soup
Albondigas soup is a traditional Mexican recipe, a hearty soup that is prepared mainly at home and is made with meatballs cooked in a rich broth with vegetables, herbs and spices, the result is a very heartwarming meal.
What makes this recipe unique is the use of meatballs making it a very satisfying and nourishing recipe. To make the meatballs minced beef, pork or a mixture of both can be used, and then combined with cooked rice making them more substantial and adding texture to them, you can also add herbs and spices.
Top Tips When Making Albondigas:
Try using a variety of meats for a different spin on this recipe. Traditionally they are prepared with minced beef, but you can also use pork, chicken, or turkey mince.
Use spices to add more layers of flavour. We like adding a teaspoon or two of Gran Luchito Chipotle Paste or any of our Fajita & Taco Mixes.
Use a flavoursome broth, for this dish to be as lovely as it can be a nice broth is key. You can use chicken, beef, or vegetable broth.
Steamed white rice is traditionally used as a binder to make this dish but you can also use bread crumbs, panko or crushed salted crackers instead.
Prep time

Cook time

Total time

Ideal for

Stater

Make it

Mexican

Serves

4
How to make it
Preheat oven to 200˚C,
Begin by preparing the meatballs. In a bowl add the mince, onion, garlic, rice, Chipotle Paste, olive oil, Worcestershire sauce and parsley, and season with a good pinch of salt and pepper. Then using your hands combine all the ingredients and massage the meat briefly, this will help bind the ingredients better.
Divide the minced mixture into 13 equal portions, then with your hands shape one by one into round meatballs, when ready, place them directly over a baking tray. Once your tray is full, place the meatballs in the oven and cook for 20 minutes, until they get nicely browned on the outside.
While the meatballs are in the oven prepare the soup. In a deep saucepan, heat up the olive oil over medium heat, once it is hot enough add the onion and garlic, and stir, cook for a couple of minutes until the onion softens. Add the carrots, potatoes, chopped tomatoes, bay leaves and stock, season with a good pinch of salt and freshly ground black pepper, bring to a boil then cover with a lid and simmer on low for 15- 20 minutes, until the potatoes and carrots are cooked through.
Once the meatballs are ready, remove them from the oven and with a spoon place them on the simmering soup, finish simmering and remove from the heat. Stir fresh parsley in and serve.
Serve in bowls, divide the meatballs in between bowls adding 3-4 per portion, make sure you add enough broth and vegetables as well. Simply serve with a wedge of lime or lemon on the side and squeeze on your soup, enjoy!
What to serve with Albondigas Soup
Download Our Free Guide To Tacos
Your free Taco guide will be emailed to you immediately.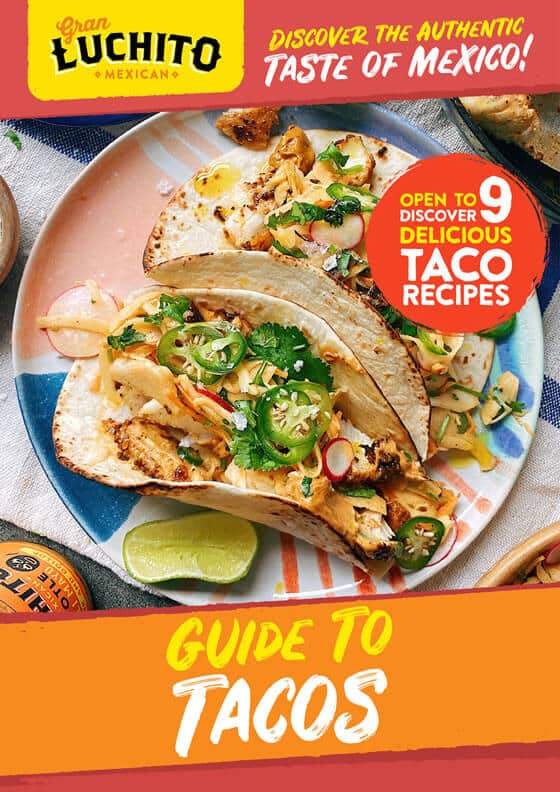 Similar Recipes You Might Like to Try
FAQs
How long can I store Albondigas Soup in the fridge?
Albondigas Soup can be stored in the refrigerator for up to 3-4 days. Make sure it is properly stored in a tightly sealed container.
What can I serve with Albondigas Soup?
Albondigas Soup can be served as is, or with warm tortillas, a side salad, or avocado slices.
What does "Albondigas" mean in English?
Albondigas" is the Spanish word for "meatballs". Therefore, Albondigas Soup translates to "meatball soup.
Comments / Questions / Tips

Subscribe now for a free copy of the Gran Luchito e-cookbook filled with delicious, authentic Mexican recipes and join our mailing list for all the latest recipes, news and blog updates.