Mexican Lentil Soup
Mexican Lentil Soup, known as "Sopa de Lentejas" in Spanish, is a beloved classic in Mexican cuisine that transcends borders and seasons. This hearty, aromatic, and wholesome soup has captured the hearts and palates of many, and for good reason.
In Mexico, soups are a beloved culinary tradition enjoyed throughout the year, irrespective of the season. They serve as both a popular appetizer and a hearty main course, relished in both restaurant settings and the comfort of home. It's no surprise that the Mexican culinary repertoire boasts an extensive array of soups, with one of the most cherished being the hearty Mexican Lentil Soup.
"Sopa de lentejas," a cherished classic, is a culinary canvas for Mexican households. In the heart of each home, this beloved soup takes on a unique and personalized twist. A rich tapestry of flavours, it's woven from the finest brown lentils, the aromatic embrace of onions and tomatoes, occasionally a dash of carrots and the savoury allure of bacon, all harmoniously enriched by a hearty broth. This soul-warming creation is a timeless delight, perfect for savouring year-round, but it truly comes into its own, wrapping you in comfort during the cooler months.
Top Tips to Make Mexican Lentil Soup:
To create a vegan-friendly version of Mexican lentil soup, simply leave out the bacon and swap out the chicken stock for vegetable-based stock.
If you crave a spicier kick, consider adding more Chipotle Paste. Begin with 1 tablespoon, taste, and incrementally adjust to achieve your desired level of heat.
Extend the life of your soup by storing it in an airtight container. It will stay fresh in the refrigerator for up to 5 days or in the freezer for a generous 3-month period.
Here are three compelling reasons to whip up a batch of Mexican Lentil Soup in your own kitchen:
Nutritional Powerhouse: Packed with protein, fibre, and essential nutrients, thanks to the wholesome lentils and a medley of vegetables, this soup is a nourishing delight for your body.
Effortless and Economical: Enjoy the convenience and budget-friendly nature of Mexican Lentil Soup. It's a meal that's both simple to prepare and light on your wallet, requiring no advanced culinary skills or exotic ingredients.
Unleash Your Creativity: Embrace the versatility of Mexican lentil soup. Serve it hot or cold, and personalize it to your taste. Feel free to experiment with different vegetables, spices, and toppings, crafting a culinary masterpiece that suits your cravings perfectly.
Why not accompany this recipe with our recipe for chilorio and Mexican beans?
Prep time

Cook time

Total time

Ideal for

Dinner

Make it

Mexican

Serves

4
How to make it
Heat up a medium-sized saucepan with the olive oil over medium heat. Once the oil is hot enough, add the bacon and fry it for a few minutes. When the bacon turns nice and crispy remove it from the pan with the help of a slotted spoon and place it in a bowl, set aside.
In the same saucepan add the onion and stir, let it sweat for a couple of minutes then add the garlic and fry gently stirring occasionally. Add the carrots and the Chipotle Paste, and fry for 3 to 5 minutes stirring constantly. Finally, add the chopped tomatoes, mix them with the vegetables, and cook for a couple more minutes.
Add in the lentils and stock, stir with a wooden spoon and season with salt and pepper, simmer for 6 to 7 minutes on low heat.
Once it is ready add in the crispy bacon and freshly chopped parsley. Serve warm in bowls with a lime wedge on the side. Try it with crumbled Lightly Salted Tortilla Chips on top and enjoy!
What to serve with Mexican Lentil Soup
Download Our Free Guide To Tacos
Your free Taco guide will be emailed to you immediately.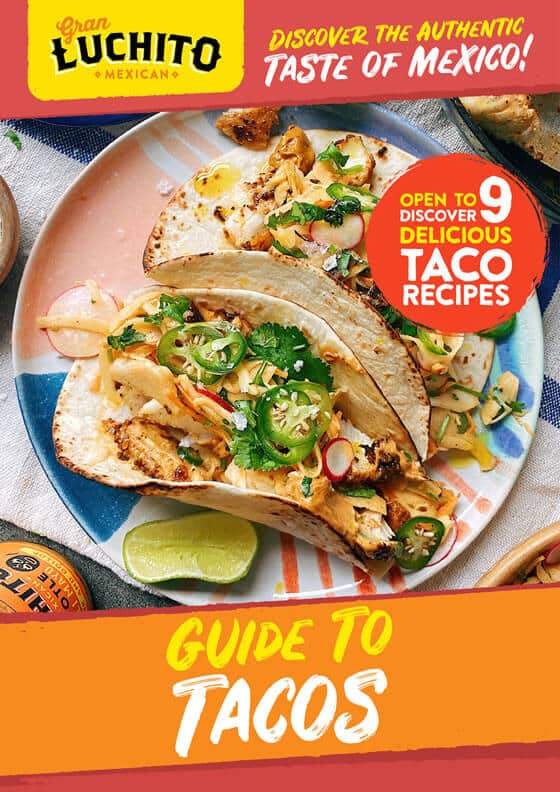 Similar Recipes You Might Like to Try
FAQs
What is Mexican Lentil Soup?
Mexican Lentil Soup, or "Sopa de Lentejas," is a traditional Mexican soup made with lentils as the main ingredient. It's a hearty and nutritious dish featuring lentils, vegetables, and often includes Mexican spices for a flavorful twist.
How is it traditionally served?
Mexican Lentil Soup is often served hot and garnished with fresh cilantro, a squeeze of lime, and sometimes a dollop of sour cream. It pairs well with tortillas or crusty bread.
Can I make Mexican Lentil Soup in advance?
Yes, Mexican Lentil Soup can be prepared in advance and reheated when needed. In fact, many people find that the flavors develop even more after sitting for a day or two.
Comments / Questions / Tips

Subscribe now for a free copy of the Gran Luchito e-cookbook filled with delicious, authentic Mexican recipes and join our mailing list for all the latest recipes, news and blog updates.