Chicharron en Salsa Verde
"Chicharron en Salsa Verde", is a Mexican dish, made of succulent fried pork skin laced with a tangy salsa verde, is an ideal treat for culinary thrill-seekers seeking to explore the depths of authentic Mexican cuisine.
Puffed pork rinds are a traditional snack in Mexico, a way to make use of the entire animal and avoid wasting anything. The pork rind is cleaned and boiled, then left to dry, and finally fried to achieve puffed, crispy pork rinds that are so irresistibly crunchy and moreish.
A salsa verde is prepared using tomatillos, onion, garlic, jalapenos and coriander, ingredients can be simply boiled or lightly fried before blending into a tangy and smooth green-coloured sauce. By using our delicious Gran Luchito Tomatillo Enchilada Sauce you can save yourself some time and simply preheat the sauce once you are ready to prepare this dish at home.
What makes this dish so unique is the combination of textures and flavours, crunchy and salty chicharron smothered in a tangy tomatillo sauce, an explosion of flavours at every bite. The chicharrones are cooked briefly in the sauce, the idea is to coat the chicharrones with the salsa verde but still retain the central crunchiness.
We recommend this recipe for food enthusiasts in search of authentic Mexican flavours. Serve as a main course accompanied by warm Gran Luchito Refried Beans and warm Soft Tacos on the side.
We also recommend serving chicharron in salsa verde with our recipe for arroz primavera and guacamole.
Prep time

Cook time

Total time

Ideal for

Dinner

Make it

Mexican

Serves

4
How to make it
Heat up the olive oil in a medium-sized frying pan over medium heat. Once it is hot enough add the onion into the pan and stir. Let it sweat for a couple of minutes. Once it turns translucent, open the sachet of Tomatillo Enchilada Sauce and pour it over the onions, let the sauce simmer gently over low heat for a couple of minutes.
Add the puffed pork scratchings or chicharrones, and combine them into the sauce briefly, just enough to warm them up. Remove from the heat and drizzle the sour cream on top, garnish with the spring onion and coriander.
In a separate pan warm up the refried beans with a bit of water, and stir.
Serve a spoonful or two of the chicharron in salsa verde, with a side of refried beans, crumble the feta over the beans and serve with warm Soft Tacos, enjoy!
What to serve with Chicharron en Salsa Verde
Download Our Free Guide To Tacos
Your free Taco guide will be emailed to you immediately.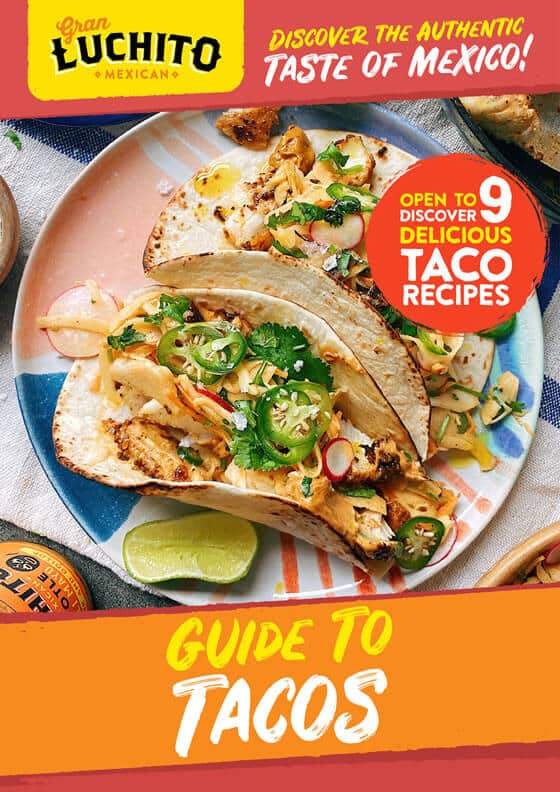 Similar Recipes You Might Like to Try
FAQs
Can Chicharron in Salsa Verde be enjoyed as a snack or is it typically a meal?
Chicharron in Salsa Verde can be enjoyed both as a main dish or as a snack. It can be served with rice, tortillas, or crusty bread to make it a complete meal, or enjoyed on its own as a flavourful snack.
Can I make Chicharron in Salsa Verde using store-bought chicharrones?
Yes, you can make Chicharron in Salsa Verde using store-bought chicharrones. Simply heat the chicharrones and serve them topped with salsa verde.
Can I customise the salsa verde recipe to incorporate different herbs or spices?
Yes, you can customise the salsa verde recipe by incorporating different herbs or spices. For example, you can add fresh mint, epazote, or even a hint of cumin to give the salsa verde a unique twist.
Comments / Questions / Tips

Subscribe now for a free copy of the Gran Luchito e-cookbook filled with delicious, authentic Mexican recipes and join our mailing list for all the latest recipes, news and blog updates.