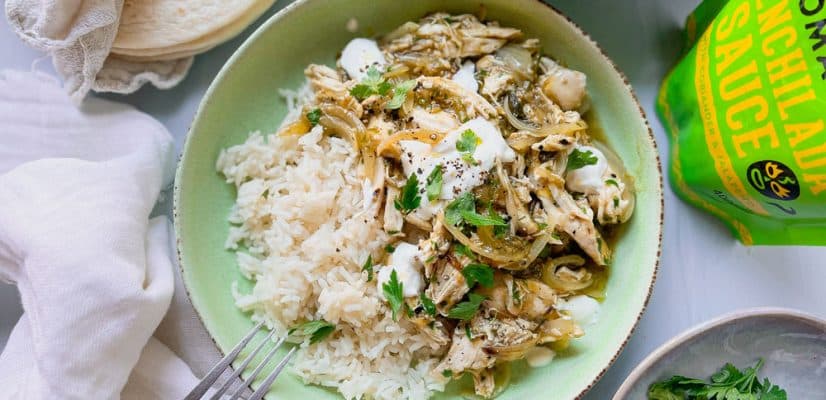 Chicken Chile Verde
Chicken Chile Verde is a hearty meal that can be prepared very easily thanks to the help of Gran Luchito Tomatillo Enchilada Sauce. This dish usually consists of poached chicken that is shredded and then cooked in a verde sauce prepared with tomatillos, jalapenos, coriander, onion, and stock. However, our green enchilada sauce cuts out half the work, as it's ready to be poured straight onto your chicken.
Another alternative is to pour our chile verde recipe over slowly cooked and shredded pork. For a creamier version, add creme fraiche or single cream to achieve a creamy tomatillo salsa. Looking for a vegan alternative for this dish, how about oyster mushrooms? Shred them with your hands and lightly fry them with finely sliced onion. Add the tomatillo sauce at the end and enjoy!
Having your chicken already cooked will save you time when preparing this chicken chile verde recipe. You can buy it ready-cooked from your local store or do this yourself by simply placing 2 chicken breasts into a saucepan, covering it with water, adding an onion, a garlic clove, a few black peppercorns, a pinch of salt, and 1 bay leaf. Bring it all to a boil and finish cooking it at a lower temperature, covered with a lid for 20 to 25 min approx. Once ready, remove it from the liquid and let the chicken cool down, then shred it with the help of two forks. Also, a good way to use the remaining cooking liquid is to use it as stock for this recipe.
This easy chicken chile verde is perfect accompanied by our recipes for Arroz Primavera and warm Mexican Black Beans, alongside some Gran Luchito Soft Taco Wraps.
Prep time

Cook time

Total time

Ideal for

Dinner

Make it

Mexican

Serves

4
How to make it
Heat up a pan with the olive oil over medium heat and when ready, add the onions and jalapeno. Stir and let it cook until the onions soften. 

Add the shredded chicken to the pan and stir with the onion and jalapeno mix. Season with a pinch of salt and pepper, and cook for a further 2 minutes.

Pour in the

Tomatillo Enchilada Sauce

with the chicken stock, and let it simmer for 6 to 7 minutes with a lid on. Taste and adjust the seasoning if necessary. Finish it with the parsley scattered on top.

Serve warm in a bowl with a side of steamed rice and a scoop of sour cream on top. Don't forget to have warm Soft Tacos on the side, ready to make authentic chicken chile verde tacos, or to scoop up the delicious sauce.
What To Serve With Chicken Chile Verde
Accompany this chicken chile verde casserole with some lovely warm Mexican Black Beans and our Arroz Primavera recipe.
Download Our Free Guide To Mexican Classics
Your free guide will be emailed to you immediately.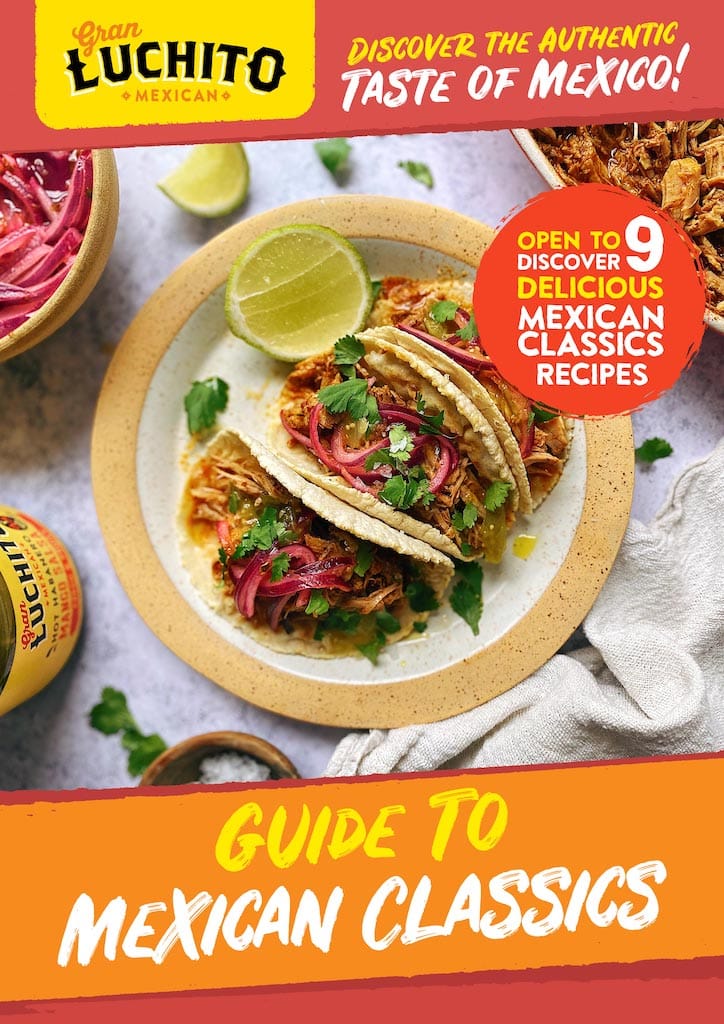 Similar Recipes You Might Like to Try
FAQs
Is chicken chile verde spicy?
Although it has jalapenos, our Tomatillo Enchilada Sauce is mild, so not that spicy no. Generally though, chicken chile verde recipes are full of flavour and it can either be a little spicy or much milder.
Is chile verde good in the summer?
This light and refreshing Mexican green sauce is perfect for summertime! It's made with fresh tomatillos and chile peppers which are at their peak in the summer. It's also a sauce that enhances delicate fish really well, as well as punchy meat, which makes it very versatile.
Is chili verde and salsa verde the same?
The difference between the two is that chili verde literally means green chilli, and is a Mexican stew with meat (usually pork) along with tomatillos, onions and chilli peppers (in this case jalapenos). Salsa verde, on the other hand, is spicier and is a cold, uncooked sauce, made of chopped herbs, onions, tomatillos, and green chillies.
Comments / Questions / Tips

Subscribe now for a free copy of the Gran Luchito e-cookbook filled with delicious, authentic Mexican recipes and join our mailing list for all the latest recipes, news and blog updates.