Chicken Chilli
Chicken chilli is a great option for when you want to make something hearty and comforting for your family, but are not in the mood for beef, or you just simply want to try something different.
We love a good chilli here at Luchito, and we think that this recipe is just as good as its other beef counterparts. 
For this chicken chilli con carne we use chicken pieces rather than minced chicken, as we prefer the texture that the shredded meat brings to the recipe. To save time, the chicken is poached in the sauce and once cooked it's shredded with the help of two forks and then combined into the sauce with black beans.
A nice chilli recipe is all about spices and cooking everything for a long time to get the meat more tender and develop the flavours. 
So when you think about how to make your chicken chilli recipe extra tasty, our Fajita and Taco Mixes come to the rescue! They have the right mix of ingredients not only to add a bit of spice to your Mexican chicken chilli, but also to bring that depth of flavour in a speedy way.
For this recipe, we used Gran Luchito Garlic and Guajillo Fajita & Taco Mix, which always works really nicely with chicken dishes. We then added Gran Luchito Cantina Beans and served with Gran Luchito Lightly Salted Tortilla Chips for that perfect last touch.
Prep time

Cook time

Total time

Ideal for

Dinner

Make it

Mexican

Serves

4
Nutrition: Per serving
kcal 92
fat 4.3g
saturates 1.3g
carbs 5.7g
sugars 1.6g
fibre 0.7g
protein 8.1g
salt 0.50g
How to make it
In a heavy-based large saucepan, heat up the olive oil over medium heat. Once your oil is hot enough, add the onion and garlic, stir continuously and fry until softened (5 to 6 min). Then add the cumin, cinnamon, and coriander. Cook for a couple of minutes, until the spices release their aroma. Finally, add the red peppers and fry with the rest of the ingredients for 8 minutes approx. Do this until the peppers turn soft and everything gets a bit of colour.

Place the chicken pieces in the saucepan, pour the passata in, the chicken stock, the Garlic and Guajillo Fajita & Taco Mix, the fresh coriander, then season with a pinch of salt and black pepper. Bring it to the boil and then reduce the heat. Simmer with a lid on over medium heat for 40 minutes.

This is a good time to prepare the steamed white rice. 

After 40 minutes remove the cooked chicken from the saucepan and shred the meat with the help of two forks. Return the chicken to the pot, add the Cantina Beans, the lime juice, and simmer on medium heat for 10 more minutes.

Serve your chicken chilli in a bowl with a bit of steamed white rice, slices of avocado, and spoonfuls of sour cream. Enjoy!
What To Serve With Chicken Chilli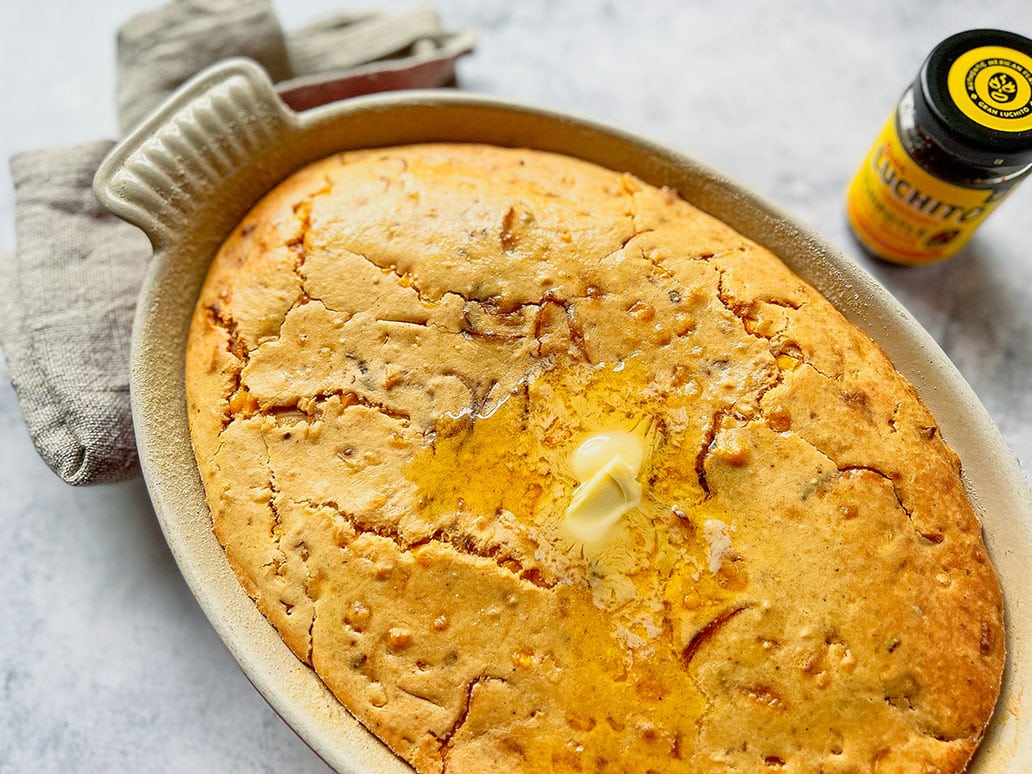 Serve it with a portion of this Cornbread with Chipotle recipe.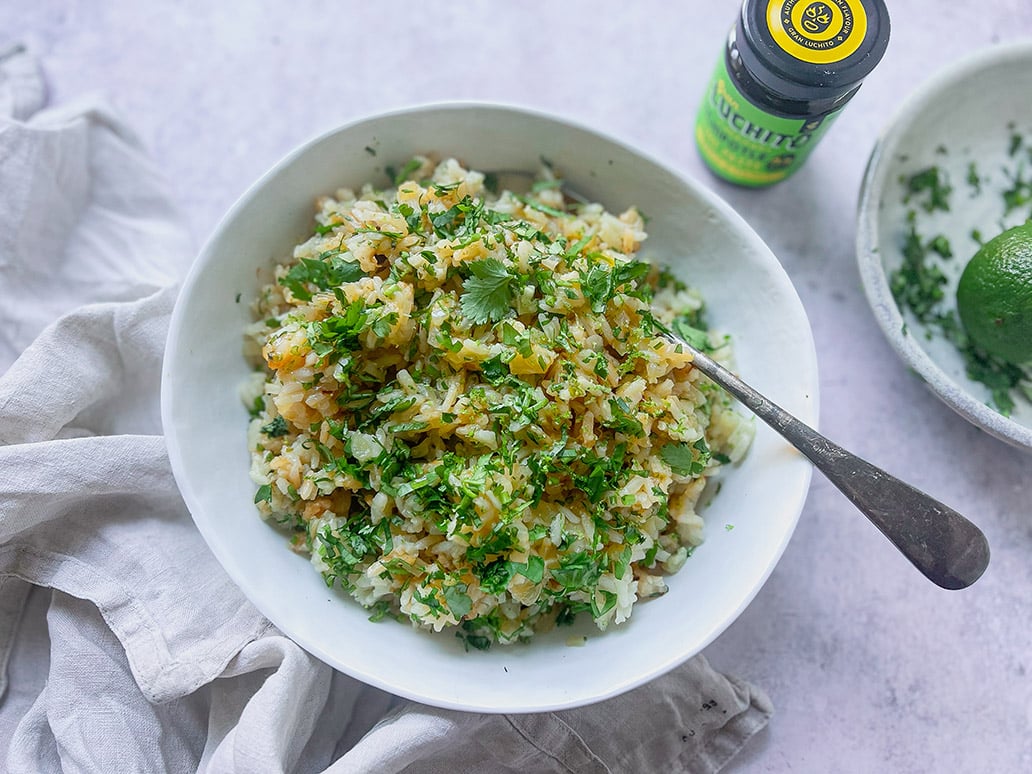 Alongside some Lime and Coriander Rice.
Download Our Free Guide To Chilli Con Carne
Your free Chilli guide will be emailed to you immediately.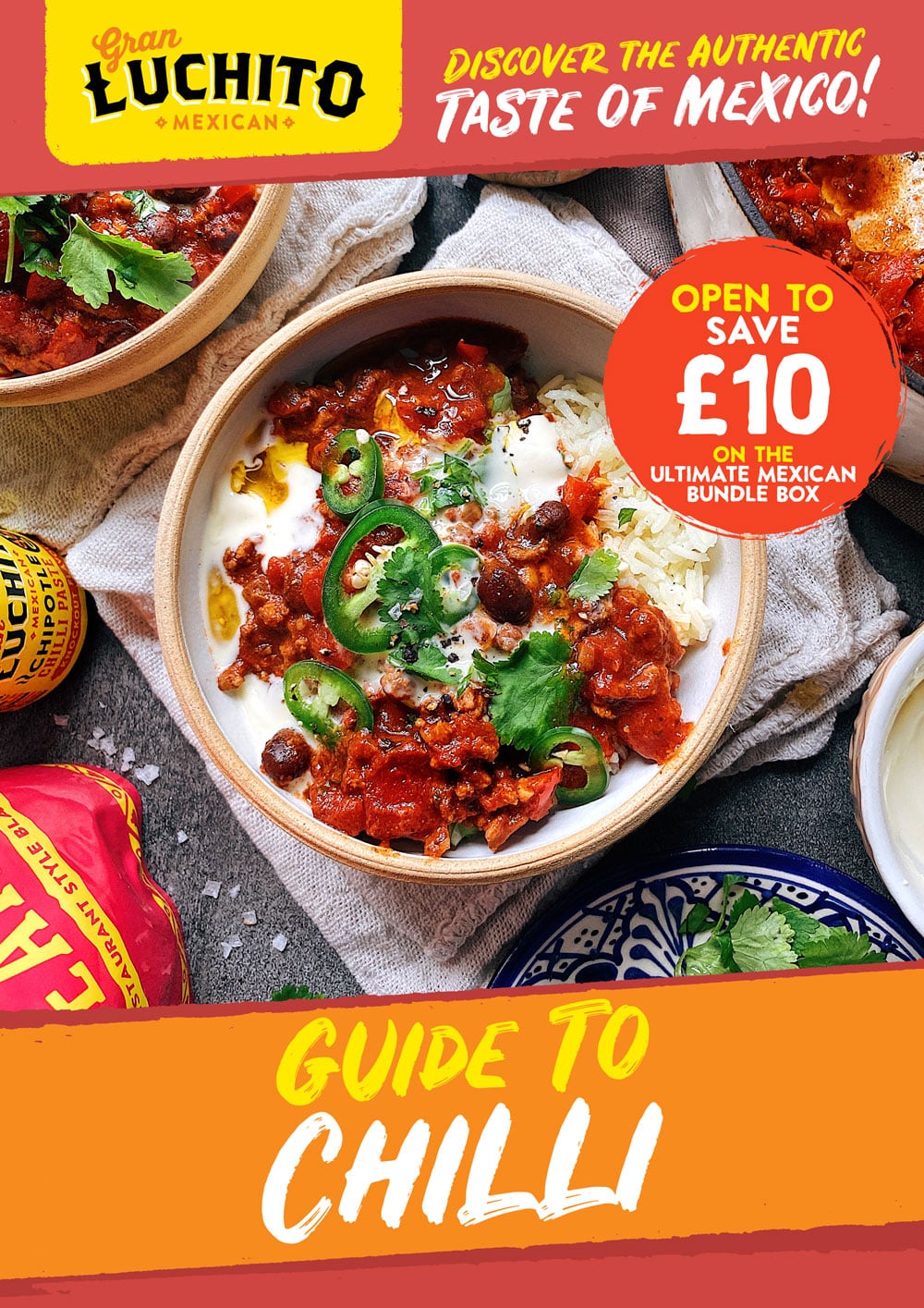 Similar Recipes You Might Like to Try
FAQs
Is chicken chilli healthier than beef chilli?
Chicken chilli is great as it's a lean meat and doesn't put you at risk of high cholesterol. Just make sure you avoid fried chicken or chilli chicken prepared in restaurants, as they are loaded with calories.
Is chicken chilli good for you?
You may think of chilli con carne as greasy and unhealthy but that's not true. Most of today's chilli recipes are packed with nutrients that are good for you and chilli can be part of a healthy diet and lifestyle.
How to make chicken chilli Mexican?
Use a Gran Luchito Fajita & Taco Mix to make your chilli Mexican, or alternatively a dollop of Chipotle Paste will do the trick. If you like it really spicy, you can sprinkle small amounts of Gran Luchito Crunchy Salsa Macha on top!
Comments / Questions / Tips

Subscribe now for a free copy of the Gran Luchito e-cookbook filled with delicious, authentic Mexican recipes and join our mailing list for all the latest recipes, news and blog updates.