Street Corn Nachos
Street corn nachos are already a favorite of many, what's not to love about delicious fresh corn cooked with butter and then smothered in a mix of mayo, crema, lime, and chili powder, served with a sprinkle of queso cotija. We find this combo irresistible and very addictive.
Here we take Mexican street corn to the next level and serve it with tortilla chips and melted cheese for a tasty snack that you will make on repeat.
For our recipe, we combine the cooked corn kernels with Gran Luchito Chipotle Paste, creme fraiche as a substitute for Mexican crema, mayo, lime, and coriander, and mix everything together to make delicious Mexican-style elotes.
Then we layer Gran Luchito Lightly Salted Tortilla Chips in a baking tray, add a good amount of cheese, and bake it in the oven until the cheese is melted and deliciously gooey.
Finally, you have to spoon the Mexican elotes on top, crumble the feta cheese on top for a salty touch and serve!
Prep time

Cook time

Total time

Ideal for

Snack

Make it

Mexican

Serves

2
How to make it
Heat up a medium size frying pan over medium heat, add the oil and butter. Once the butter melts and begins bubbling, add in the spring onions and stir, let them cook for a couple of minutes until they soften. Now add the corn kernels and Chipotle Paste, season with a pinch of salt and freshly ground pepper, and cook over high heat allowing the corn to get a bit toasted, for 5 to 6 minutes, once ready remove from the heat.
Once the corn has cooled down slightly, add the juice of 1 lime, the sour cream, mayo, and most of the coriander (reserve a little bit for serving). Mix everything with a spoon, taste, and adjust seasoning if necessary. Set aside.
In a medium size baking tray place all the Lightly Salted Tortilla Chips spread over the surface, then add the greeted cheese on top. Bake this in the oven for 5 minutes or until the cheese is melted, once ready remove the tray from the oven.
Spoon the Mexican street corn on top of your nachos, making sure they are distributed evenly. Crumble the feta cheese on top and add the remaining coriander scattered on top, serve with a lime cut in wedges, and enjoy!
What To Serve With Street Corn Nachos
Download Our Free Guide To Tacos
Your free Taco guide will be emailed to you immediately.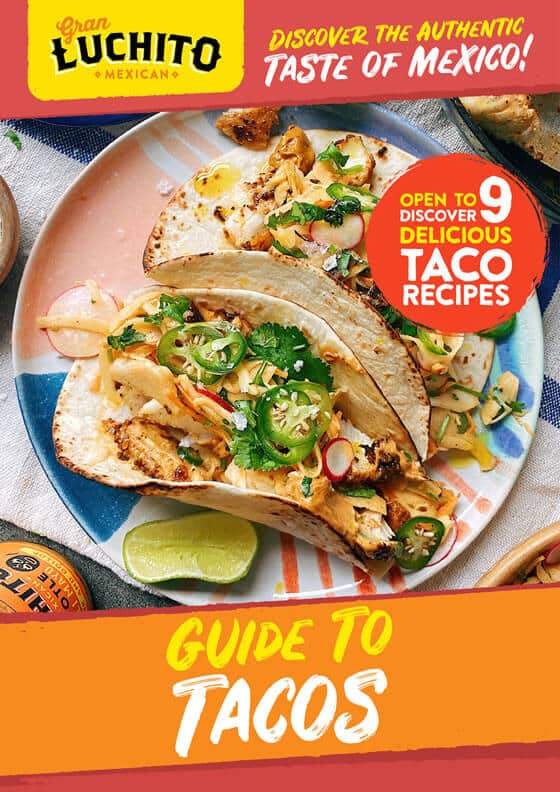 Similar Recipes You Might Like to Try
FAQs
What are Street Corn Nachos?
Street Corn Nachos are a delicious fusion of Mexican street corn and classic nachos. They feature grilled corn, creamy mayonnaise, lime juice, crumbled cotija cheese, and crispy tortilla chips, creating a flavourful and satisfying snack.
Can I make Street Corn Nachos vegetarian or vegan?
Absolutely! Street Corn Nachos can be easily adapted to suit vegetarian or vegan diets. Simply omit or substitute any animal-based ingredients like the cotija cheese or mayonnaise with plant-based alternatives such as vegan cheese or vegan mayo. You can still enjoy the delicious flavours of street corn on your nachos.
Can Street Corn Nachos be served as a main course?
While Street Corn Nachos are typically enjoyed as a snack or appetizer, you can certainly serve them as a main course if desired. Consider adding protein like grilled chicken, seasoned ground beef, or even shrimp to make them more filling and satisfying.
Comments / Questions / Tips

Subscribe now for a free copy of the Gran Luchito e-cookbook filled with delicious, authentic Mexican recipes and join our mailing list for all the latest recipes, news and blog updates.