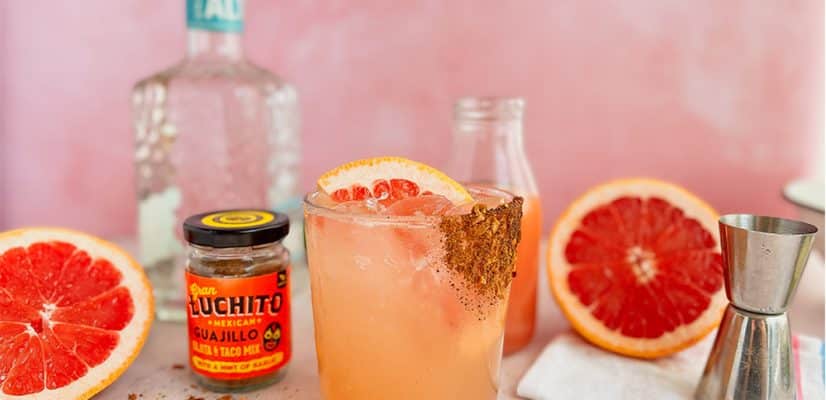 Paloma Cocktail
Paloma cocktail, a wonderfully refreshing Mexican long drink, is effortlessly served directly in the glass, eliminating the need for a cocktail shaker.
Elevating the Paloma drink experience, we have skillfully blended Gran Luchito Fajita and Taco Mix with a subtle sprinkle of flaky salt, artfully gracing the rim of the glass. This exquisite touch adds a captivating depth of flavour, enhancing every sip of this exceptional cocktail.
To create this refreshing Mexican tequila grapefruit cocktail, you will need the following ingredients:
Tequila: Opt for a high-quality blanco tequila for traditional Palomas, although aged tequila can also be used. For a smoky twist, consider using mezcal.
Grapefruit juice: Choose freshly squeezed grapefruit juice for the best flavour, although store-bought juice can also be used. The use of fresh juice lends a lovely light pink colour to the drink.
Lime: Squeeze in a bit of lime juice to provide a perfect balance to the natural sweetness of the fruit juice.
Syrup: Add a touch of sweetness to your cocktail with a simple syrup or, in the case of Palomas, agave syrup works beautifully.
Sparkling water: This ingredient serves to top up your cocktail and brings all the flavours together, offering a refreshing taste sensation.
Experiment with these ingredients to craft the perfect Paloma that suits your taste preferences.
Prep time

Cook time

Total time

Ideal for

Snack

Make it

Mexican

Serves

1
How to make it
Mix the Guajillo Fajita & Taco Mix with the flaky salt into a small plate. Then rub half a lime juice on one side of your glass rim, press the glass against the chili – salt mix.
Begin by placing ice into your glass, followed by the addition of tequila, pink grapefruit juice, agave syrup, freshly squeezed lime juice, and a pinch of salt.
Complete the preparation by topping your drink with sparkling water and gently stirring using a cocktail spoon. Enhance the presentation by garnishing with a slice of fresh grapefruit. Sit back, relax, and savour the delightful flavours of this exquisite concoction. Cheers and enjoy!
What to serve with a Paloma Cocktail
Download Our Free Guide To Tacos
Your free Taco guide will be emailed to you immediately.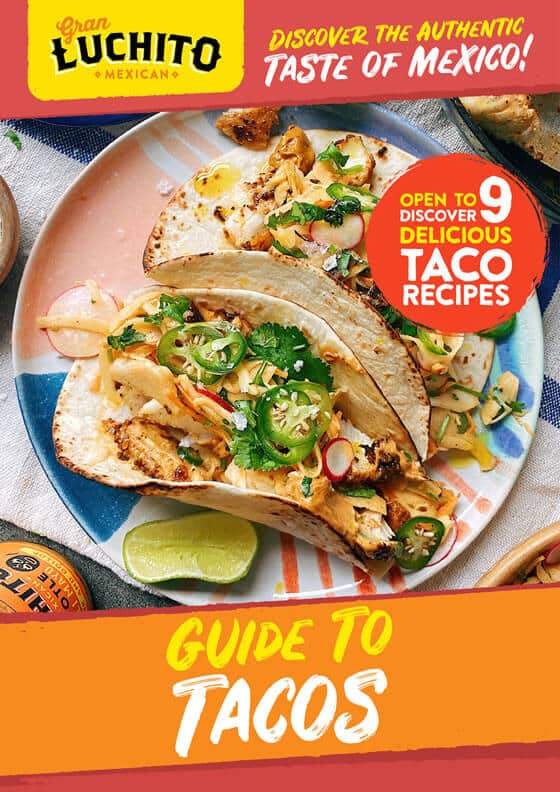 Similar Recipes You Might Like to Try
FAQs
What is a Paloma cocktail?
A Paloma is a popular Mexican cocktail that typically consists of tequila, grapefruit soda, and a squeeze of lime juice. It is known for its refreshing and citrusy flavour.
What type of tequila should I use for a Paloma?
Silver or blanco tequila is commonly used for Paloma cocktails due to its crisp and clean flavour profile. However, you can also experiment with reposado or añejo tequila for a more complex and aged taste.
Can I make a non-alcoholic version of a Paloma?
Yes, you can create a non-alcoholic Paloma by replacing the tequila with a non-alcoholic distilled spirit or omitting it altogether. The grapefruit soda or juice, along with lime and other desired ingredients, can still provide a refreshing and enjoyable mocktail experience.
Comments / Questions / Tips

Subscribe now for a free copy of the Gran Luchito e-cookbook filled with delicious, authentic Mexican recipes and join our mailing list for all the latest recipes, news and blog updates.