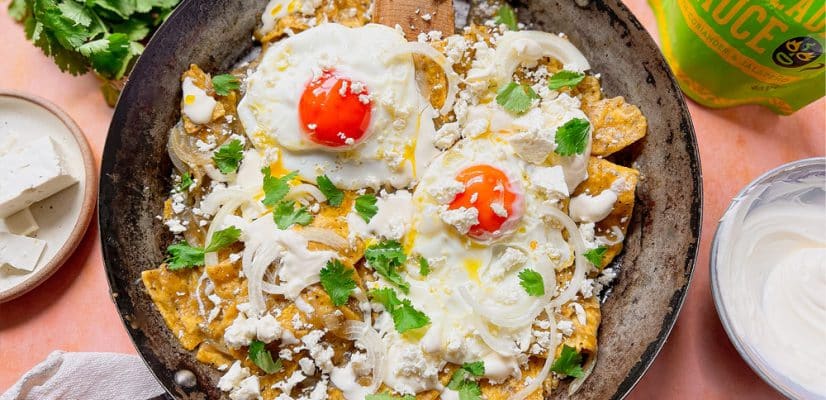 Chilaquiles Verdes
Chilaquiles are one of the most beloved breakfast – brunch options in Mexico, perhaps because they are so incredibly moreish. There's no place in Mexico that doesn't have them on their menu. But chilaquiles also happen to be incredibly easy to prepare at home, especially when you have your salsa ready to go.
Chilaquiles verdes are prepared with a tomatillo sauce made with onion, garlic, jalapeno and coriander, blended into a smooth salsa. The tomatillo sauce is simmered and then combined with tortilla chips.
The perfect chilaquiles are completely smothered into the delicious sauce but still remain lightly crunchy when you serve them. It's important when you cook chilaquiles to serve them straight away to avoid them from becoming soggy.
Gran Luchito Tomatillo Enchilada Sauce is the perfect cooking sauce to have in your pantry, there's so many things you can make with it but specially when it comes to making chilaquiles verdes at home, they can't be any easier to prepare once you have Gran Luchito Tomatillo Enchilada Sauce ready to go.
Here are other popular toppings for chilaquiles verdes:
Chicken: poached shredded chicken is often added to chilaquiles verdes.
Chorizo: fried cooking chorizo is incredibly delicious when served with chilaquiles.
Crema: Mexican crema, creme fraiche, sour creme or even greek yogurt brings a deliciously creamy plus cooling (heat) element to chilaquiles.
Queso fresco: fresh styles cheese is often crumbled on top of chilaquiles, as well as cotija. If you can't get any of these another good substitute is feta cheese.
Avocado: slices of avocado can be served on top of chilaquiles.
So save yourself some time and try this super quick recipe for chilaquiles verdes they are even more delicious when served with a side of warm Gran Luchito Chipotle Refried Beans.
Prep time

Cook time

Total time

Ideal for

Breakfast

Make it

Mexican

Serves

2
How to make it
Heat up a large frying pan over medium heat with the olive oil, once it is hot enough add almost all the onion (just saving a few slices for garnish) and fry gently until the onions soften.
Tear open the Tomatillo Enchilada Sauce and pour it over the onions, stir and let it simmer gently.
Open the Lightly Salted Tortilla Chips and add them into the tomatillo sauce, then with a wooden spoon smoother the tortilla chips making sure they are all well coated in the sauce. Once they get slightly softer they are ready, remove them from the heat and keep them on the side.
Quickly fry your eggs in a frying pan with the olive oil, cook them to your liking. Sunny side ups are our favorite.
Top the chilaquiles with the fried eggs, then add spoonfuls of creme fraiche on top of your chilaquiles. Garnish with the crumbled feta cheese, the remaining sliced onion and the coriander sprinkled on top, serve while they are still warm and enjoy!
What To Serve With Chilaquiles Verdes
Download Our Free Guide To Tacos
Your free Taco guide will be emailed to you immediately.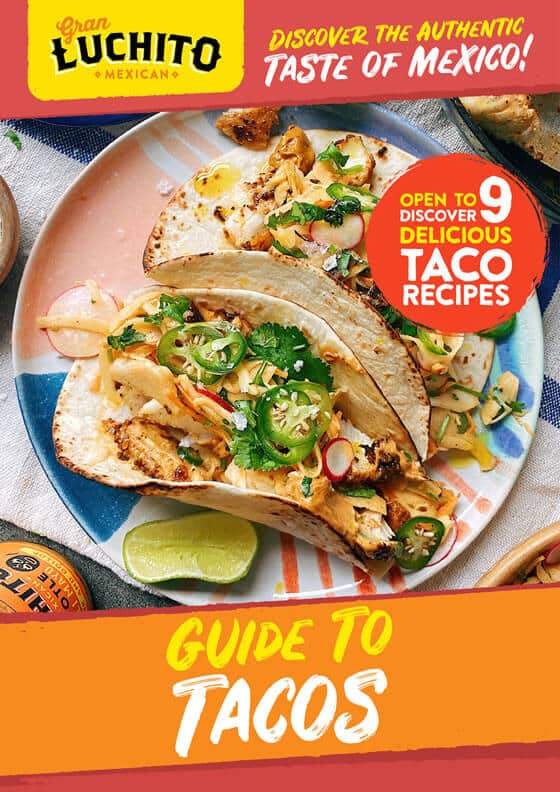 Similar Recipes You Might Like to Try
FAQs
What do Chilaquiles Verdes taste like?
Chilaquiles Verdes have a combination of flavors. The tortilla chips are crispy and slightly toasted, while the green salsa provides a tangy and slightly spicy taste. The addition of garnishes like shredded chicken or fried eggs adds a savory element, and the queso fresco adds a creamy and slightly salty note.
Can I make Chilaquiles Verdes without frying the tortillas?
Yes, you can make a healthier version of Chilaquiles Verdes by baking the tortilla chips instead of frying them. Simply cut the tortillas into quarters, brush them with a bit of oil, and bake them in the oven until crispy.
What are common toppings for Chilaquiles Verdes?
Common toppings for Chilaquiles Verdes include shredded chicken, fried eggs, queso fresco, chopped onions, fresh cilantro, and sliced avocado. Other optional toppings include sour cream, pickled jalapeños, or a squeeze of lime juice.
Comments / Questions / Tips

Subscribe now for a free copy of the Gran Luchito e-cookbook filled with delicious, authentic Mexican recipes and join our mailing list for all the latest recipes, news and blog updates.