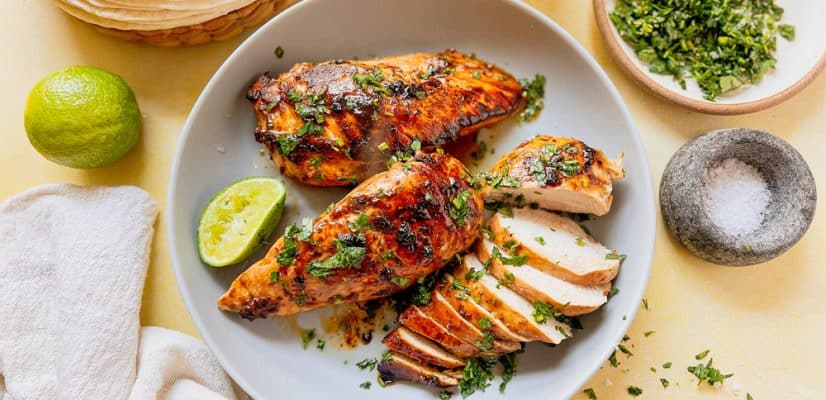 Tequila Lime Chicken
One of the most beloved methods for achieving incredibly tender and flavoursome chicken breast at home involves an initial marinade using Gran Luchito Chipotle Paste, lime juice and zest, and a drizzle of olive oil. Afterward, the chicken is pan-fried to achieve delectably caramelized edges before being flambéed with tequila for an extra burst of flavour.
Once you've mastered this simple recipe, you can serve the succulent chicken breast alongside a serving of Mexican Rice and a refreshing Mexican Salad, creating a satisfying and well-rounded meal.
How to serve Tequila Lime Chicken:
Sliced to top a green salad. Add avocado slices, red onion and a simple lemon and extra virgin olive oil dressing.
Chopped into cubes to make a burrito. Add Mexican Rice, Cantina Beans and salsa into a Burrito Wrap then fold and wrap tight.
Sliced to make a quesadilla. Using Gran Luchito Soft Taco Wraps and cheddar, then warmed up in a pan until the cheese melts and they turn lovely and toasty.
This delectable tequila lime chicken recipe can be made with chicken breasts, and it also works wonderfully with chicken thighs and drumsticks, offering a delightful alternative.
For a smokier flavour profile, you have the option to swap out tequila for mezcal, adding a unique twist to the dish.
If you prefer to grill the chicken, incorporate the tequila into the marinade and allow it to rest in the refrigerator for at least 30 minutes. After marinating, grill the chicken as usual, enjoying the enhanced flavours that the tequila brings to the dish.
Prep time

Cook time

Total time

Ideal for

Dinner

Make it

Mexican

Serves

3
How to make it
In a bowl add 3 tablespoons of the olive oil, Chipotle Paste, all the zest and the juice of 1 lime, a pinch of salt and freshly ground black pepper, mix well with a spoon until all the ingredients are well combined and the chipotle paste dissolves.
Pour the marinade over the chicken and make sure it is well coated on both sides, cover and leave to marinate in the fridge for 30 to 40 minutes.
When you are ready to cook the chicken, heat up the remaining olive oil in a medium size pan. Once it is hot enough, add the marinated chicken breasts and all the marinade juices, season with a bit more salt and freshly ground black pepper. Let the chicken get nicely browned on both sides and cover the pan with a lid to finish cooking the center of your chicken for 5 to 6 minutes.
Finally remove the lid and bring the temperature up, add the tequila into the pan and carefully allow it to catch fire and flambé your chicken. The alcohol will evaporate and the fire will go out by itself. Remove the chicken from the heat and let it rest for a few minutes before slicing.
Serve your tequila lime chicken in your favorite way, check the options above for inspiration. Simply sprinkle it with coriander and add remaining lime juice on top before serving.
What To Serve With Tequila Lime Chicken
Download Our Free Guide To Tacos
Your free Taco guide will be emailed to you immediately.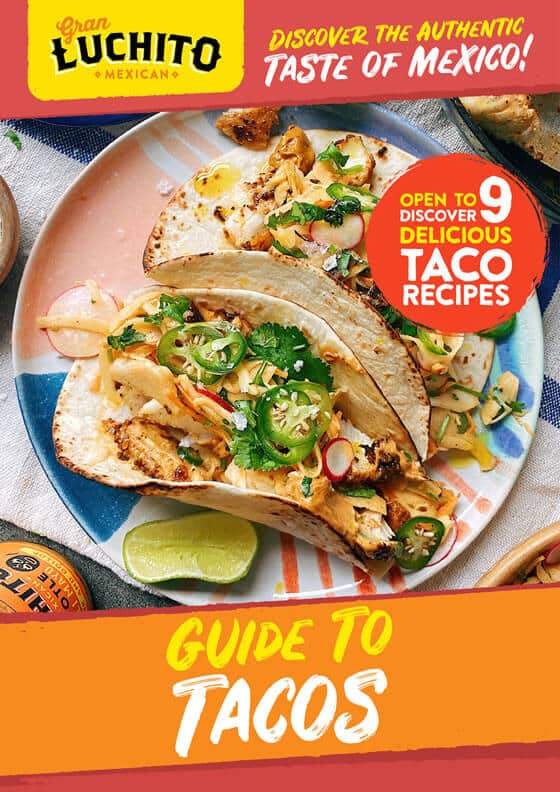 Similar Recipes You Might Like to Try
FAQs
Can I use any type of tequila in the marinade?
Yes, you can use any type of tequila in the marinade. However, it is important to use a tequila that you enjoy drinking. The quality of the tequila will make a big difference in the flavour of the chicken.
What is tequila lime chicken?
Tequila lime chicken is a Mexican dish made with chicken that is marinated in a mixture of tequila, lime juice, and spices. The chicken is then grilled, baked, or pan-fried, and it is typically served with rice, beans, and vegetables.
What a tips for making tequila lime chicken?
Serve the chicken with your favorite sides. Tequila lime chicken is a versatile dish that can be served with a variety of sides, such as rice, beans, vegetables, or tortillas.
Comments / Questions / Tips

Subscribe now for a free copy of the Gran Luchito e-cookbook filled with delicious, authentic Mexican recipes and join our mailing list for all the latest recipes, news and blog updates.