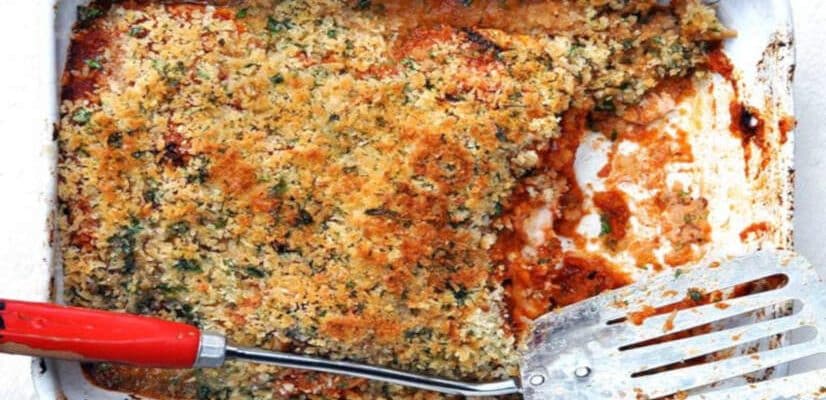 Hasselback Chilli Chicken Parmigiana
Earlier this year, I was lucky enough to travel down to Australia to meet the crew at Product Distribution. They are our amigos who import and sell Gran Luchito in Oz.
Visiting Melbourne, I was taken out for lunch for a Chicken Parmigiana which I gather is a bit of a local speciality. It wasn't really a dish I'd tried before and I have to say it was beyond delicious. I promised my hosts,  that on my return I would give this mighty dish a Gran Luchito makeover.
To make it extra special we decided to combine a Chicken Parmigiana recipe with a Hasselback Chicken recipe.
The result, Gran Luchito Hasselback Chilli Chicken Parmigiana. A bit of a mouthful to say, but a recipe I promise will give you oodles of pleasure.
For some more recipes that are guaranteed to please the family check out our Mexican Fish Pie recipe, our Mexican Shepherds Pie Recipe or our Mexican Lasagna recipe.
Prep time

Cook time

Total time

Ideal for

Dinner

Make it

Mexican

Serves

4
Nutrition: Per serving
kcal 165
fat 8.4g
saturates 3.6g
carbs 6g
sugars 1.8g
fibre 0.8g
protein 15.5g
salt 0.65g
How to make it
Heat about 3 tablespoons of olive oil in a frying pan, add the breadcrumbs and fry, stirring, for a few minutes until golden. Leave to cool.
Stir in the Parmesan and parsley.
Heat 1 tablespoon of olive oil in a clean frying pan over a low–medium heat. Add the onion and fry, stirring regularly, for about 10 minutes until soft.
Add the garlic, Gran Luchito chipotle chilli paste, tomatoes, tomato purée, sugar and water. Stir and cook for at least 1 hour. It should be thick and rich by the end (if it gets too thick, add a little water). Taste and season with salt and pepper.
Preheat the grill.
Meanwhile, prepare the chicken breasts. Make a row of incisions about 3 cm (1 ¼ in) apart all along the chicken, cutting almost all the way through to the other side. Place in an ovenproof dish side-by-side.
Once the tomato sauce is ready, blitz in a food processor until smooth.
Slice the mozzarella ball into 5 mm (¼ in) slices and halve each slice. Add one half to each incision in the chicken followed by half a slice of chorizo. Use any left over to fill (bigger cuts even more).
Spoon about half the sauce over the chicken.
Place under the grill until the chorizo starts to crisp up and the mozzarella melts.
Remove from the grill and turn on the oven to 200°C / 390°F Bake in the oven until golden and cooked through.
Similar Recipes You Might Like to Try
Comments / Questions / Tips

Subscribe now for a free copy of the Gran Luchito e-cookbook filled with delicious, authentic Mexican recipes and join our mailing list for all the latest recipes, news and blog updates.