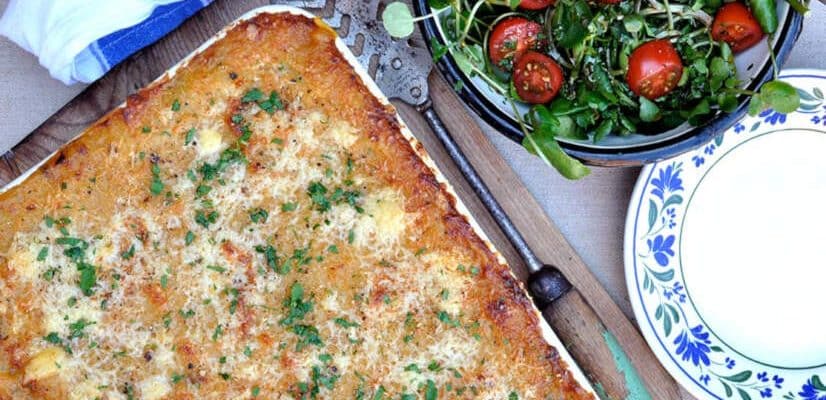 Mexican Fish Pie
When we first travelled to Mexico we were really surprised by the abundance of fish in the markets and on the menus. When you consider the length of Mexico's coast, not very surprising, but prior to that, fish was not something we had really associated with Mexican food.
How wrong we were!
Typically the kind of fish dishes you might find in Mexico include ceviche, seafood and tuna tostadas, but on our return home, we thought we'd try and give the classic fish pie a little lift with some Mexican magic.
Using haddock, cod, salmon and prawns as our protein, we made this delicious Mexican fish pie recipe by adding our take on a Gran Luchito chipotle paste to the sauce. To make this Mexican Fish pie extra special, try popping a little of our Gran Luchito Chipotle Mayo into the mashed potato topping!
For more Mexican seafood recipes check out our Baja Fish Tacos, our squid and chorizo seafood bake recipe or our chipotle anchovy pasta recipe.
Prep time

Cook time

Total time

Ideal for

Dinner

Make it

Mexican

Serves

6
Nutrition: Per serving
kcal 140
fat 8.5g
saturates 4.7g
carbs 7.2g
sugars 1.7g
fibre 1.2g
protein 8.8g
salt 0.69g
How to make it
Preheat the oven to 200°C / 400°F / Gas 6. Cut the fish into bite-sized pieces.
To make the filling, put the butter, flour and spring onions in a large frying pan over a medium heat. Cook for 3–4 minutes until onions are softened.
Add the Gran Luchito chipotle paste and carrot and cook for another 6–7 minutes, stirring regularly.
Gradually add the milk a little at a time, whisking as you go.
Bring slowly to a simmer whilst continuing to whisk. It will gradually begin to thicken. After about 4–5 minutes, remove from the heat and add the fish, prawns, peas, parsley, half of the cheddar, salt and pepper.
Mix well and pour into a large ovenproof dish.
Carefully top the fish mixture with the mashed potato using a spatula. Add tiny knobs of butter all over the top of the potato and sprinkle with the remaining cheese.
Bake for 20–25 minutes or until golden on top (take care not to burn it). If you want the cheese crispy, pop it under a hot grill for a few minutes.

Best served with a green salad.
Similar Recipes You Might Like to Try
Comments / Questions / Tips

Subscribe now for a free copy of the Gran Luchito e-cookbook filled with delicious, authentic Mexican recipes and join our mailing list for all the latest recipes, news and blog updates.