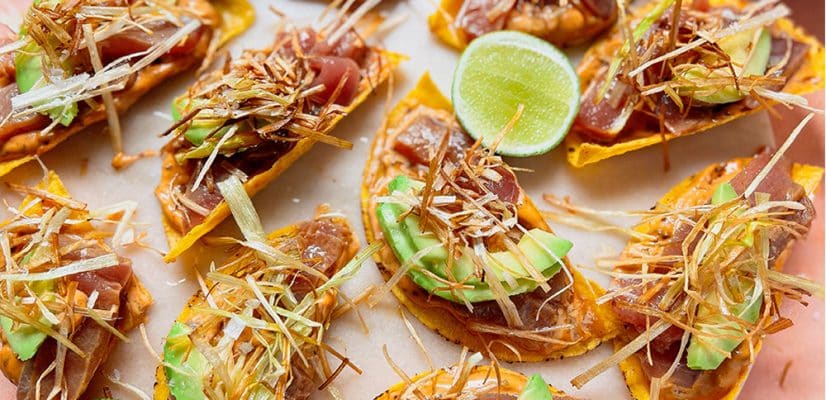 Tuna Tostadas
Tuna tostadas first became known in the restaurant Contramar in Mexico City, where Chef Gabriela Camara came up with this delicious snack in 1998. According to Chef Camara "Tuna was an underutilized fish at the time" so she created this recipe where she combines Mexican, Japanese, and Italian flavors. Tuna Tostadas have become popular over the years and kept being recreated and served in many other restaurants across Mexico.
Everything about them is pure joy, they are fresh, incredibly tasty, and surprisingly quite healthy too. This is the kind of food that is served in beachy towns on the coast of Mexico alongside a very cold beer.
The crispy corn tortillas might be a little tricky to track down but did you know that you can use Gran Luchito Hard Shell Tacos broken in half, baked to make them super crispy, and then used as tostadas? This is also a perfect way to make use of any broken taco shells.
These Mexican tuna tostadas are so simple to make. Simply spread the corn tortillas with a good amount of our recipe for chipotle mayo prepared by simply combining Gran Luchito Paste with regular mayo. Then top them with the marinated tuna (sashimi grade), fried leeks, and a slice of avocado, we like to serve any leftover chipotle mayo on the side so your guests can add a bit more if they wish.
So give these tuna tostadas a try next time you are entertaining and serve as a fancy appetizer or simply make them for yourself on a day that you get the cravings and you want to treat yourself.
Prep time

Cook time

Total time

Ideal for

Lunch

Make it

Mexican

Serves

2
Nutrition: Per serving
kcal 181
fat 13g
saturates 2g
carbs 7.5g
sugars 0.9g
fibre 1.2g
protein 8.6g
salt 1.1g
How to make it
With a sharp knife slice the tuna into thin slices and place them on a shallow platter. In a bowl mix the orange juice, lime juice, soy sauce, and extra virgin olive oil, stir the marinade briefly and pour it on top of the tuna slices, making sure they are coated evenly. Place the tuna in the fridge for 5 to 7 minutes.
In the meantime prepare the chipotle mayo, in a bowl add the mayo and the chipotle paste, and mix everything with a spoon until the paste is completely integrated into the mayo, once ready set aside or reserve in your fridge.
Open the hard shell tacos and break them in half with your hands, place them into a baking tray, and bake them in the oven for 3 to 4 minutes. Once ready, remove them from the oven and allow them to cool down.
In the meantime, heat up a frying pan with the vegetable over medium-high heat, once it is hot enough add a handful of leeks and fry them until they get golden brown. Move them around with a slotted spoon while they are cooking, and when ready remove them from the oil carefully. Place them directly onto a plate with a paper towel to absorb excess fat, and fry the remaining leeks.
When ready to serve your tostadas add a spoonful of chipotle mayo into each hard taco shell and with the back of a spoon spread over the surface. Then get the marinated tuna out of the fridge and place tuna slices on top of the mayo (2 to 3 per tostada). Top the tuna with the fried crispy leeks, and a slice of fresh avocado and serve with lime wedges on the side, enjoy!
What To Serve With Tuna Tostadas
If you're having a Mexican night in, serve these Tuna Tostadas along with these mains:
Download Our Free Guide To Tacos
Your free Taco guide will be emailed to you immediately.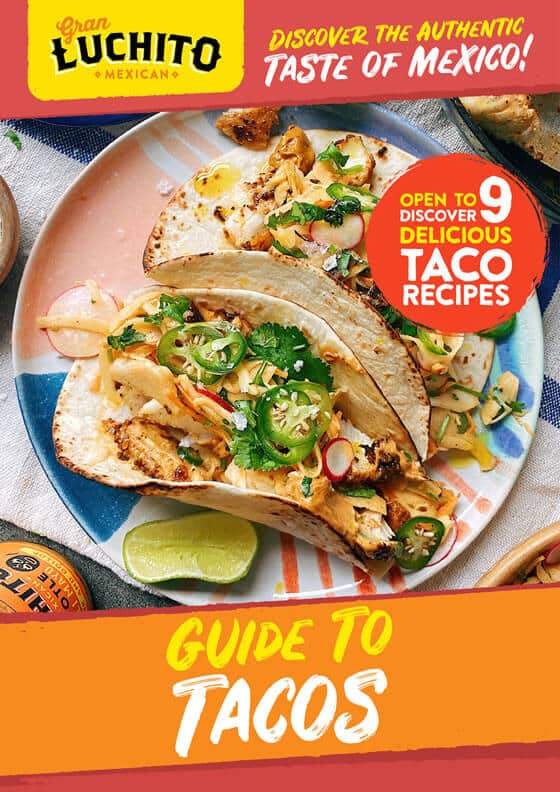 Similar Recipes You Might Like to Try
Comments / Questions / Tips

Subscribe now for a free copy of the Gran Luchito e-cookbook filled with delicious, authentic Mexican recipes and join our mailing list for all the latest recipes, news and blog updates.