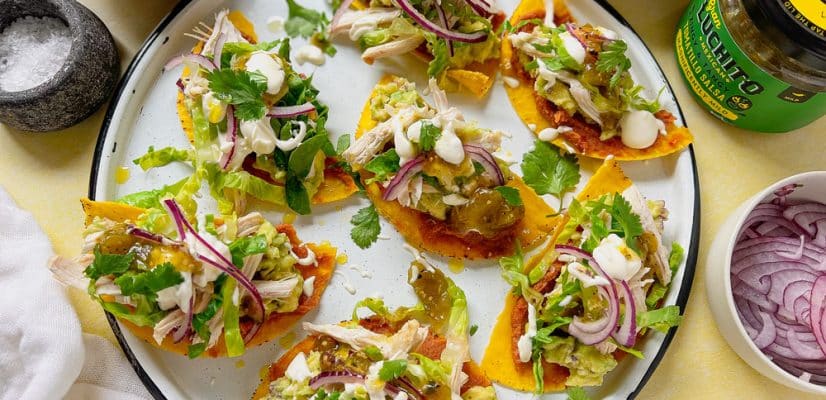 Chicken Tostadas
Chicken tostadas are one of our favorite easy Mexican meals. Chicken Tostadas are what you normally prepare with leftover rotisserie chicken from the weekend or that roast chicken that has only been taking space in the fridge. All you need to do is to shred the meat and then make this easy midweek meal that is a winner for grown-ups and little ones.
Tostadas are corn tortillas, that are baked or shallow fried to turn them crispy, they are then topped with a big variety of savory toppings, the most common ones including shredded chicken, refried beans, guacamole, crema, and salsa.
Another way to enjoy tostadas at home is to use Gran Luchito Hard Shell Tacos, you can either break them in half or just use the ones that come broken out of the packet, once you bake them in the oven for 3 to 4 minutes at 180 ˚C they get deliciously crispy and they are ready to be topped with tasty ingredients.
These half tostadas (tostaditas) are delicious, healthy, and easy to prepare, they can either be served for a quick lunch or as an appetizer when entertaining guests.
Prep time

Cook time

Total time

Ideal for

Lunch

Make it

Mexican

Serves

3
Nutrition: Per serving
kcal 496
fat 50g
saturates 8.6g
carbs 6.3g
sugars 0.7g
fibre 0.1g
protein 5.5g
salt 0.53g
How to make it
Preheat oven to 200 ˚C, 390˚F
Begin by making quick guacamole, in a bowl add the avocado flesh and the lime juice, and smash the avocado roughly with the help of a fork. Then add the diced onion, extra virgin olive oil, and pinch of salt and pepper, mix and taste making sure it is well seasoned when ready set aside.
Open the pack of hard shell tacos, break them in half, and place them in a baking tray. Then bake in the oven for 3 to 4 minutes, until nice and crunchy.
Open the refried beans and squeeze half of the packet into a bowl. Prepare all the rest of your ingredients on the side, the shredded chicken, lettuce, sour cream, red onion, and tomatillo salsa, and get ready to assemble your tostadas.
Get the Hard Shell Tacos out of the oven. Once the cool down slightly, spread a spoonful of refried beans on top (no need to warm up), add a spoonful of guacamole, then layer with the shredded chicken, add a handful of shredded lettuce, a few slices of onion, drizzle a good amount of sour cream on top and finally add a nice amount of tomatillo salsa. Repeat the same process with the rest of your ingredients and serve the tostadas straight away, enjoy!
What To Serve With Smoky Chicken Tostadas
Serve these smoky chicken tostadas with these other recipes as pre-dinner snacks:
Download Our Free Guide To Mexican Classics
Your free guide will be emailed to you immediately.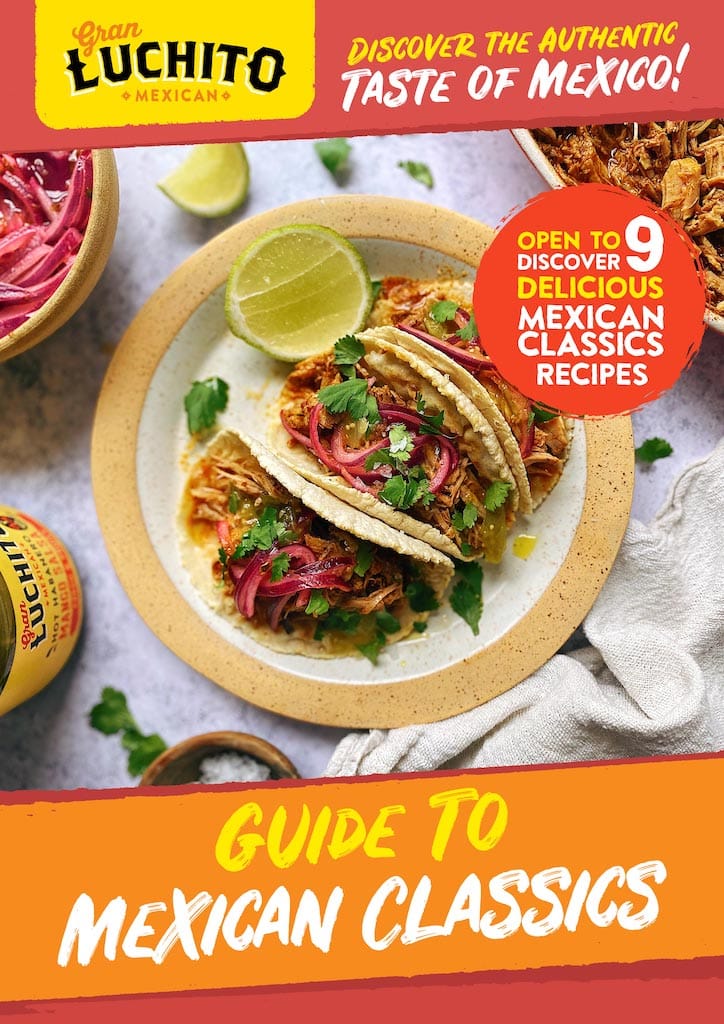 Similar Recipes You Might Like to Try
FAQs
What is a tostada?
A tostada is a Mexican dish made with a fried or baked tortilla that has been topped with various ingredients, such as chicken, beans, cheese, and salsa.
What are some popular toppings for tostadas?
Shredded chicken, Refried beans, Cheese, Salsa, Guacamole, Sour cream, Cilantro and Lime
How do I store tostadas?
Tostadas can be stored in an airtight container in the refrigerator for up to 3 days. To reheat, simply place the tostada in the oven or toaster oven until heated through.
Comments / Questions / Tips

Subscribe now for a free copy of the Gran Luchito e-cookbook filled with delicious, authentic Mexican recipes and join our mailing list for all the latest recipes, news and blog updates.