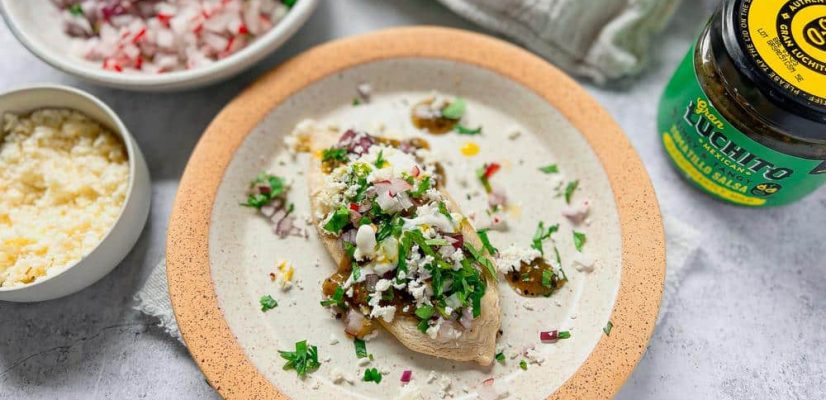 Tlacoyos
Tlacoyos are one of the many wonders of Mexican street food. They are made with "masa", the same dough that is used to make corn tortillas. To prepare them, masa balls are shaped with the hands and pressed into a tortilla-like shape by using a tortilla press. They are most commonly filled with refried beans and folded into a flat, oval shape. 
You can find tlacoyos being prepared fresh by senoras or "cooks" in small stalls on the streets of Mexico or in food markets. They are warmed up over big ceramic "comales", which are special flat pans normally used to warm up tortillas and other antojitos.
Tlacoyos are served topped with a fresh salsa, sometimes with a garnish of lettuce, finely diced onion and coriander. Also sometimes a fresh cactus salad, crumbled  fresh cheese and crema. They are typically eaten with your hands and it's meant to be messy and enjoyable!
We think you'll enjoy this Mexican antojito (little craving) at home as the perfect appetizer alongside a nice Chicken Mole. Our Gran Luchito Refried Beans are the perfect quick filling for these tlacoyos, and served with Gran Luchito Tomatillo Salsa they're even better.
You can also have a bit of fun with the toppings and serve your tlacoyos with two or three of our recipes for sides, then have your guests prepare their own. Try our recipes for Pico de Gallo, Mexican Corn, Frijoles, Guacamole, Mexican Coleslaw or Chipotle Crema, and have a Tlacoyo party!
A tortilla press is needed to prepare this tlacoyos recipe, and you can find one easily on the internet or in specialty shops. The recipe makes about 12 to 14 tlacoyos depending on how big you make them, and we recommend calculating 3 per person.
Prep time

Cook time

Total time

Ideal for

Snack

Make it

Mexican

Serves

4
Nutrition: Per serving
kcal 155
fat 4.1g
saturates 2.1g
carbs 22.8g
sugars 1.5g
fibre 1.6g
protein 6.0g
salt 1.0g
How to make it
In a small saucepan warm up the Refried Beans over medium heat, add the water and stir it in to give them a lighter consistency. Once they begin to bubble away they are ready. Let them cool down lightly before preparing your tlacoyos.
In a bowl, place all the ingredients together to make the masa and combine with your hands until you form a dough. The masa should be moist but not sticky. Knead briefly and once ready place it in a bowl and cover it with a clean damp cloth to avoid it from drying out.
Now heat up a non-stick frying pan over medium heat. Then begin to shape your tlacoyos, first of all by forming a masa ball with your hands.
Place the masa ball in between two pieces of cling film (to avoid it from sticking) then press the masa down using a tortilla press into a tortilla-like shape.
Add 1 tablespoon of refried beans in the centre and spread lightly over the surface.
Fold the sides of your tortilla and bring them to the middle, then close the top and bottom edges forming an oval shape and enclosing the filling.
Press it with your hands lightly and place it over the hot pan. Cook for 5 to 6 minutes on each side, they should be lightly toasted. Repeat the same process with the remaining masa and beans and serve warm.
Tlacoyos are best served freshly made. To serve, place one or two warm tlacoyos on a plate, then add a spoonful or two of Gran Luchito Tomatillo Salsa on top. Spread it over the surface and then add a handful of radish, onion, coriander, a drizzle of sour cream, and finish it with the crumbled feta on top.
Chef's Tip: To reheat your tlacoyos, do this over a hot non-stick pan and cover them with a lid to keep a bit of the moisture in, a few minutes on each side and then serve. Alternatively, you can also shallow fry them over very hot vegetable oil until lightly golden on both sides, then place them over kitchen paper to absorb any excess oil and serve!
What To Serve With Tlacoyos
Serve your Mexican tlacoyos with sides of:
Download Our Free Guide To Mexican Classics
Your free guide will be emailed to you immediately.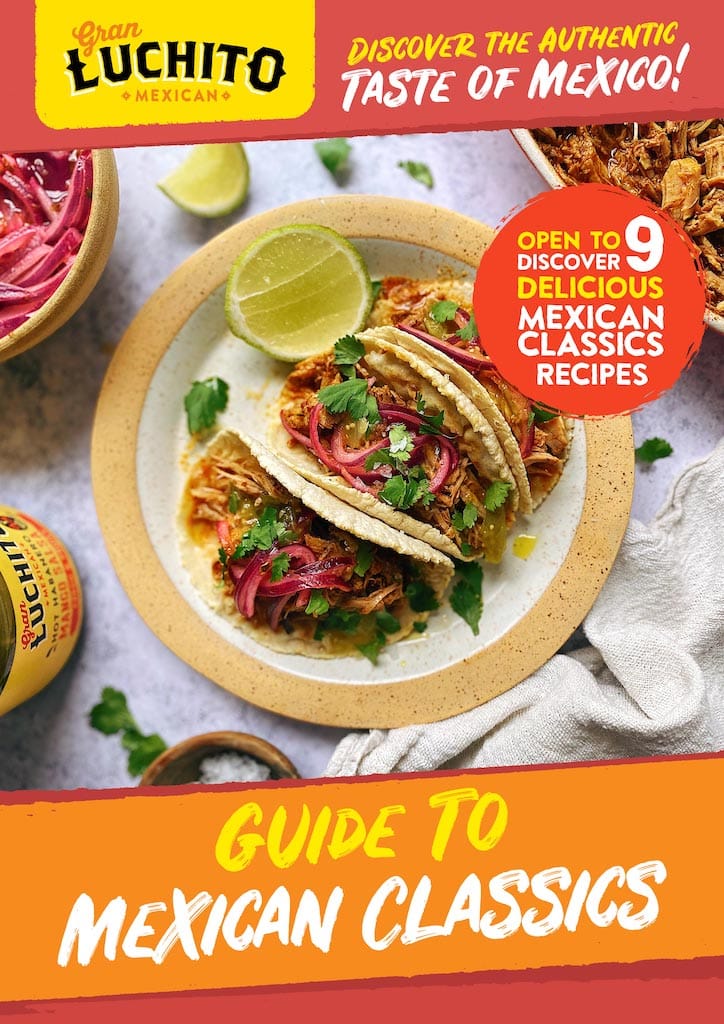 Similar Recipes You Might Like to Try
FAQs
What part of Mexico are tlacoyos from?
Tlacoyos are found in many parts of Mexico, especially northern Veracruz, Hidalgo, Morelos, Guerrero, Puebla, southern Michoacán, and northern Oaxaca.
What are tlacoyos made of?
They are made of a thick corn tortilla, which is made of masa (dough). Those vessels are usually filled with refried beans and topped with salsa, cheese and veg.
Can you freeze tlacoyos?
If you want to freeze your homemade tlacoyos, you can do that after they've been cooked and cooled. Stack them and wrap them firmly with food wrap, then place them inside a resealable bag.
Comments / Questions / Tips

Subscribe now for a free copy of the Gran Luchito e-cookbook filled with delicious, authentic Mexican recipes and join our mailing list for all the latest recipes, news and blog updates.