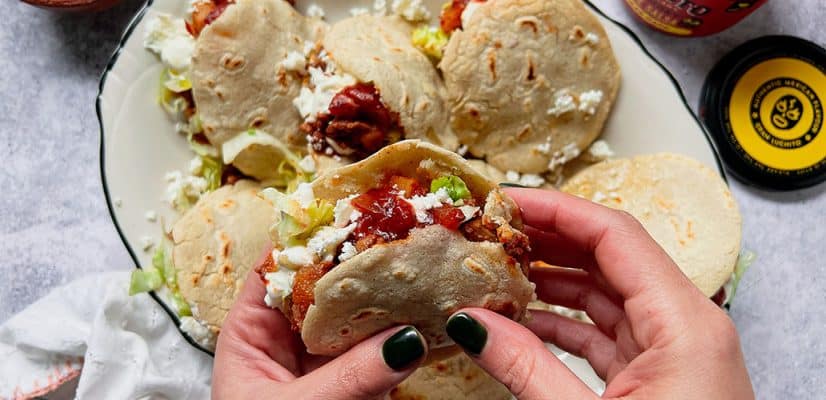 Gorditas
Gorditas are one of those perfect quick Mexican recipes that you can have on the go and eat with your hands. What are gorditas? They mainly consist of pockets made with corn flour dough known as "masa". They are then loaded with the most delicious savoury fillings. 
A typical vegetarian gorditas recipe would be a cheese gorditas or a bean gorditas, and others can also contain nopalitos (cactus). Alternatively, there are more complex fillings like mole with chicken and slow cooked shredded beef "deshebrada" with a spicy sauce.
Mexican gorditas are sold in little stalls and markets on the streets of Mexico. Here, expert female cooks prepare a huge amount of them during lunchtime. Big casseroles keep the different fillings warm and are there for you to choose which gorditas ingredients you would like. They are prepared fresh as you put your order in.
Making gorditas at home is not too difficult at all, and first of all you'll need to get corn flour for your masa recipe. The same kind you would use to make corn tortillas is needed here. Mix it with a bit of salt and water until you get a not too sticky but still moist masa. Shape them with your hands, pressing and making masa circles between the palms of your hands. Then warm them up over a hot pan, a few minutes on each side, and open them with a sharp knife forming a pocket inside your masa disc.
The difference between sopes and gorditas is that gorditas are a pocket-like shape made of masa whereas sopes are more of a vessel that you add toppings to. Even though they might sound quite similar, once you try them you can see that they're both very different!
For our gorditas recipe, we went with a classic picadillo filling (minced beef fried with potatoes) that we prepared using Gran Luchito Chipotle Paste. We then serve them with crumbled feta cheese, a spoonful of creme fraiche, and please don't forget a good amount of Gran Luchito Chipotle Salsa!
Note – This recipe makes about ten 10cm diameter gorditas.
Prep time

Cook time

Total time

Ideal for

Lunch

Make it

Mexican

Serves

4
Nutrition: Per serving
kcal 157
fat 7.8g
saturates 4.0g
carbs 16.2g
sugars 1.8g
fibre 0.6g
protein 5.9g
salt 0.67g
How to make it
Begin by preparing a quick chipotle picadillo. Heat up a pan with the olive oil, and once it's hot enough add the onion and garlic. Fry for a couple of minutes, then add the potatoes and let the potatoes get lightly browned.

Once your potatoes get a bit of colour, add the minced beef in and break the meat with a wooden spoon. Add the

Chipotle Paste

and integrate with the potato mixture and let it cook over a medium heat for 6 to 7 minutes.

Now that your meat has a bit of colour it's time to add the chopped tomatoes, ground cumin, a pinch of salt and freshly ground black pepper. Cover with a lid and let it simmer on a medium heat for 10 minutes approx, or until your potatoes are cooked through.

In the meantime begin to prepare your gorditas. For this, combine the masa ingredients into a medium size bowl with a wooden spoon and then mix with your hands. Bring everything together into one dough. Your masa should be moist but not sticky.

Warm up  a hot non-stick pan.

Now is the time to shape your gorditas. Start by pinching a meatball-sized portion of your masa recipe, and then roll it with your hands forming a ball. With the palms of your hands, press until you form a 1/2cm thickness masa disc (as seen in pictures). 

Place the masa disc over your hot pan and warm up for a few minutes on each side, until they are lightly toasted on both sides. When ready, remove from the pan and keep them warm, covered with a tea towel.

Repeat the same process with the rest of your masa. Once you have all your gordita shells done and warmed up, get a paring knife and open a pocket that resembles a pita. Repeat the same with the rest of your masa discs, turning them into the best gorditas, ready to be filled.

Get your warm picadillo on the side, and with the help of a spoon fill all your gorditas generously. Then once filled, warm them up on a hot pan again, a few minutes on each side. Serve your gorditas with a bit of lettuce, crumbled feta cheese, creme fraiche and a good dose of Chipotle Salsa.
What To Serve With Gorditas?
Serve our gorditas recipe with a side of:
Download Our Free Guide To Mexican Classics
Your free guide will be emailed to you immediately.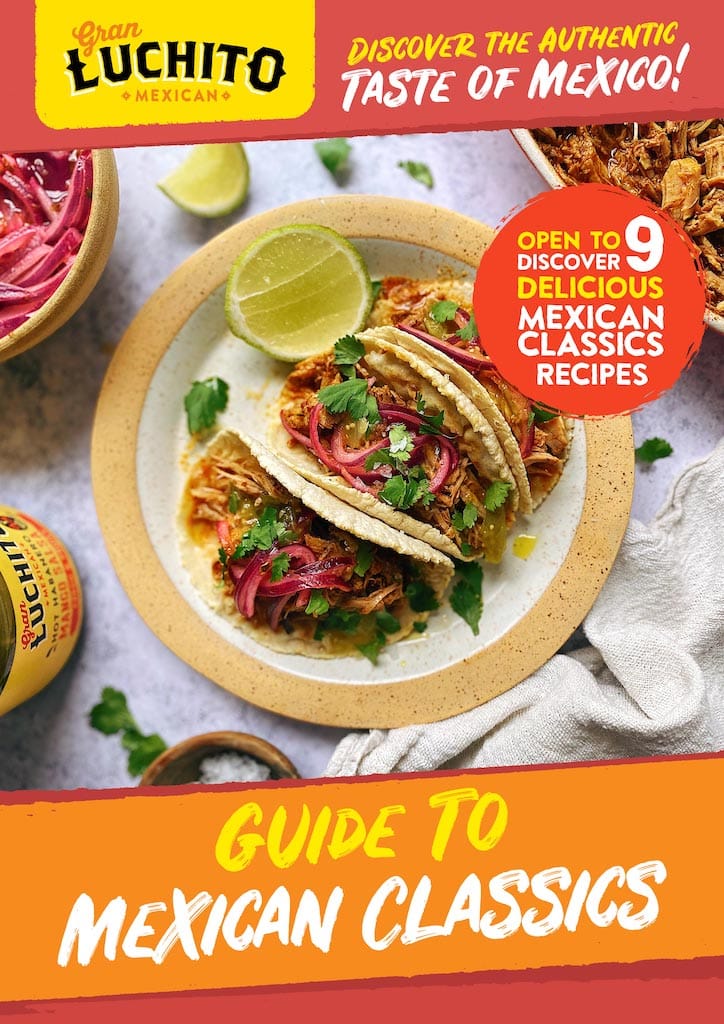 Similar Recipes You Might Like to Try
FAQs
Are gorditas gluten free?
Much like many Mexican other dishes, gorditas are naturally gluten free! They are made with masa harina which is made entirely from corn.
What is gorditas in English?
The gorditas translation into English means fat or chubby and is usually used as a term of endearment or affection. You could compare it to a pasty here in England!
Where to buy masa harina near me?
Masa is a maize dough that comes from ground nixtamalized corn. The flour's dried and powdered form is called masa harina. You can buy this in most big supermarkets as well as Ocado and Amazon.
Comments / Questions / Tips

Subscribe now for a free copy of the Gran Luchito e-cookbook filled with delicious, authentic Mexican recipes and join our mailing list for all the latest recipes, news and blog updates.

wpDiscuz