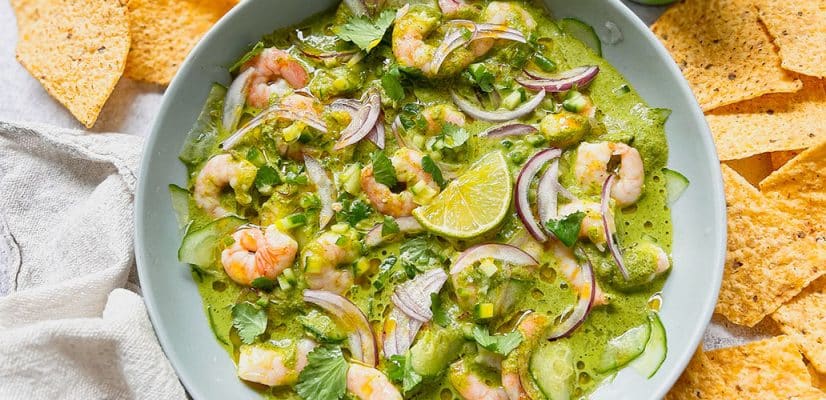 Aguachile
This recipe is mostly found in the pacific coast of Mexico in the town of Mazatlán, Sinaloa, which is famous for its seafood.
Aguachile translates into "chilli-water" in English. It mainly consists of raw fresh prawns that have been cleaned and deveined, then briefly cooked in lime juice and covered in a spicy marinade. This marinade would usually be prepared with very spicy chillies like serranos, habanero or jalapenos, some more lime juice, olive oil, and also coriander. The aguachile is then garnished with fresh cucumber slices and red onion.
Aguachile is normally served with tostadas (crispy tortillas) or salted crackers on the side, so it's perfect when paired with Gran Luchito Lightly Salted Tortilla Chips and a very cold beer! It's a similar dish to ceviche but much spicier, and is normally served straight away, whereas ceviche is left to marinate for longer.  When making aguachile we recommend preparing it nearer the time it's being served – the fresher the seafood the better!
When preparing ceviche or aguachile, a Mexican seafood recipe where the prawns or fish will be used raw, it's always good to buy your ingredients from a good source like a local fishmonger or over-the-counter at the supermarket, rather than pre-packed prawns. But for those of you who may feel a bit funny about eating raw seafood, you can prepare this recipe with pre-cooked prawns.
For our aguachile recipe, we added our special blend of Gran Luchito Habanero and Lime Fajita & Taco Mix into the marinade. You can also try this same marinade with Gran Luchito Chipotle Paste or Gran Luchito Smoky Chipotle Fajita & Taco Mix for a slightly different taste.
This beautiful recipe is perfect served as an appetizer or snack alongside drinks on a very hot summer's day!
Prep time

Cook time

Total time

Ideal for

Snack or Starter

Make it

Mexican

Serves

2
Nutrition: Per serving
kcal 142
fat 7.0g
saturates 0.9g
carbs 11.5g
sugars 0.9g
fibre 0.7g
protein 7.9g
salt 0.79g
How to make it
Place the cleaned king prawns in a small bowl and add the juice of 2 limes. Let the lime juice cook the prawns slightly for 10 minutes. Cover them with cling film and let them rest in the fridge.

After 10 minutes take the prawns out of the fridge. In the blender add the drained liquid from the prawns with the lime, the jalapeño, garlic clove, the

Habanero and Lime Fajita & Taco Mix

, and coriander. Squeeze the remaining lime juice in, add the extra virgin olive oil, a small pinch of salt, and freshly ground black pepper. Blend into a bright green smooth sauce.

In a nice shallow bowl or plate arrange a bed of cucumber. Place the prawns on top, and then pour the green spicy marinade on top. Garnish with more cucumber slices, the red onion, and a drizzle of extra virgin olive oil. Serve immediately with Lightly Salted Tortilla Chips ready to scoop up your aguachile.
What To Serve With Aguachile
Serve this aguachile dish with some Gran Luchito Chipotle Chips, and these two sides:
Download Our Free Guide To Mexican Classics
Your free guide will be emailed to you immediately.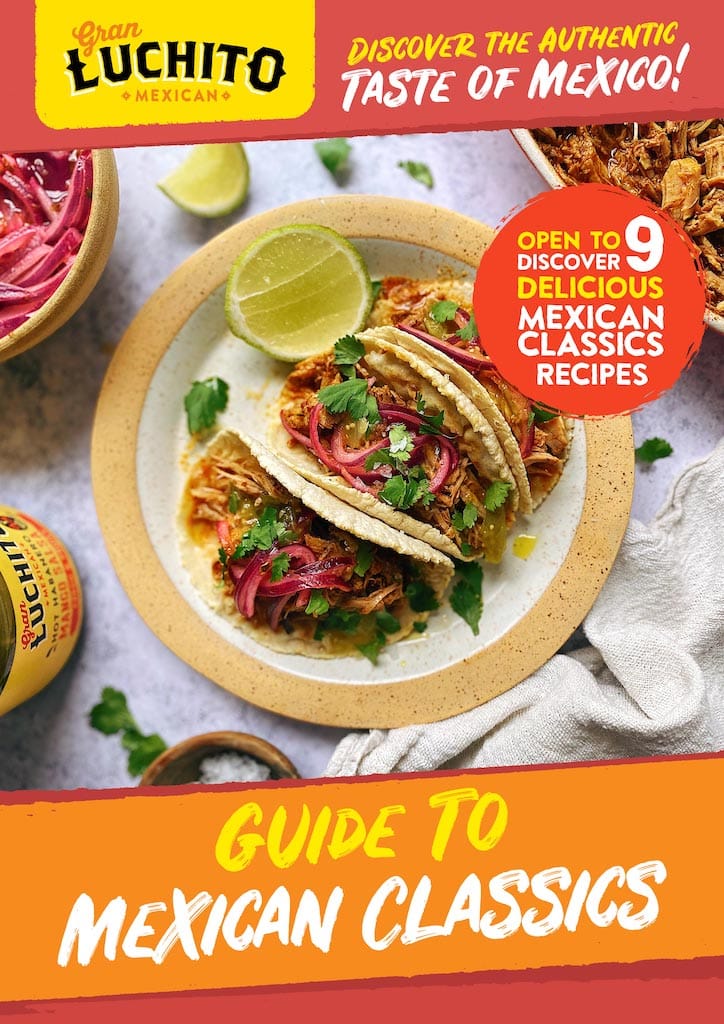 Similar Recipes You Might Like to Try
FAQs
Is aguachile raw?
The most classic version is made with fresh raw prawns, cucumber, red onion, lime juice, and chilies (typically serranos or jalapeños). The difference between ceviche and aguachile is that ceviche marinates in lime for 20 minutes or maybe hours, whereas aguachiles are tossed in chilli water and served immediately.
Is it safe to eat aguachile while pregnant?
You should not eat aguachile while pregnant because it's made with uncooked seafood. Raw fish or seafood, in this case prawns, can cause food poisoning. It's better to cook the prawns if you are pregnant, then that will be fine.
How to make aguachiles rojos?
Replace the green chillies with red ones, and if you like, add some red peppers!
Comments / Questions / Tips

Subscribe now for a free copy of the Gran Luchito e-cookbook filled with delicious, authentic Mexican recipes and join our mailing list for all the latest recipes, news and blog updates.