Grilled Onions
Grilled spring onions are an unsung hero of carne asada, but the truth is that this simple side dish is a must in every Mexican BBQ!
This tasty Mexican side dish is prepared very simply by adding a bit of oil to the onions, some salt and pepper, and they are then placed over a hot grill by the side of your meat, fish or whatever you are grilling on the day and you just let the heat do its magic.
If you don't have enough time to put your BBQ on, you can also prepare the best grilled onions over a hot pan in your kitchen, but we must say the taste from the charcoal grill is what makes the perfect grilled onions.
For this grilled onions recipe, we used one of our Gran Luchito spice mixes to season the spring onions and make them taste even more amazing. You can try this onion recipe with any of our three different blends: Guajillo, Habanero and Chipotle, and we can recommend a few recipes depending on what spice mix you choose to use:
Guajillo Fajita & Taco Mix: spring onions seasoned with this delicious spice is the perfect blend when you just want to add a Mexican chilli taste without it being overly spicy. These spring onions with guajillo go perfectly with chicken dishes. We recommend serving them with our Pollo Asado and Chicken Tacos recipe.
Habanero Fajita & Taco Mix: this spice mix is a bit more herby with a bit more punch from the habanero. When seasoning your spring onions with this blend they will be the perfect accompaniment, when grilled, for a seafood dish such as Chipotle Prawn Tacos or Fish Fajitas.
Chipotle Fajita & Taco Mix: the spiciest mix of the three, full of smokiness and delicious chipotle flavour. When seasoning your spring onions with this mix it will make them deliciously spicy and the perfect accompaniment for a Mexican Steak or Carne Asada Tacos.
Prep time

Cook time

Total time

Ideal for

Side Dish

Make it

Mexican

Serves

3
Nutrition: Per serving
kcal 70
fat 5.5g
saturates 0.8g
carbs 3.3g
sugars 2.4g
fibre 1.5g
protein 2.0g
salt 1.1g
How to make it
Prepare your BBQ first of all. If using charcoal it will take about 20 minutes to get it going. When using a gas grill set it on high first then after 15 minutes lower the temperature on one side so you get two levels of heat. You'll cook your meat on the hottest side first, and your spring onions on the lower heat side. 

Place your spring onions on a large plate or tray, drizzle the olive oil on top, then sprinkle them with the Guajillo Fajita & Taco Mix. Now with your hands rub the oil and spice mix all over them to make sure they are well coated. 

Place the seasoned spring onions on the lower heat side over your grill and let them get lightly charred and deliciously caramelized all around. Turn them around from time to time with the help of some kitchen tongs, this all takes about 10 to 15 minutes.

Once ready, remove them from the grill and place them on a nice platter. Sprinkle with the parsley, squeeze the lime juice on top and finish with a pinch of flaky salt. 
What To Serve With Grilled Onions
The obvious ideas are grilled onions for hamburgers or grilled onions for steak, but you could also try them with:
Download Our Free Guide To Mexican Classics
Your free guide will be emailed to you immediately.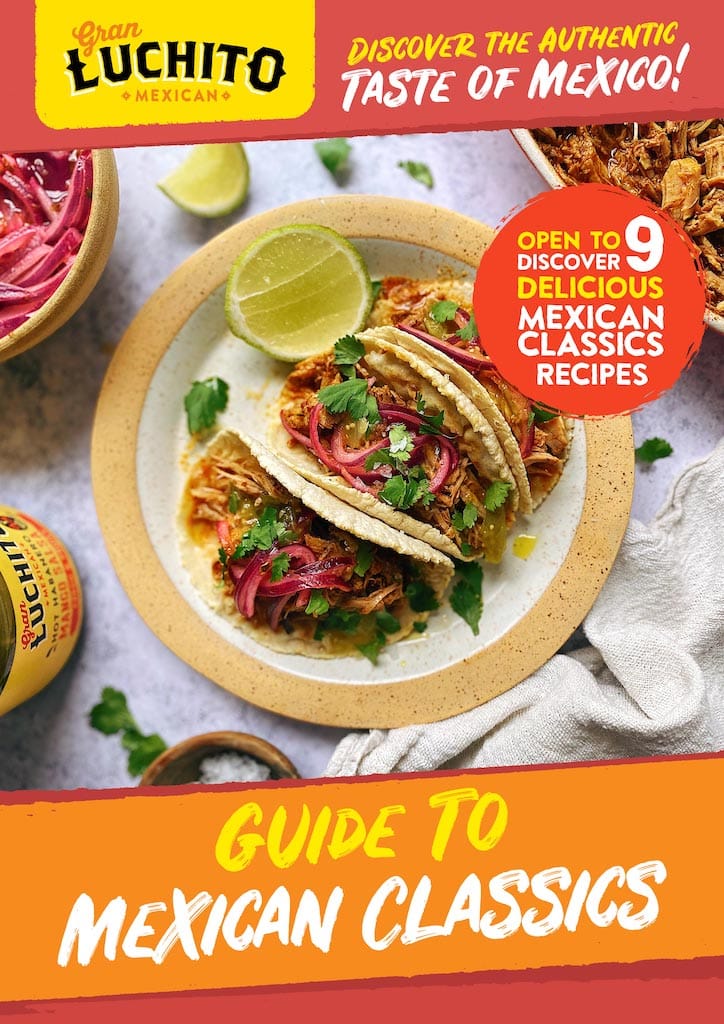 Similar Recipes You Might Like to Try
FAQs
Are grilled onions healthy?
Yes they are! Sliced onions cooked over a grill have a good dose of vitamin C and phytochemicals that help your body fight inflammation and blood sugar spikes. Onions are also rich in soluble fibre that helps in keeping your gut healthy.
What's the difference between grilled onions and caramelized onions?
The main difference is time. Grilled onions get soft and brown a bit, and retain their sharp, onion flavor. Caramelized onions are a labor of love and taste sweeter due to the sugar added before cooking.
Can you use any type of onions for this grilled onions recipe?
Yes, red or white onions would work too, although we've used spring onions as they are tender and tend to be sweeter when cooked.
Comments / Questions / Tips

Subscribe now for a free copy of the Gran Luchito e-cookbook filled with delicious, authentic Mexican recipes and join our mailing list for all the latest recipes, news and blog updates.