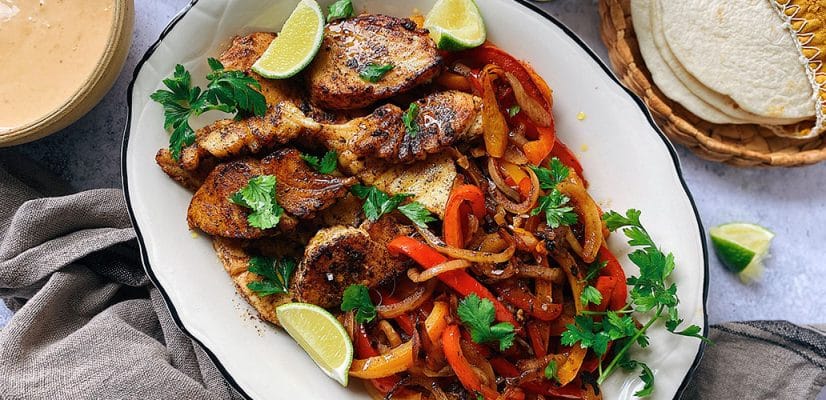 Fish Fajitas
Fish Fajitas are our favourite fajitas to have during the summer. Delicious pieces of fresh halibut are simply seasoned here with our Gran Luchito Smoky Chipotle Fajita & Taco Mix. We then add a bit of lime juice and a drizzle of olive oil, ready to be cooked over a hot pan until lovely and golden brown on both sides.
At the same time, we fry the onion and peppers in another pan so that we can then serve a beautiful fajitas platter onto the middle of the table.
This fish fajita recipe is even better when served with some warm Gran Luchito Soft Taco Wraps and Chipotle Crema on the side. Everyone can then prepare their own tacos and add a good amount of the crema on top. Simply irresistible!
Prep time

15 mins

Cook time

20 mins

Total time

35 mins

Ideal for

Dinner

Make it

Mexican

Serves

2
How to make it
Prepare the chipotle crema by adding all the ingredients into a bowl and whisking until you get a smooth mixture. Season with a pinch of salt and black pepper, taste and then set aside.

In a shallow bowl place the halibut slices and season with 2 teaspoons of the

Gran Luchito Smoky Chipotle Fajita & Taco Mix

, the juice of 1/2 a lime, 1 tablespoon of olive oil, a pinch of salt and freshly ground pepper.

Then heat up a non-stick frying pan with 1 tablespoon of olive oil and once it's hot enough add your fish. Cook over a medium heat until golden brown on both sides.

At the same time in another pan, fry the onion with the remaining olive oil over high heat. Add the peppers and season with the remaining Smoky Chipotle Fajita & Taco Mix

, lime juice and season with salt. Once ready, remove the pan from the heat and get ready to serve.

Serve the fish in a nice platter alongside the fried peppers and onions, then garnish with the lime wedges and parsley. Don't forget to serve with warm Soft Tacos on the side and the Chipotle Crema!
What To Serve With Fish Fajitas
These fish fajitas are especially good when served with a side of:
More About Fajitas
Our How To Make Fajitas blog will help you to master everything you need to know about making homemade Fajitas. And our Fajita Recipes is our collection of tried and tested Fajita recipes with more flavours, protein and veggie options. For further inspiration on side dishes, check out our blog on What To Serve With Fajitas.
Download Our Free Guide To Fajitas
Your free guide will be emailed to you immediately.
Similar Recipes You Might Like to Try
FAQs
Should I marinate the fish for longer before cooking?
You could definitely marinate the fish in the spice mix for longer if you would like to make sure you get an even stronger flavour. Put the ingredients in a bowl, cover with cling film and pop it in the fridge for an hour to soak in before cooking.
How long does the Chipotle Crema keep in the fridge?
If it is stored in a sealed container, it will last in the fridge for 2-3 weeks.
Please let us know what you think of this recipe