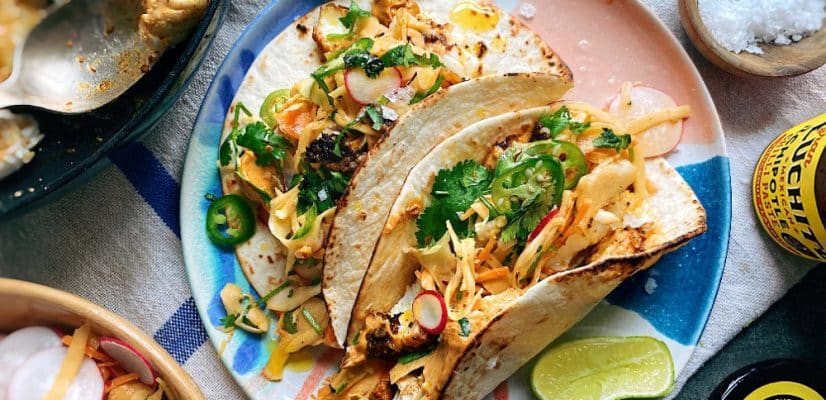 Fish Tacos
Fish tacos have to be one of our favourite taco recipes. What's not to love about fresh beautiful fish marinated in Mexican spices and served over delicious warm tortillas, a fresh salsa and a touch of lime? Just perfect!
It's kind of like being on holiday… or at least you can pretend to be on one! Just imagine you are down by the coast in Mexico, life is normal again and you are enjoying a plate of delicious tacos with a cold beer on the side. While you daydream about that holiday, you can enjoy these tasty fish tacos in the comfort of your home and we guarantee that this tasty recipe will become a firm favourite and one that you will keep remaking, because it's that good!
So all you have to do is to coat fresh haddock fillets with a good amount of Gran Luchito Garlic and Guajillo Fajita & Taco Mix, olive oil, lemon (zest and juice), salt, pepper and let it marinate for a couple of minutes. The fish then goes into a hot pan with a little bit more oil, to be pan fried lightly on both sides, making sure not to over cook it.
Another great idea is to put the fish on the BBQ! First, make sure that the BBQ is super hot, and the grates are clean with no prior cooking debris. Oil your fish generously to prevent it sticking, and grill on each side for 3-4 mins, flipping only once to avoid it breaking. You'll know when it's time to flip it because the fish will naturally release itself from the grate when it's done on that side. Be patient!
The garnish for this taco can't be easier, and the best accompaniment for this fish taco is a fresh and spicy salad. This is made out of crunchy veg (thinly sliced in the mandolin) and seasoned with our amazingly delicious Gran Luchito Chipotle Paste, put together in a minute and ready to be served on top of your gorgeous fish.
Finally to serve, just break that lovely fish meat with a spoon and place it in the warm Gran Luchito Soft Taco Wraps. Top with your crunchy veg salad and add an extra spoonful of homemade Chipotle Mayo made by mixing mayo with Gran Luchito Chipotle Paste – because why not! Add a squeeze of lime and a touch of flaky salt sprinkled on top and enjoy!
Prep time

Cook time

Total time

Ideal for

Dinner

Make it

Mexican

Serves

2
Nutrition: Per serving
kcal 119
fat 6.2g
saturates 0.6g
carbs 8.2g
sugars 2.0g
fibre 1.2g
protein 7.4g
salt 0.58g
How to make it
Place your fish fillets over a plate or kitchen board, add 1 teaspoon of olive oil, sprinkle the Garlic and Guajillo Fajita & Taco Mix on top, add the zest and lime juice, a sprinkle of salt and freshly ground black pepper. Then rub the quick marinade onto your fish with your hands and set aside.

Prepare a frying pan with the remaining oil, and once it is hot enough place the fish carefully over your pan and fry until golden brown on both sides. Be careful not to overcook your fish, you want to achieve flaky, moist, tender fish. Once ready, remove from the heat and cover with a lid to keep it warm.

Quickly prepare your taco garnish by adding all the vegetables thinly sliced into a bowl (with the help of a mandolin or sharp knife), add the lime juice, vinegar, extra virgin olive oil, Chipotle Paste

, mayo, a good pinch of salt and black pepper. Mix everything with your hands or a spoon and reserve.

Get ready to serve your tacos. For that you need to warm up your

Soft Taco Wraps

, serve some of the lovely fish on top and garnish with plenty of your crunchy spicy slaw.

Combine the Chipotle Paste with the mayo to make homemade chipotle mayo, add a spoonful on each taco, a good squeeze of lime and you are good to go!
What to serve with Fish Tacos?
Some delicious side dishes for fish tacos are:
Sign Up To Receive Our Free Guide To Tacos
Your free guide will be emailed to you immediately.
Similar Recipes You Might Like to Try
FAQs
What is the best fish to use for fish tacos?
A flaky white fish is best for this fish tacos recipe. We like using haddock, cod or hake.
What toppings do you put on fish tacos?
We think the best topping for fish tacos is a quick and crunchy Mexican slaw garnish made with cabbage, carrot, red onion, jalapeño and radish. It provides the perfect contrast to the flaky white fish. A dollop of our Chipotle Mayo on top with a squeeze of lime for freshness is the perfect final touch!
Comments / Questions / Tips

Subscribe now for a free copy of the Gran Luchito e-cookbook filled with delicious, authentic Mexican recipes and join our mailing list for all the latest recipes, news and blog updates.