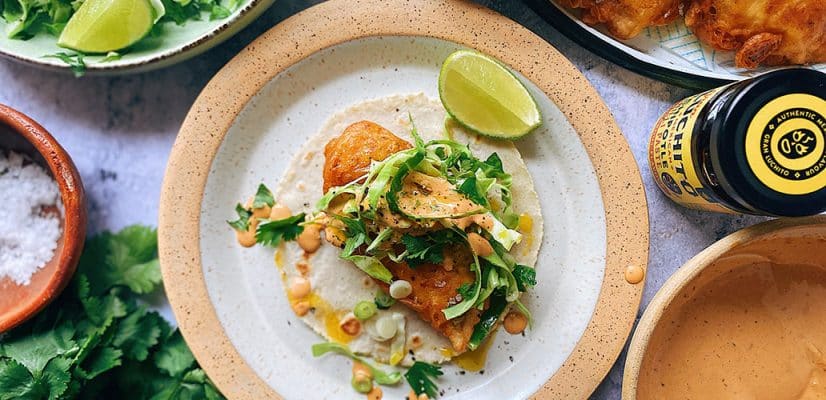 Baja Fish Tacos
Transport yourself to a sunny coastal town in Baja California, Mexico, with our Baja Fish Tacos recipe! This has to be one of our favourite taco recipes and we created this one especially for you to make in the comfort of your own home.
Fresh fish fillets are covered in a light batter made with Gran Luchito Chipotle Paste, beer and flour. They are then deep-fried until crispy and golden. Serve this fish taco recipe with warm corn tortillas, topped with crunchy vegetables, a touch of fresh lime and a good amount of homemade chipotle mayo made by combining Gran Luchito Chipotle Paste with mayo. Such a delicious combination of flavours and textures.
Now if you have time for a completely authentic Mexican experience, we recommend trying to make your own corn tortillas at home. Our recipe calls for a specific type of cornflour called Masa de Harina which you can find at larger supermarkets speciality outlets such as MexGrocer.  Having said that, if you'd like a more practical option you can also use our Gran Luchito Soft Taco Wraps.
A meaty fish such as cod, haddock or halibut works brilliantly for this fish tacos recipe. Remember the main goal for these Baja tacos is to achieve perfectly cooked fish with a light and delicious crispy coating. With that in mind, make sure that your oil is very hot before frying your fish.
For more irresistible taco recipes, be sure to check out our Breakfast Tacos With Carne Asada, our Vegan Tacos (with roasted cauliflower) and our Pork Belly Tacos.

---
---
Prep time

Cook time

Total time

Ideal for

Dinner

Make it

Mexican

Serves

4
Nutrition: Per serving
kcal 198
fat 12g
saturates 0.9g
carbs 13.9g
sugars 1.4g
fibre 0.9g
protein 8.6g
salt 0.59g
How to make it
Prepare the batter by adding into a bowl: 1 cup of the flour, the Gran Luchito Chipotle Paste, baking powder and beer. Whisk until you get a smooth mixture, and set aside.
Season your fish fillets with salt and freshly ground black pepper. Add the remaining flour into a bowl and dust your pieces of fish. Once ready, place them on a baking tray and set them aside.
Heat the oil in a frying pan over a medium / high heat to 190°C / 375°F. When a small piece of fish dropped into the oil bubbles on contact, it means it's ready.
Dip each piece of dusted fish in the batter, then carefully place it into the hot oil. Do this in batches so as not to overfill the frying pan. Fry until crispy and golden.
Remove them with a slotted spoon and drain them on kitchen paper while you fry the remaining fish.
6. In a small bowl whisk together the Chipotle Paste

, the mayo, the juice of 1 lime and 1 tablespoon of extra virgin olive oil, season with a bit of salt and black pepper.

In a different bowl add the cabbage, spring onion and half of the coriander. Add the juice of 1 lime, the remaining extra virgin olive oil and season with a pinch of salt and pepper. Mix well.
Serve your warm tortillas with a piece of fried fish, and top with the cabbage mixture. Add a good drizzle of Chipotle Mayo dressing and freshly chopped coriander. Enjoy!
To make the corn tortillas:
Mix all the ingredients in a bowl with a wooden spoon to form the "masa" (dough), and knead briefly. 

Heat up a non-stick pan.

Form masa balls with your hands. 

Then using a tortilla press and two plastic films press your masa into a tortilla shape.

Place in the hot pan a minute or less on each side and keep them warm by wrapping them in a tea towel.
What To Serve With Baja Fish Tacos
This dish would go really well with sides of:
Download Our Free Guide To Tacos
Your free Taco guide will be emailed to you immediately.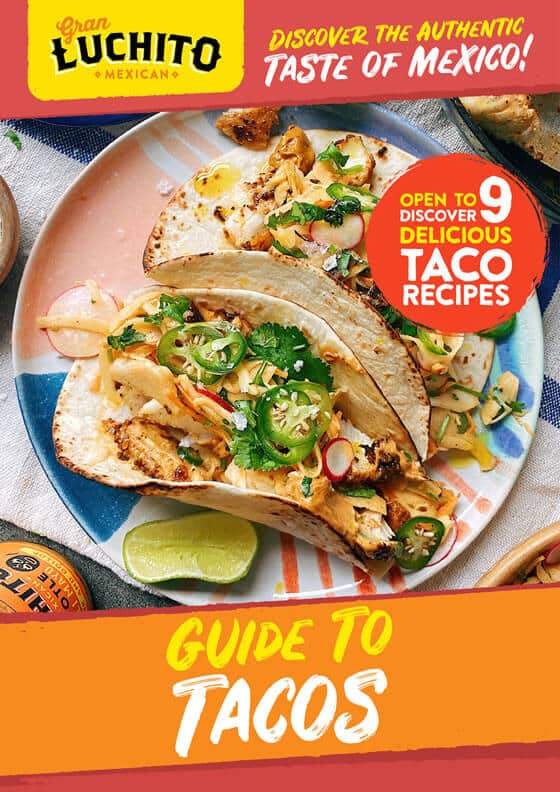 Similar Recipes You Might Like to Try
Comments / Questions / Tips

Subscribe now for a free copy of the Gran Luchito e-cookbook filled with delicious, authentic Mexican recipes and join our mailing list for all the latest recipes, news and blog updates.

wpDiscuz