Mexican Pulled Chicken
We're big fans of pulled pork here at Gran Luchito but we know it requires some time to prepare! So for the days we want loads of flavour and that lovely texture of shredded meat but we are limited on time, we find that this recipe for Mexican Pulled Chicken fits the bill.
We recommend using chicken thighs that have a bit more fat and cook really fast. They're simmered with the Gran Luchito Chipotle Paste, orange juice, apple cider vinegar and chicken stock, among other ingredients. This recipe turns regular chicken into the tastiest Mexican pulled chicken ready to go straight into tacos.
Once you nail this pulled chicken recipe you'll soon be using leftovers in everything from burritos to quesadillas or even served with just green salad leaves and avocado. 
This slow cooker Mexican shredded chicken is even better when served with warm Gran Luchito Soft Taco Wraps and some Gran Luchito Salsas.

---
---
Prep time

Cook time

Total time

Ideal for

Dinner

Make it

Mexican

Serves

4
Nutrition: Per serving
kcal 97
fat 3.3g
saturates 0.6g
carbs 8.5g
sugars 1.9g
fibre 0.6g
protein 7.8g
salt 0.78g
How to make it
Prepare your quick pickled onions by placing all the ingredients into a small bowl, and season with a pinch of salt and freshly ground black pepper. Mix everything together and let it rest while you prepare your pulled chicken.

Season your chicken thighs with salt and freshly ground pepper. Heat up a large frying pan and add a drizzle of olive oil, once its hot enough sear your chicken until it gets a bit of colour on both sides but is not fully cooked. Once ready, remove from the pan and set aside.

Add a bit more oil into your pan and add the garlic and onion. Fry gently and add the

Gran Luchito Chipotle Paste

, cumin, coriander seeds, and stir well. Let the onion soften for a couple of minutes.

Add the seared chicken thighs back into the pan. Pour in the vinegar, orange juice, chicken stock, tamari sauce, a bay leaf, the coriander, a pinch of salt and freshly ground black pepper. Bring to a simmer and cover with a lid, then cook for 30 minutes over a low heat.

Once your chicken is cooked, remove the pan from the heat and shred the chicken with the help of two forks (discard bones). Stir the meat with the pan juices, and finish your delicious pulled chicken with a bit of freshly chopped coriander on top.

Serve your pulled chicken with warm Gran Luchito Soft Taco Wraps on the side, the red pickled onions, lime wedges and Gran Luchito Tomatillo Salsa.
What To Serve With Mexican Pulled Chicken
A couple of sides that would go really well with this dish are:
You can have them on their own with the pulled chicken, or all wrapped up together in our Gran Luchito Soft Taco Wraps.
Download Our Free Guide To Mexican Classics
Your free guide will be emailed to you immediately.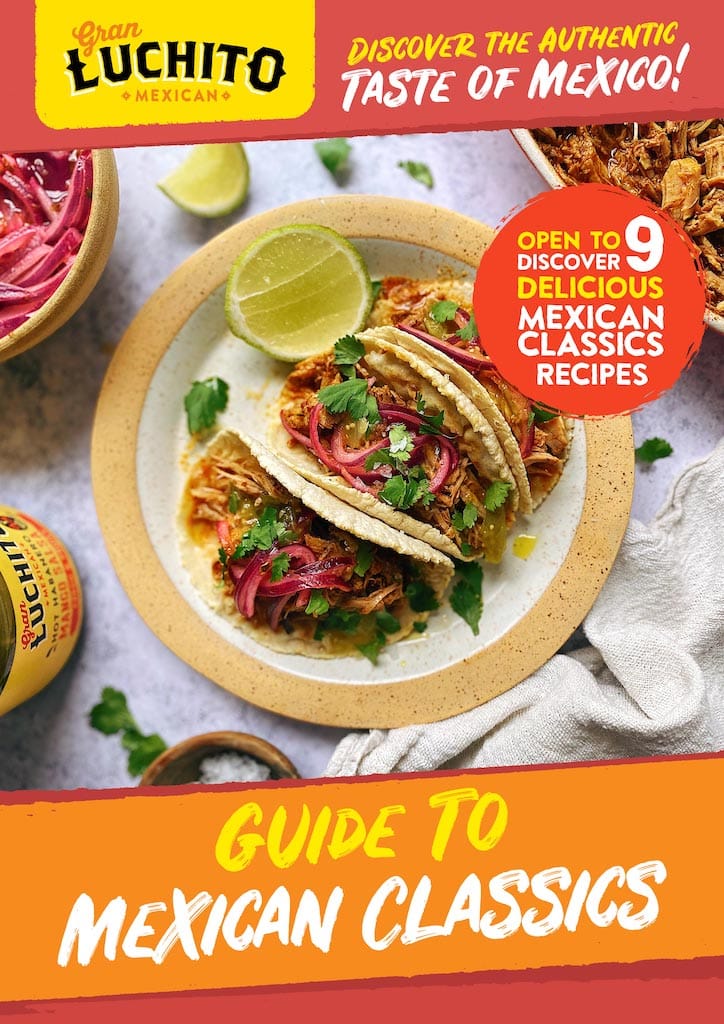 Similar Recipes You Might Like to Try
FAQs
Why is it called pulled chicken?
Pulled chicken means that the chicken has been barbecued or smoked low and slow, usually with a regional rub of some sort, and perhaps a barbecue sauce. Shredded chicken refers only to the consistency of the meat, which could have been baked or stewed or something else.
Is pulled chicken healthy?
Although nutrition and calories can vary depending on the recipe and ingredients, pulled chicken is lower in calories and fat than say pulled pork, making it a healthier choice than some.
For this recipe, can you use other cuts of chicken other than the thighs?
Yes, you can use a whole chicken. Simply put a whole chicken into the slow cooker and several hours later you have juicy, tender, fall-of-the-bone chicken. Alternatively, you can use chicken breasts, however we'd advise to use the parts of a chicken with skin on, as it retains moisture and stops the chicken from drying out too much.
Comments / Questions / Tips

Subscribe now for a free copy of the Gran Luchito e-cookbook filled with delicious, authentic Mexican recipes and join our mailing list for all the latest recipes, news and blog updates.