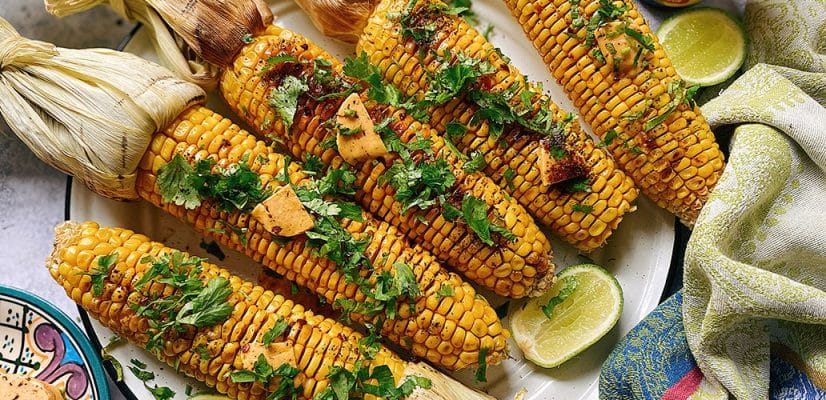 BBQ Corn
A popular way of eating corn on the cob in Mexico is barbecued! You can find this quite often with the street vendors, where they have huge metal pots with warm corn kernels inside. You'll then see a small grill alongside with corn being barbecued.
BBQ Corn is a different experience to Mexican Elotes. The corn on the cob gets blackened and absorbs the charcoal taste, then gets covered with butter, ground chilli and lime.
So for this bbq corn recipe, Luchito Style, get your grilled corn on the cob and serve it with a good amount of Chipotle Butter prepared with our Gran Luchito Chipotle Paste, a squeeze of lime juice, freshly chopped coriander and a sprinkle of Gran Luchito Smoky Chipotle Fajita and Taco Mix on top. Make sure to keep the chipotle butter nearby just in case you need to add some more.
We'd love for this bbq corn recipe to become a firm favourite in your home during the summer with your friends and family. It would make the perfect side dish for Pollo Asado or Mexican Steak! Do try it and let us know how it goes!
Prep time

Cook time

Total time

Ideal for

Snack

Make it

Mexican

Serves

5
Nutrition: Per serving
kcal 79
fat 6.3g
saturates 2.8g
carbs 3.8g
sugars 1.1g
fibre 0.9g
protein 1.8g
salt 0.28g
How to make it
Begin by preparing your chipotle butter. In a bowl, add the soft butter with the Chipotle Paste. Mix everything together with the help of a spatula until it's completely integrated.

Prepare a sheet of parchment paper or cling film, add the chipotle butter in the middle and spread lightly. Form a sausage-like shape and tuck in the ends. Place it in the fridge until it gets solid again.

Now for your corn, pull the leaves or husks down and discard the silks. Tie the rest of the corn leaves with one of the leaves, giving your corn a nice hairdo! This will also be useful for holding when you eat it. Repeat the same process with the rest of the corn.

Brush olive oil over your corn, and season with a pinch of salt and freshly ground black pepper. 

Once your BBQ is nice and hot, place your corn over the grill and let them cook nicely all around. Do this until the kernels get blackened and tasty.

Once ready, remove the corn from the heat and place them on a nice platter. Add a good amount of chipotle butter on top and let it melt. Then add lime juice, the coriander on top, and finally a sprinkling of Smoky Chipotle Fajita and Taco Mix.
What To Serve With BBQ Corn
We recommend serving this BBQ Corn with:
Similar Recipes You Might Like to Try
FAQs
Can you grill corn in the husk?
Yes you can! Although as Susy has done in this recipe, she's tied them up, so that they don't burn on the grill while the corn is cooking.
How to butter corn on the cob?
We like to pile the corn on a platter, add the butter on top and let it melt down into the dish. Then fold the kernels around in the melted butter to coat them a bit more.
Can corn on the cob be frozen?
Yes - it can be frozen cooked or raw. Bag it up in a ziplock bag or airtight container though. It can then be frozen for up to 12 months.
Comments / Questions / Tips

Subscribe now for a free copy of the Gran Luchito e-cookbook filled with delicious, authentic Mexican recipes and join our mailing list for all the latest recipes, news and blog updates.