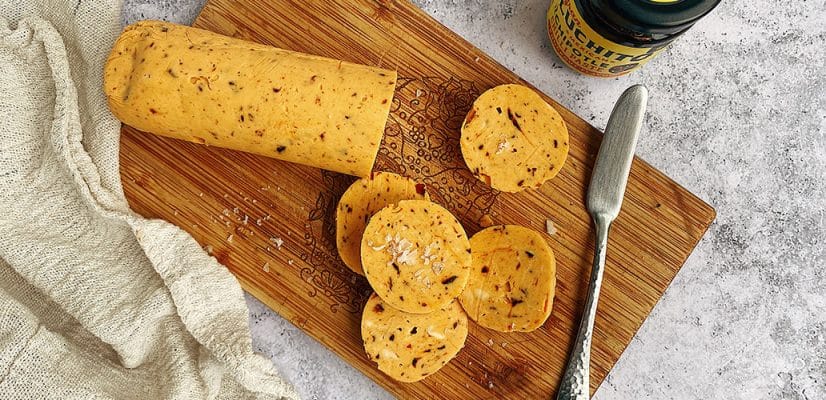 Chipotle Butter
When we think of the many ways we can use Gran Luchito Chipotle Paste in the kitchen, Chipotle Butter is definitely one of our favourites, and we know that you will love it too!
By simply mixing Gran Luchito Chipotle Paste with good quality soft butter you can make a tasty chipotle butter recipe to add a smoky buttery kick to almost any dish. Think chipotle butter for corn, steak, fish, smoky chilli garlic bread, roast chicken, jacket or mashed potatoes, and steamed vegetables…the list is endless!
Make a good amount of this easy chipotle butter and store it in the fridge/freezer and slice it off as you need it. Practical, delicious and easy!
Here are some of our recipes that chipotle butter sauce would go extremely well with: Mexican Steak, Mexican Roast Chicken, Baked Mexican Elotes, and Mexican Mashed Potato.
Prep time

Cook time

Total time

Ideal for

Side

Make it

Mexican

Serves

6
Nutrition: Per serving
kcal 727
fat 80g
saturates 50g
carbs 1.7g
sugars 1.3g
fibre 0g
protein 0.7g
salt 0.12g
How to make it
This is very simple to make. Allow the butter to come to room temperature and put it in a bowl with the Chipotle Paste.
Mix together well.
Roll in cling film into a sausage shape and twist the ends.
Place in the fridge to make solid again. Now you can either leave it in the fridge and slice it off as you need it, or slice it into discs and freeze them individually to be removed as and when you need them.
What To Serve With Chipotle Butter
You could coat your steamed veg in it, pan fry fish in it, or use it in jackets or mashed potatoes. Here are a couple of our favourite dishes that you can serve chipotle butter with:
Similar Recipes You Might Like to Try
Comments / Questions / Tips

Subscribe now for a free copy of the Gran Luchito e-cookbook filled with delicious, authentic Mexican recipes and join our mailing list for all the latest recipes, news and blog updates.