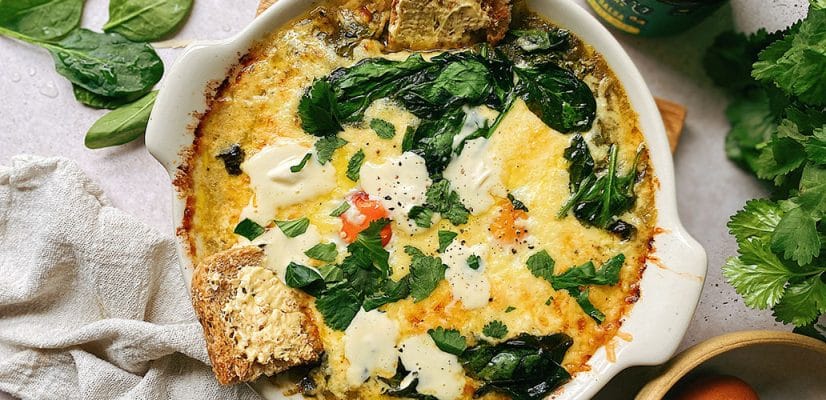 Mexican Baked Eggs
We first discovered this Mexican Baked Eggs recipe on a trip to San Miguel de Allende. The restaurant El Correo is just off the main square and right next door to a lovely bakery. 
They open early and they only do Mexican breakfast recipes served with freshly baked pastries from the bakery. In Mexico, breakfasts are a big thing and we love the way they almost make a sacred ritual of it.
You have to have the freshly brewed cup of coffee that is refilled every time you request it, and the freshly made fruit juices. A freshly cut selection of seasonal fruit along with lovely pastries, all served to you even before you get to the Mexican breakfast eggs! 
This is our humble homage to those baked eggs at El Correo restaurant, that keep us dreaming of Mexico. Our Mexican egg dish is super quick and easy to make and an interesting and delicious alternative to scrambled eggs or huevos rancheros for brunch. Just make sure you have some sourdough toast to dip into the runny egg yolks and Gran Luchito Tomatillo Salsa. 
If you're having a weekend brunch, simply use a larger dish and add more ingredients to serve more people. Just keep in mind that a larger dish might require a little more baking time.
If you like the look of these baked eggs you should definitely also check out our huevos rancheros recipe and chilaquiles recipe.
Prep time

Cook time

Total time

Ideal for

Breakfast

Make it

Mexican

Serves

2
Nutrition: Per serving
kcal 139
fat 9.6g
saturates 5.0g
carbs 7.1g
sugars 2.4g
fibre 0.8g
protein 5.3g
salt 0.76g
How to make it
Preheat the oven to 180°C / 350°F. Add the oil into a pan and once it's hot enough fry the onion and garlic gently until soft. You can then add the Tomatillo Salsa into the pan and ⅓ cup of water. Stir and simmer for a couple of minutes.
Once your sauce begins to bubble away, add in the spinach and a pinch of salt. Let the spinach wilt briefly in the sauce for a minute and then remove your sauce from the heat.
In a medium-size baking dish add your warm sauce, then carefully crack two eggs on top. Add the grated cheese and spoonfuls of creme fraiche over the surface, and a little drizzle of olive oil on top. Place your dish into the oven for 20 – 25 minutes approx (times may vary depending on your oven).
Your eggs will be ready when their surface is cooked and the cheese forms a lovely golden layer on the top.
Remove your baking dish from the oven and serve immediately with freshly chopped coriander scattered on the top, and a side of toasted sourdough or warm Soft Tacos, ready to dip into that deliciousness.
Chefs Tip

Instead of the Tomatillo Salsa, you could make this baked eggs recipe with our Tomatillo Enchilada Sauce.
At the bottom of the baking dish, before you put the salsa in, you can put small bits of toast.
Download Our Free Guide To Mexican Breakfast
Your free guide will be emailed to you immediately.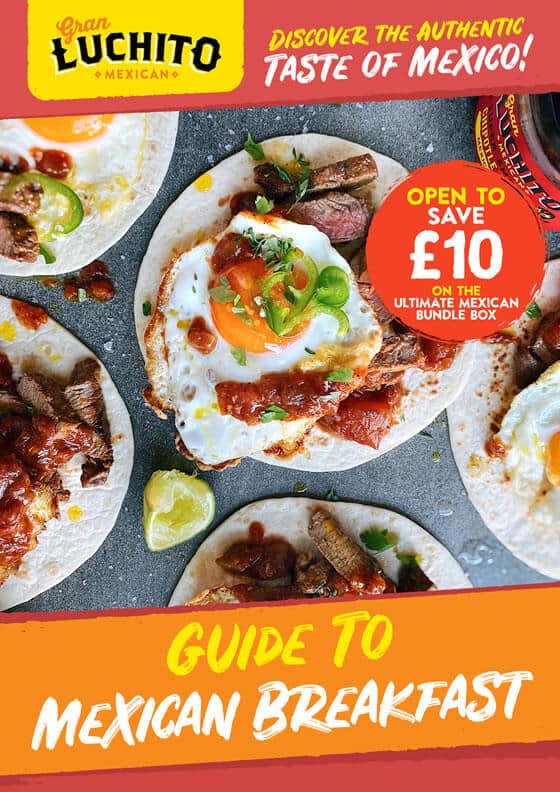 What To Serve With Mexican Baked Eggs
Our Mexican baked eggs recipe can be paired with one of the following dishes to make one big epic breakfast!
Similar Recipes You Might Like to Try
Comments / Questions / Tips

Subscribe now for a free copy of the Gran Luchito e-cookbook filled with delicious, authentic Mexican recipes and join our mailing list for all the latest recipes, news and blog updates.