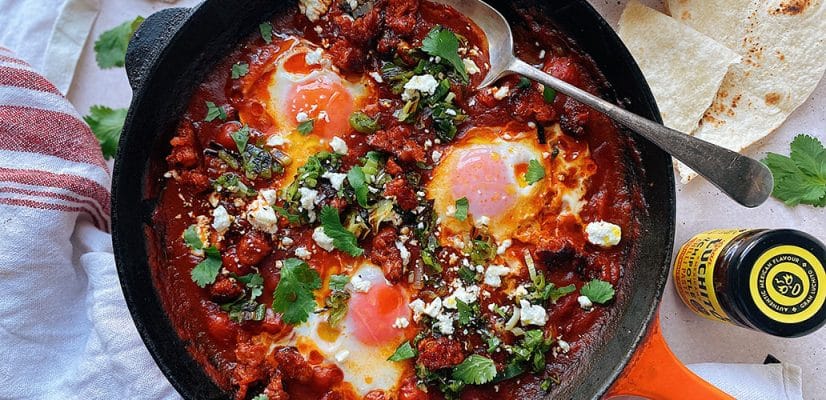 Huevos Rancheros
Huevos Rancheros, translated means "ranch eggs", might have first become popular as the breakfast of choice for workers on rural farms in Mexico but it has become a classic Mexican breakfast recipe and a very popular one outside Mexico too.
There are many different variations of this dish, but the traditional huevos rancheros recipe is all about the fried eggs and warm red sauce with chorizo. There is something so delicious about cutting into the eggs and the runny yolk mixes with the delicious warm cooked sauce. 
For our huevos rancheros recipe, we wanted to focus on making a great homemade rancheros sauce. We feel that the perfect huevos rancheros recipe is mainly all about that tasty Mexican sauce, so why not make it the star of the show. Our recipe uses chorizo meat fried with onion, chilli and Gran Luchito Chipotle Paste. The simplicity of combining the delicious chorizo oil with the smokiness of the paste creates a beautiful base for our sauce. We then add cherry tomatoes, passata and a bit of chicken stock, all simmered down to concentrate the flavours.
The eggs are poached in the sauce and garnished with lightly charred red chilli and finely chopped spring onions scattered on top. Crumbled feta cheese is then added along with chopped coriander, all of which has the sole purpose of adding extra layers of flavour.
This is a great breakfast or brunch dish especially if you are having some friends around or need a hearty start to your day.
Prep time

Cook time

Total time

Ideal for

Breakfast

Make it

Mexican

Serves

4
Nutrition: Per serving
kcal 119
fat 5.4g
saturates 1.8g
carbs 11.9g
sugars 3.5g
fibre 1.3g
protein 5.4g
salt 0.71g
How to make it
In a pan add the olive oil, once it's hot enough, add the chorizo and break the meat in the pan with the help of a wooden spoon. Let your chorizo crisp up, once it is ready remove only half of the chorizo from the pan, place it in a small bowl and reserve.
In the pan with the remaining chorizo, add the onion and the Chipotle Paste, stir and cook for 5-6 minutes until the onion softens. Add the cherry tomatoes saute briefly, then add the passata and the chicken stock, season with a pinch of salt and freshly ground black pepper to taste, stir and simmer your sauce on a low heat for 8-10 minutes.
In the meantime, in another pan quickly heat up the olive oil and char the spring onions and the red chilli . Once ready, remove them from the heat and chop finely, place the mixture in a small bowl and set aside.
Check that your sauce has a good consistency (not too runny, or dry) , crack the eggs and slide them into the sauce carefully. Cover your pan with a lid and let the eggs poach in the sauce for a couple of minutes, once the egg whites turn white but the yolks are still soft inside it means they are ready.
When ready, remove your pan from the heat and garnish with the charred spring onion and red chilli scattered on top. Then crumble feta cheese over it, and finally add the remaining crispy chorizo and freshly chopped coriander on top.
Quickly warm up the Cantina Beans in a small saucepan and the Burrito Wraps in a pan.
Serve your huevos rancheros in a bowl with some of the sauce, a spoonful of Cantina Beans on the side and a warm Burrito Wrap folded into a triangle ready to be tucked into the sauce. Enjoy
*NB: for this recipe, we recommend using Gran Luchito Burrito Wraps as you can soak more of the sauce into them. Having said that, there is nothing to stop you from using our Gran Luchito Soft Taco Wraps if you prefer a smaller tortilla.
What to serve with huevos rancheros
A freshly brewed cup of coffee, some warm tortillas, perhaps a side of Mexican Black Beans and you've got yourself the perfect Mexican breakfast! If you're extra hungry you could also try serving some of our Avocado Toast Recipe.
Sign Up For Your Free Guide To Mexican Breakfast!
Your free guide will be emailed to you immediately.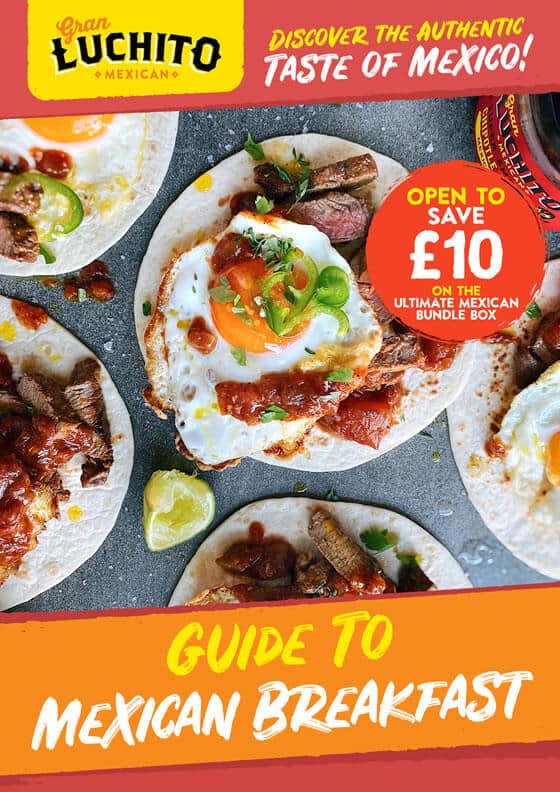 Similar Recipes You Might Like to Try
FAQs
What does huevos rancheros mean?
Huevos Rancheros translated means ranch eggs and refers to the style of eggs typically served on a rural Mexican ranch to the workers or rancheros.
What is rancheros sauce made of?
Rancheros sauce is typically a tomato based sauce with chillies. In our version, we use passata and chicken stock as the base with cherry tomatoes, red chilli, a dollop of our signature smoky Chipotle Paste, onion and crispy chorizo.
How do you eat huevos rancheros?
We think the best way to eat huevos rancheros, delicious eggs fried in a flavourful sauce, is to serve them in a bowl with a side of Cantina Beans and Burrito Wraps perfect for wrapping up all the saucy egg goodness.
Comments / Questions / Tips

Subscribe now for a free copy of the Gran Luchito e-cookbook filled with delicious, authentic Mexican recipes and join our mailing list for all the latest recipes, news and blog updates.