Mexican Scrambled Eggs
Mexican scrambled eggs are all about bringing simple, fresh, and good quality ingredients together and letting them shine. Mexican eggs are especially delicious when served with our warm Gran Luchito Refried Beans, Gran Luchito Soft Tacos and some Gran Luchito Crunchy Salsa Macha (to sprinkle) on the side.
This is such a lovely and easy Mexican breakfast recipe perfect for a weekend brunch with friends or family, an epic hangover cure  or even a as a quick dinner during the week. The key to Mexican scrambled eggs or "Huevos a la Mexicana", is to fry onion, chilli and tomatoes and combine them until the eggs are perfectly fluffy and creamy.
How to make scrambled eggs? We'll let you in on a few tips to make the perfect scrambled eggs:
Add creme fraiche to your beaten eggs. Trust us on this! They will guarantee lovely and creamy scrambled eggs every time.

Try to use butter to cook the eggs, as it not only adds flavour but also contributes to the creaminess! If you're vegetarian you can use olive oil.

Use a non-stick pan and a silicone spatula if you can, this will avoid your scrambled eggs from sticking to the bottom of your pan and the spatula will keep your trusty non-stick pan in good shape for the next Mexican eggs batch.

Last but not least, always cook over a low heat and stir throughout. Remove them from the heat just before they are ready, to avoid them from overcooking.
For another super-indulgent Mexican breakfast, check out our Mexican Breakfast Recipes. In particular our authentic Huevos Rancheros recipe, and Breakfast Chilli!
Prep time

Cook time

Total time

Ideal for

Breakfast

Make it

Mexican

Serves

3
Nutrition: Per serving
kcal 154
fat 6.5g
saturates 2.2g
carbs 17.2g
sugars 1.3g
fibre 0.5g
protein 6.7g
salt 0.5g
How to make it
Heat up a frying pan over medium heat with olive oil. Add the spring onions and the green chilli, then fry gently for 2 to 3 minutes. Add the tomatoes and season with a pinch of salt and pepper, then cook for a further 3 to 4 minutes to let the tomatoes soften, and when ready set aside.

Meanwhile, reheat the Refried Beans in a saucepan with a little bit of water over low heat.

Then in a bowl whisk the eggs and the creme fraiche together with a pinch of salt. Heat a non-stick frying pan and add the butter. Once it melts, pour in the egg mixture and cook slowly over low heat. Stir with a silicone spatula until almost cooked but still soft and moist (remember they'll continue to cook after you turn the heat off, so take it to just undercooked). Season with salt and pepper.

Once your eggs are ready, add in the spring onion, chilli and tomato mixture and fold it into the scrambled eggs. Finish your eggs with freshly chopped coriander on the top.

Serve your Mexican scrambled eggs with a spoonful of warm

Refried Beans

and warm

Soft Taco Wraps

on the side, ready to be enjoyed.
What To Serve With Mexican Scrambled Eggs
You can have these Mexican scrambled eggs with just about any of our breakfast dishes, as an extra side dish. They go particularly well with:
Download Our Free Guide To Mexican Breakfast
Your free guide will be emailed to you immediately.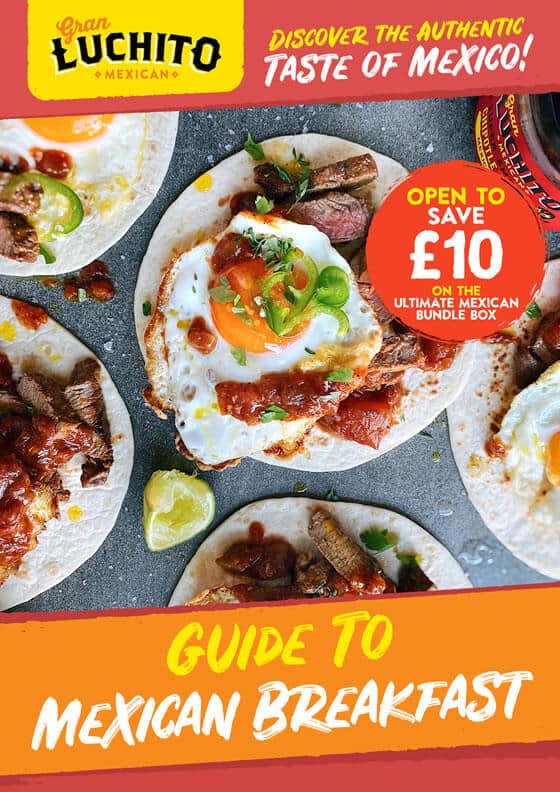 Similar Recipes You Might Like to Try
Comments / Questions / Tips

Subscribe now for a free copy of the Gran Luchito e-cookbook filled with delicious, authentic Mexican recipes and join our mailing list for all the latest recipes, news and blog updates.