Breakfast Burrito
Inspired by all of the amazing breakfast options in Mexico City we decided to create an epic Breakfast Burrito, the kind of breakfast that makes it worthwhile getting up in the morning.
This burrito has all of our favourite breakfast ingredients rolled up in a soft, warm tortilla all together to create something bigger and better than the sum of its parts. Just get yourself a cup of freshly brewed hot coffee, put your favourite music on in the kitchen and enjoy this lovely burrito with your family.
This recipe serves 2 but it's perfect for a family brunch as well, so feel free to duplicate the dish and make everyone happy.
Be sure to try our other breakfast recipe ideas including our Mexican Molletes with Refried Beans and Chilaquiles! For more burrito inspiration, see our Burrito Recipes collection.
Prep time

Cook time

Total time

Ideal for

Breakfast

Make it

Mexican

Serves

2
Nutrition: Per serving
kcal 179
fat 12g
saturates 4.5g
carbs 9.8g
sugars 1.7g
fibre 0.3g
protein 6.8g
salt 1.4g
How to make it
Heat a little olive oil in a frying pan over a gentle heat. Add the chorizo and the spring onion, and cook for a few minutes until the chorizo is nicely crisp, then set aside.

Prepare the homemade guacamole and set aside.
Crack the eggs in a bowl, add the creme fraiche, add a pinch of salt, and whisk it all together.
Heat up a non-stick saucepan and add the butter. Once the butter is melted, pour in the beaten eggs. Heat gently, stirring continuously until the eggs are scrambled to your liking. Season with salt and black pepper.
Meanwhile, warm the Burrito Wraps over a hot pan.
To assemble the burritos, spread each tortilla with the guacamole, followed by the scrambled egg, then top with the fried chorizo. Then add a good amount of Chipotle Salsa, and if you like, some freshly chopped spring onions. Roll it up and serve.
What To Serve With A Breakfast Burrito
Serve your delicious breakfast burrito with a side of our Frijoles recipe or some warm Mexican Black Beans to make it even more epic!
Download Our Free Guide To Mexican Breakfast
Your free guide will be emailed to you immediately.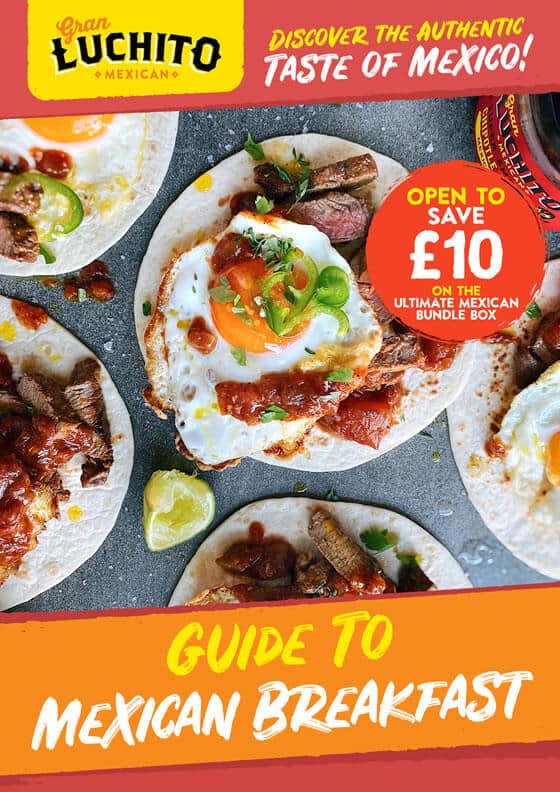 Similar Recipes You Might Like to Try
FAQs
What are some breakfast burrito toppings?
A breakfast burrito can have eggs, salsa, onions, spring onions, bacon, cheese, chorizo, ham, potatoes, sausage, avocado or guacamole, spinach, tomatoes, and beans etc.
What kind of beans do you use for breakfast burritos with chorizo?
Warm refried beans or black beans would work best.
Are there ingredients that need to be browned in a chorizo breakfast burrito?
Yes, you will need to brown your chorizo and spring onions in a pan with a little olive oil until nice and crisp.
Comments / Questions / Tips

Subscribe now for a free copy of the Gran Luchito e-cookbook filled with delicious, authentic Mexican recipes and join our mailing list for all the latest recipes, news and blog updates.